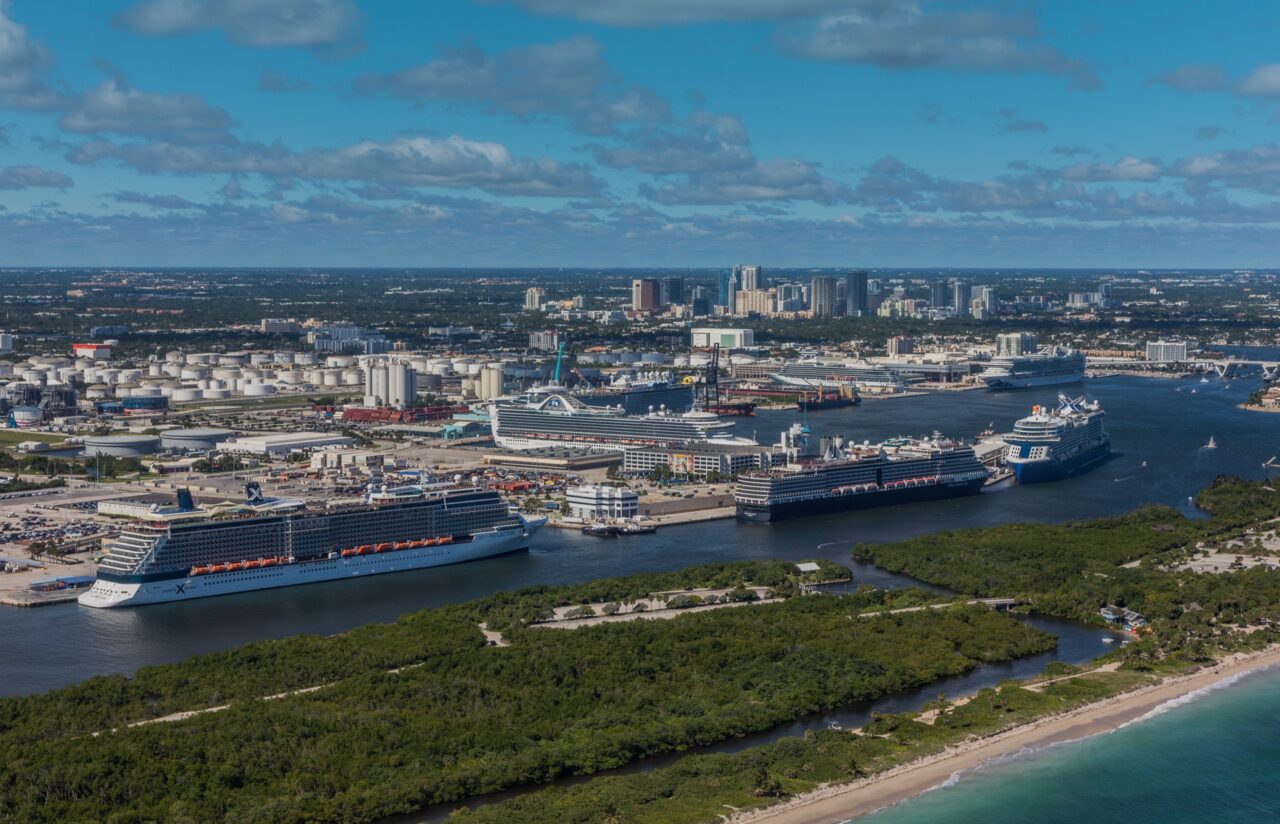 Port Everglades is already one of the world's largest for cruise traffic, but people might think they'll be debarking into swampy gator land.
Broward County now has a trident.
It's the symbol starring in new logo for the county port. It's designed to spear any confusion between one of the world's largest cruise ports — Port Everglades — and the county's western edge filled with pythons and alligators — the Everglades.
After considering anchors, palm trees, a compass, waves, knots and various other nautical objects, officials decided each point of the weapon also carried by Aquaman, Poseidon and other mythological figures, could symbolize three areas of the port's business: cruise ships, cargo and energy. Each point also stands for three core values of the port: Strength, resilience and sustainability.
Get it?
"As we were enlightened during the numerous surveys and focus groups, we needed to differentiate ourselves not only from the competition, but to separate ourselves from one of the world's most significant ecological wonders," Jonathan Daniels, chief executive and port director at Port Everglades, told the County Commission last week.
The previous logo was the word, "Port Everglades" with a sun shining in the "o" in "port."
Applause greeted the debut of the rebranding at Tuesday's County Commission meeting.
"You seem to wield that trident better than Aquaman," Commissioner Steve Geller joked.
Port Everglades is just behind Port of Miami in the number of 20-foot containers handled annually, according to a 2022 report to the federal government. For the fiscal year that ended Sept. 30, Port Everglades fell one day short of breaking its annual cargo-handling record and would have broken its record for handling containers if not for Hurricane Ian, according to a news release.
The port also stands out in the number of cruise passengers — it's the world's third-largest cruise port, coming in behind the Port of Miami and Port Canaveral, according to a 2022 report in Marine Insight.
Aqua Marketing & Communications designed the logo and brand guidelines for the Port for less than $5,000, according to Ellen Kennedy, a Port Everglades spokeswoman.
There was some thought to renaming the port, but the name that has something in common with the River of Grass won out — even if it doesn't indicate what city is the port's home, like the Port of Tampa Bay.
"Research has shown us that the port's location is not well known," Kennedy wrote in an email. "This is something that we were well aware of. However, we have had terrific success, especially in the past few years and there were mixed feelings in the community about going as far as changing the name."
Mayor Lamar Fisher said he likes the brand that debuted with a video: "The new branding logo brings an identity to our Port," he wrote in a text.