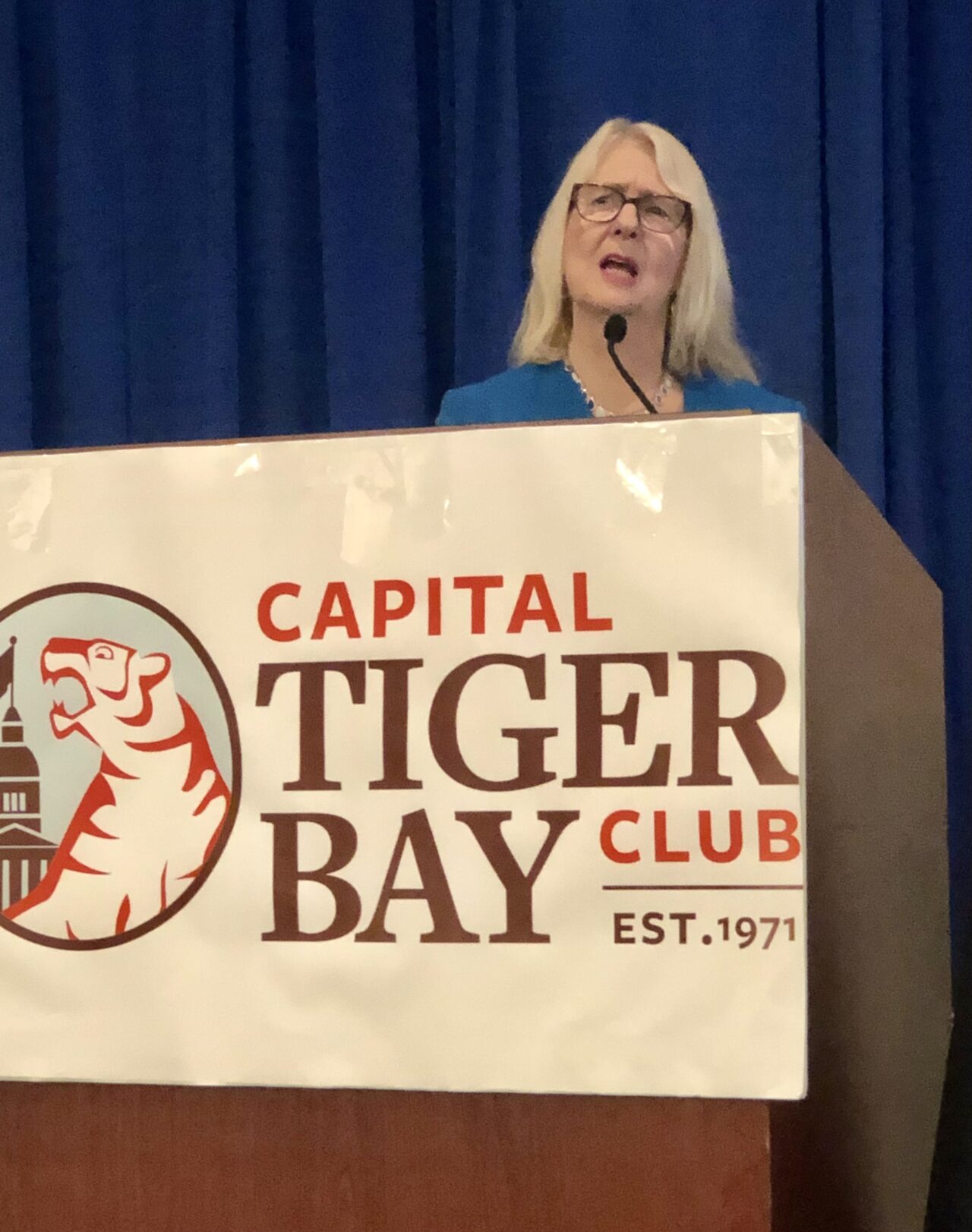 Currently, Florida is a hairsbreadth away from being a minority-majority state.
Demographically speaking, America has looked to the future and found — Florida.
That was just one of the data points political scientist Susan McManus shared with members at the Capital Tiger Bay Club luncheon Tuesday.
The racial and ethnic makeup of the Sunshine State in 2021 is almost identical to percentages predicted for the United States in 20 years, the retired University of South Florida professor and go-to expert for political research told the group.
Currently, Florida is a hairsbreadth away from being a minority-majority state, with a population that is 51% White, 27% Hispanic, 14% Black, 3% Asian/Pacific Islander and 4% multiracial. The projected nationwide numbers for 2041 are, respectively 51%, 27%, 14%, 3% and 4%.
McManus told the group — populated almost exclusively by Boomers, the Silent Generation and a sprinkling of Gen Xers — that most people have got it all wrong when they think of Florida as a haven for senior citizens. "Generational replacement" — aka old people dying — is happening at an accelerating pace in Florida and, she said, the political sphere should adapt to this new reality.
"The three youngest generations — Gen X, Millennials and Gen Z — now represent 58% of Florida's current voting population. Yet the stigma that everybody rolling into Florida is old remains.
"That is not true," McManus said. "A lot of people who moved in during the pandemic were younger people coming here for a lot of different reasons."
While older Floridians tend to stick with their chosen party, the younger generations "are turning their backs" on them and registering as NPA, she said.
When asked about the possibility of a President Ron DeSantis, McManus quickly retorted that she was "not going there." She dismisses current Trump versus DeSantis horserace polls as "nothing but clickbait (and) not very meaningful."
"Think of how fast things come into the environment. A year ago, we wouldn't even be talking about Ukraine," she said. "You don't know, an international incident, a candidate making a big faux pas. I think it is a lifetime between now and the Primary and an even bigger lifetime between now and the end of November 2024.
"I really don't like to project so much out. Obviously, Floridians like the Governor and what you're seeing is some other places where Republicans only and straw polls and other places, (they are) not scientific, but they're gonna make news and that is a problem for analysts, is getting sucked in by some of that stuff too early."
Responding to an audience question, McManus' tough-love prescription for reviving Florida's Democratic party after a disastrous showing in the Midterm Election was to swing for the fences.
"You're a major party, you're only 2% off on (voter) registration and nobody wants to be party chair. So my advice is go for the risky one, go for something bold. It can't be any worse than it was," she said.
"Get young blood in there and get … elected Democrats from all the localities together in the same room and strategize … people that understand grassroots politics," McManus continued. "They have to put a young face on it. They also must must must realize the need for micro-targeting and that means ditching some of their traditional consultants."