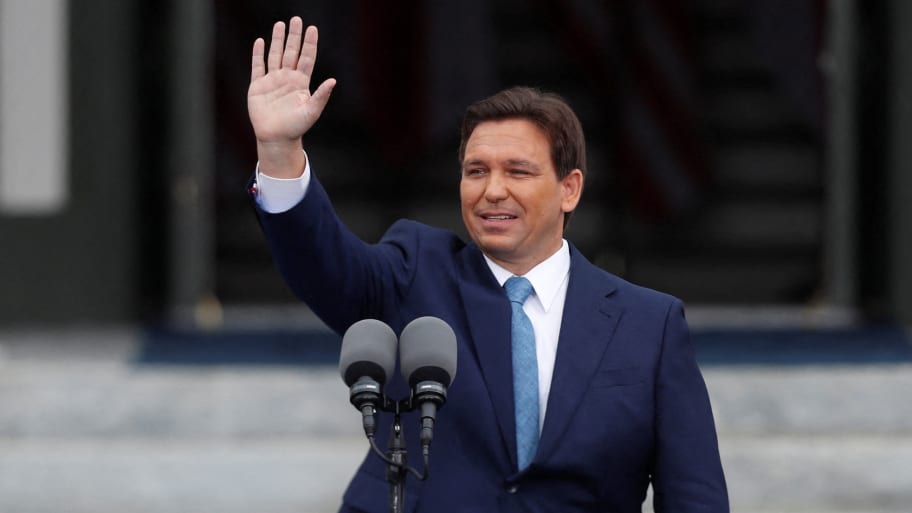 'This commitment comes at a critical juncture.'
Gov. Ron DeSantis rolled out a health care budget proposal that would pump hundreds of millions of dollars to increase payments for treatment of complex maternal and pediatric care, as well as supply innovative cancer care and research.
DeSantis' suggested spending plan for the fiscal year 2023-2024 directs $47.5 billion to the state's six health and human services (HHS) related agencies. Also, it includes increases for community mental health providers, Alzheimer's research, and providers working with young children with developmental or intellectual disabilities.
It also increases funding by $38.6 million for the Office of Medical Marijuana Use as the state struggles to keep up with a growing demand for medical marijuana. The budget shows funds would be used to hire 133 staff.
Of the $47.5 billion in this part of the state budget, $14.2 billion is in general revenue dollars. DeSantis' proposal directs $19.3 billion in general revenue and $30.4 billion in overall spending on education from early learning through college.
The DeSantis administration admits the $47.5 billion on proposed HHS spending is artificially high. It is built on the now-outdated assumption that more than 5 million people will be in the state's Medicaid program as of July 1.
The number of Medicaid enrollees is expected to be substantially lower as the state resumes Medicaid redeterminations beginning April 1. During the public health emergency, the state was precluded from disenrolling people from Medicaid.
DeSantis' budget is just a recommendation for the Legislature to consider as it prepares to meet in its annual 60-day Legislative Session, slated to start March 7. in the coming weeks, lawmakers will receive updated Medicaid enrollment estimates, which will guide their budget discussions for the upcoming Legislative Session that begins March 7.
Nevertheless, DeSantis' proposed health care spending plan does reflect the Governor's priorities going forward, which, according to one lobbyist, includes increasing the state's profile as a health care destination state.
Justin Senior, CEO of the Safety Net Hospital Alliance of Florida, said DeSantis' call to spend $166 million on cancer research and to increase Medicaid inpatient reimbursements for hospitals that treat medically complex pediatric patients and pregnant women are examples of the Governor's commitment.
"There's a feeling when you talk to the administration, and our members feel it as well, that Florida needs to come to the forefront as a destination for health care," Senior told Florida Politics. "The days of Floridians going to Minnesota or Cleveland or someplace like that for care should be over and people would be coming and filtering into Florida.
"This is where all the top hospitals, the top destinations for world-class care, should be. And I think they are starting to turn that corner and make those investments. And we are supportive of that, 100%."
Other significant budget items in DeSantis' proposed health care spending plan include nearly $143 million to enhance services for pregnant and postpartum women and children.
While Florida has not taken advantage of added federal funding to expand Medicaid benefits to low-income childless adults two years ago, Florida did agree to tap into other federal funds to expand to one year of Medicaid benefits to postpartum women.
Florida has not had to fund the expanded postpartum benefits because the state was precluded from dropping people from the Medicaid program during the public health emergency — so postpartum women kept their benefits.
Now that Florida is taking steps to return its Medicaid program to pre-COVID operations, it will need to fund expanded postpartum coverage.
DeSantis also recommends spending $531 million to support a comprehensive array of behavioral health services, including enhanced support of the 988 Suicide and Crisis Lifeline services and $78.9 million to sustain and expand the bed capacity at state-operated mental health treatment facilities.
Florida Behavioral Health Association President and CEO Melanie Brown-Woofter said the investment will have an "immediate, long-lasting and positive impact for Floridians."
"This commitment comes at a critical juncture," she said, "as Florida's community mental health and substance use treatment providers are experiencing an unprecedented increase in demand for services."
The organization represents 70 community providers that treat 545,000-plus patients.
Florida Association of Managing Entities (FAME) CEO Natalie Kelly also praised DeSantis for the mental health funding. Seven local managing entities work with more than 300 behavioral health care providers to deliver services to over 300,000 vulnerable residents.
"Many Floridians rely on behavioral health services in order to lead healthy and fulfilling lives, not to mention to achieve self-sufficiency," Kelly said in a prepared statement. "Gov. DeSantis and First Lady Casey DeSantis have remained steadfastly committed to giving all Floridians a hand up — not a handout — so they can live life to their fullest potential."
DeSantis' budget also includes a $9.6 million increase for durable medical equipment providers, $5.4 million for pediatric behavioral health providers, and an added $9 million in funding for 17 memory disorder clinics and the Alzheimer's Brain Bus.