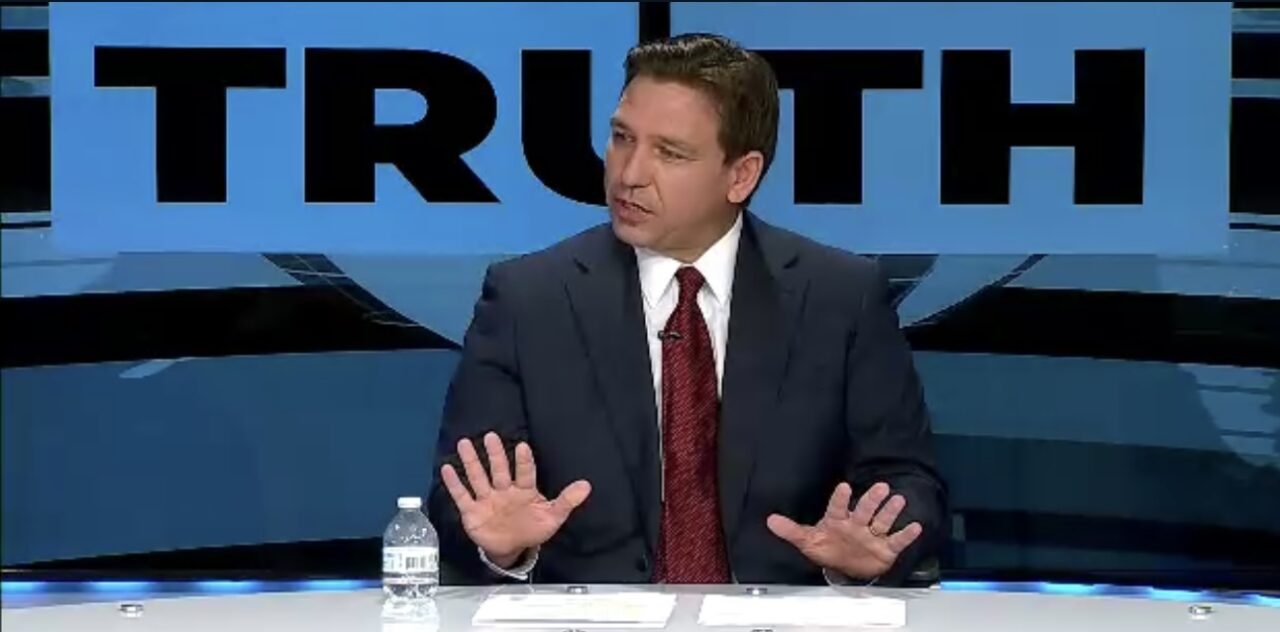 "When they depart from the truth, a lot of times the truth's on the cutting room floor."
Florida's Governor is calling attention to so-called "defamation" from national media.
A Tuesday roundtable found Ron DeSantis holding a symposium with various people with grievances against the corporate press, including Nicholas Sandmann, whose confrontation with a Native American activist went viral some years back, gun rights activist Dennis O'Connor, attorneys Vel Freedman and Libby Locke, Carson Holloway of the conservative Claremont Institute, and journalist Michael Moynihan.
"We've seen over the last generation corporate media outlets, legacy media outlets increasingly divorce themselves from the truth, and instead try to elevate preferred narratives and partisan activism over reporting the facts. When they depart from the truth, a lot of times the truth's on the cutting room floor, and the narratives they're supporting and furthering actually damage a lot of people with lies," DeSantis contended.
The panelists, the Governor added, tried to "hold these big media companies accountable for their actionable lies."
"These companies are probably the leading purveyors of disinformation in our society right now," DeSantis said.
"Run of the mill citizens" lack the platform to fight back, he would add later, requiring "legal recourse," which the panel established was easier some times than others. Whereas he could battle back against "a hit piece" from CBS' "60 Minutes," others were not so lucky.
Sandmann led off the symposium, introduced with a Tucker Carlson clip that presented confrontational and hateful language, something omitted in mainstream media coverage.
"What we saw there happened four years ago," Sandmann, now 20 years old, said of the "national controversy" that he "did not invite."
"For me, the biggest problem with what the media did to me was when we talk about defamation, we talk about ruining a reputation. In my case, I didn't have a reputation to ruin," he said, adding that the media "predetermined what (he) was supposed to be."
Sandmann noted that he was never asked for comment and found out about the "red meat" firestorm on Twitter as he went home from Kentucky.
"They want to sell copies, get clicks. They want the revenue," Sandmann contended of the media "rush to judgement" after the incident in Washington, D.C.
Dennis O'Connor, introduced by DeSantis as the "former Secretary of the Virginia Defense League," was the subject of a news story from Katie Couric that inserted a theatrical pause after a question to him about stopping "felons or terrorists" from buying guns, then truncated the answer.
He objected to Couric's crew filming before the formal start of the interview, as well as the splicing in of footage that made the gun rights advocates look like "trapped rats." Ultimately, he added, the defamation case was lost, with the judge asserting the treatment was neither "false" nor "misleading."
Attorney Freedman is representing Zachary Young in a pending defamation case against CNN over claims that Young was "exploiting desperate Afghans" by offering evacuations from Afghanistan on a "black market." Freedman made the case that his client was "very careful" in commissioning evacuations for corporations and NGOs before the CNN reporter gave him two hours to respond to their allegations before airing a "devastating" report labeling him an "extortionist."
"He never took a dollar from an Afghan," Freedman contended.
Attorney Libby Locke, whose law firm is dedicated to protecting clients from reputational damage, said the media "does not do the job that the American public and Florida citizens expect them to do." She cited vague questions and anonymous sources as specific complaints.
"The thumb is on the scale in favor of the press," Locke said, describing "nervous" judges unwilling to rule against purported free speech arguments by the media.
Holloway, a political scientist by trade, confirmed Locke's read, noting that Sullivan v. New York Times, a 1964 Supreme Court case "changed the standard" for libel cases from being falsely defamed to an assertion that there was "actual malice" in the claims.
"It's very, very difficult for any public figure to prevail in a libel suit," Holloway cautioned.
Moynihan, a journalistic veteran who is now on Substack, noted the "media" is an "enormous thing" and the "incentives are completely wrong," especially in the age of the internet with visible metrics for "which stories did best."
"Young people who know almost nothing" are "ideologically motivated," he said, driving the coverage in ways that didn't happen before.
"What happened to Nick (Sandmann) wouldn't have happened 20 years ago," he said.
DeSantis waxed rhapsodic about the "old CNN," a go-to source after the 9/11/2001 Saudi terrorist attacks now marred by ideology
"They say they want to go back, but it goes back to a point that you made: what do you do with the people there?"
The "Russia collusion hoax," the Governor added, was the "swan song" for purportedly objective media, with its reliance on "anonymous sources" that once were apparently a "total no-no."
DeSantis also suggested the coverage of the Brett Kavanaugh Supreme Court confirmation would have gone differently had libel laws not been so pro-media.
While "cosmopolitan liberals" have always been an issue, DeSantis suggested that media problems are more pervasive now than ever before, with moves to "splice" and "craft narratives" prevailing while "fact-checking" has "fallen by the wayside."
Media is "digging their own grave," DeSantis added. "In the long run, it hasn't worked out for them.