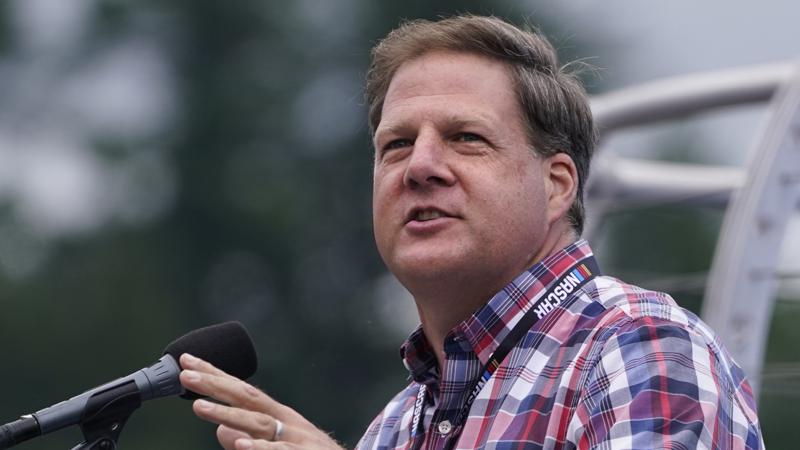 "It's what our founding fathers tried to avoid."
New Hampshire's Governor continues to set up a 2024 confrontation with the man supporters call "America's Governor."
Republican Chris Sununu keeps teasing out a potential White House bid that would exploit his position as Governor of the "First in the Nation" Primary state. Attacks on Florida's Ron DeSantis seem to be primary to his electoral strategy, and the most recent were the sharpest yet, with Sununu establishing a contrast to "big government" conservatives like Florida's chief executive
On Sunday during an interview on Face the Nation, when host Margaret Brennan challenged Sununu on a recent assertion that Republicans were "trying to outdo Democrats at their own game of being big government," asking him who he was thinking of with that statement.
"There's a lot of leadership out there that forgets," Sununu noted. "There's a lot of leadership that says 'you know what, when we're not getting that result out of our private business or locality, we'll just impose from the top down our conservative will."
Asked if he was talking about DeSantis' recent attack on Disney which are culminating with reforms of its governance structure, Sununu confirmed "that's an example, one of the many examples."
Adding that DeSantis is a "very good governor," Sununu then said that "if we're trying to beat the Democrats at being big-government authoritarians, remember what's going to happen."
"Eventually they'll have power in a state or in a position, and they'll penalize conservative organizations and conservative non-profits and conservative ideas. That's the worst precedent in the world. It's what our founding fathers tried to avoid. I'm trying to remind my conservative friends of federalism, free markets, and being for the voter first."
The interview went on to conservative governors taking on education issues such as DeSantis has with attacks on school boards.
"I don't think that Governors should trying to pass laws to subvert the will of the voters that know better than us. The voters know more than I do. The voters on that school board, the voters in those towns know a lot more," Sununu said, describing the "free market of politics."
The weekend interview continued a hot streak for Sununu of DeSantis disses, the most recent delivered just 72 hours before, during a Thursday POLITICO Live interview, where he again established a contrast with DeSantis, specifically on the issue of "personal freedoms," where he proclaimed superiority over the Florida model embodied by DeSantis.
"Sorry, Ron, you're number two. Sorry, Florida," the 48-year-old Republican quipped.
In an interview with Fox News that ran earlier last month, Sununu agreed with DeSantis there is a "need to push back on woke policy," an ongoing concern of DeSantis, but that such pushback shouldn't happen at the expense of private businesses — another seeming illusion to the ongoing attempts to punish Disney for opposing the state's Parental Rights in Education law that are culminating in new legislation that gives DeSantis power to appoint a new governing board for a renamed special taxing district, which replaces the 1967 Reedy Creek Improvement District.
He said that "going after private business is a whole different story. … I come from the 'Live Free or Die' state, and private businesses can and should act like private businesses without the fear of being punished by people that might disagree with them."
"While I agree with a lot of those issues that Ron brings to the table," Sununu said does not think it wise "to necessarily punish private businesses because they don't agree with a policy or whatever it might be. Those types of culture wars pushing their way into the private sector, that's definitely not, I think, where we want to be as Americans."
It's about more than Disney for Sununu, however. Sununu slammed DeSantis before Christmas for another policy decision, meanwhile, chiding DeSantis for his desire to create a state equivalent to the Centers for Disease Control and Prevention.
"He's creating his own group to basically be a critique, as I understand it, of the federal group," Sununu told Hugh Hewitt.
"I don't need a committee or an organization to tell me and the American people the obvious. But I don't know, maybe there's some other function that they're achieving down in Florida. But I'm just telling you, in terms of critiquing that group, I think I've got it. I think the American people got it. It's been a disaster."
Previously, Sununu slammed Florida for raising taxes as his state cut them.
"And again, we just doubled down on that with the cutting of the taxes," Sununu said in May on The Howie Carr Show. as previously reported by POLITICO Florida Playbook. "And Florida is great, Florida's been very flexible. He did sign another billion dollars of tax increases. I love Ron, but the fact of the matter is their taxes are going up and ours are going down. So I think we're going in the right direction."
A recent New Hampshire poll has Sununu getting just 4% support in a crowded field, suggesting he may have some work to do even with home state voters to make his presidential case. While "favorite son" candidates do sometimes perform well, Floridians remember the ultimately failed 2016 campaign of Marco Rubio as illustrating that theory doesn't always prevail.