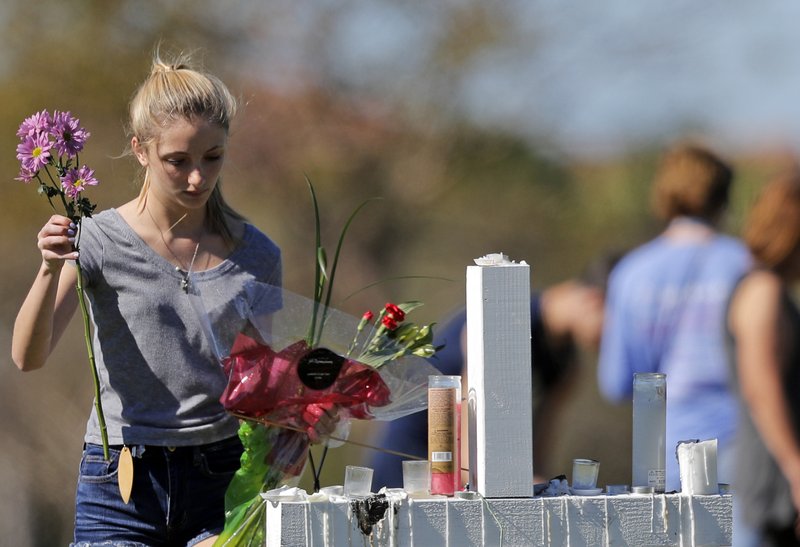 The massacre at Marjory Stoneman Douglas High prompted the Florida Legislature to pass major gun safety reforms in 2018. Things are now heading in the opposite direction.
Gun violence prevention group Giffords is blasting Republican lawmakers in Florida for their timing of a hearing on legislation to allow concealed carrying of a firearm without a permit.
Tuesday marks five years since a gunman murdered 14 students and three staff members at Marjory Stoneman Douglas High School in Parkland. On Monday, Senate President Kathleen Passidomo scheduled the Senate Criminal Justice Committee to take up a bill (SB 150) on Feb. 20 eliminating the license requirement for Floridians to carry a concealed firearm.
"Instead of working to address gun violence in the state, Florida Senate Republicans introduced dangerous legislation that will drive gun violence up and further jeopardize the safety of our families and communities," Giffords Florida senior adviser and former Congresswoman Debbie Mucarsel-Powell said in a statement.
The massacre at Marjory Stoneman Douglas High prompted the Florida Legislature in 2018 to pass major gun reforms for the first time in decades, including raising the minimum age to purchase a firearm to 21 and extending the waiting period.
Things are now heading in the opposite direction, as evidenced by SB 150, sponsored by Republican Sen. Jay Collins, and a similar measure (HB 543) by Republican Reps. Chuck Brannan and Bobby Payne that last week cleared the first of three committees to which House Speaker Paul Renner assigned it.
Collins' bill and its House analogue both aim to get rid of the concealed carry license requirement. In doing so, the change would also remove the need for prerequisite background checks, fingerprinting, firearm safety training and a $97 fee for first-time concealed carry applicants.
The Senate version, titled "Public Safety," features additional language to create a standardized process for handling threatening student behavior, an online threat-reporting portal and more allowances for school district and private school employees to carry concealed guns on campus. It would also establish a new program placing gun-sniffing dogs at certain K-12 schools.
Passidomo, who initially proposed asking voters to decide whether to eliminate the need for a concealed weapons permit, called SB 150 a "robust public safety package" balancing public safety with personal liberty.
"This comprehensive legislation ensures our laws respect the constitutional rights of law-abiding Floridians while at the same time incorporating valuable tools recommended by law enforcement that will increase the safety of our schools and communities," she said in a statement Feb. 9, when Collins filed the bill.
Removing a barrier to the concealed possession of a deadly weapon is the opposite of gun-safe legislation, argued Mucarsel-Powell, who lost her father to gun violence in Ecuador two decades ago.
"My family came to the United States, as so many Floridians did, to find a safer place to raise our children," she said. "This 'no questions asked' permitless carry bill will endanger Florida's children. We must come together and make our voices heard."
Recent polling Giffords conducted indicates Floridians aren't keen on the idea of their state joining 25 other states with some form of permitless carry law.
Giffords — named for former Congresswoman Gabby Giffords, who in 2011 was shot in the head by a crazed gunman — released the results of a survey in September that found 61% of voters in the state oppose the move. That includes more than two-thirds of voters in Miami-Dade, Florida's most populous county, where 71% of Democratic respondents and 65% of registered Republicans and independent voters said no to no-permit carry.
A 2017 study published in the National Bureau of Economic Research revealed that weakened public carry laws are associated with a 13-15% uptick in violent crime rates and an 11% increase in gun homicides.
GVPedia, a research group that studies and compiles data on gun violence, found states suffered a 22% rise in gun homicides for the three years following the passage of a permitless carry law — more than double the 10% increase for the country overall.
About 2.5 million Floridians have concealed weapons permits. Between July 1, 2021, and June 30, 2022, the Florida Department of Agriculture and Consumer Services rejected 7,605 concealed carry applications.
___
Editor's note: An earlier version of this story incorrectly said the Senate Criminal Justice Committee would hear SB 150 at its Feb. 14 meeting.