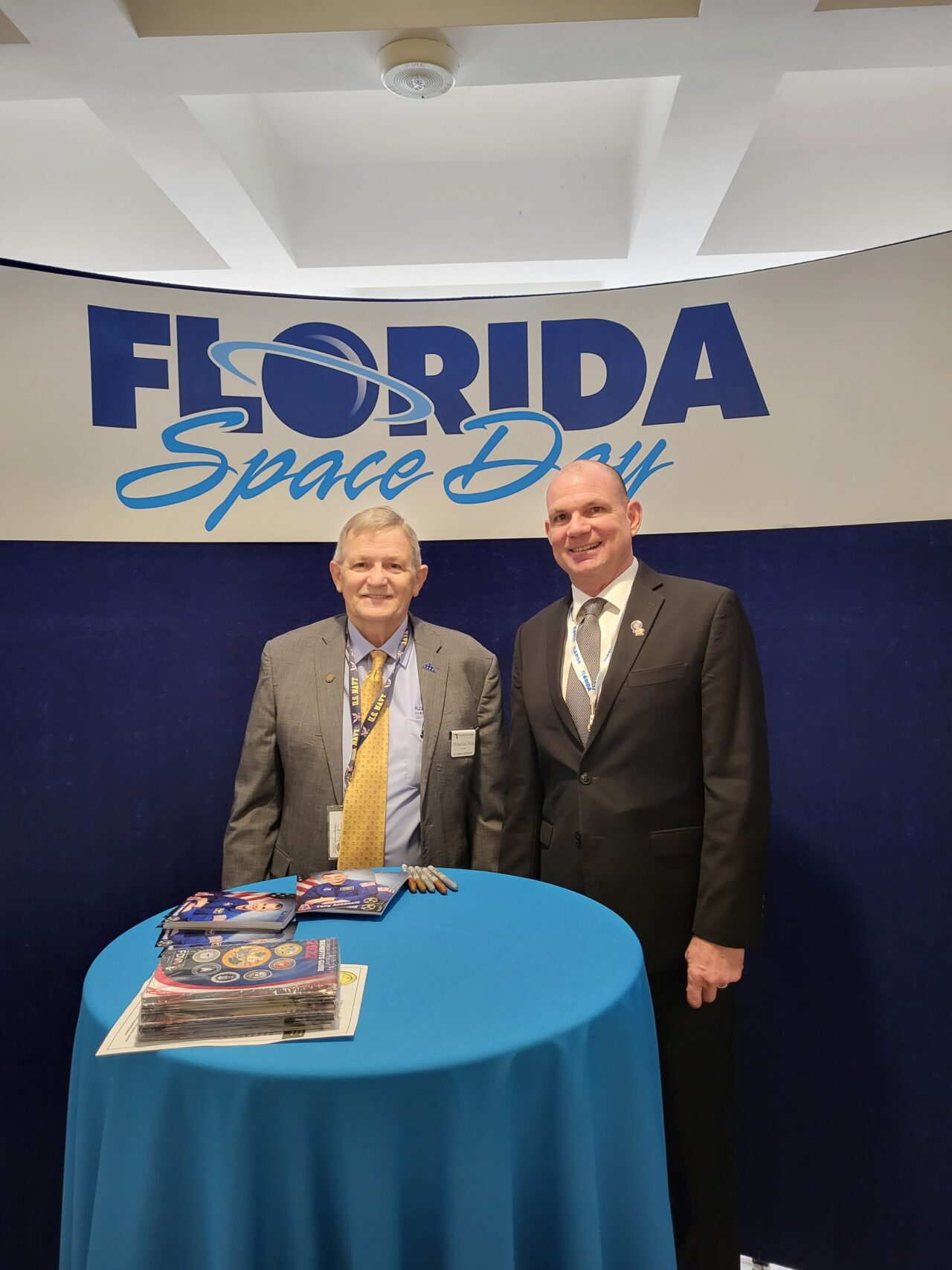 'We see Florida as the gateway to space 50 years from now.'
Top aerospace companies showcasing innovative products and multiple vendors promoting the aerospace industry and scholarship programs for students gathered in the Capitol Tuesday during 2023 Florida Space Day.
Students met with lawmakers to advocate for science, technology, engineering and math (STEM) education programs, part of the overall mission to make the state the top hub for the aerospace industry, according to Space Florida.
The all-day event kicked off with exhibits in the morning, featuring vendors representing the state's colleges and universities, as well as astronaut Tony Antonelli, who flew on two space shuttle missions.
Antonelli stressed the importance of scholarship programs for students who want to pursue careers in STEM.
"All the other folks that you see here in different booths are here to remind the state legislators the importance of the space industry to the state of Florida and the breadth of benefits to the state," Antonelli told Florida Politics.
A scholarship foundation was "started by the original Mercury 7 (group of astronauts) and they've since added on all the rest of us to let them join," he said. "They provide STEM, science, technology, engineering, and math scholarships to college juniors and seniors."
Space Florida operates as a tool for aerospace companies to help them "gain financing" and development, said Anna Alexopoulos Farrar, vice president of corporate communications.
"What we're doing here today is really advocating for everything from workforce, economic development," she said. "We have students here that are interested in STEM that are pursuing degrees in STEM education and they're here advocating for what they want to see (in) the future of space."
"We see Florida as the gateway to space 50 years from now," she added. "We want anyone who's going up there to have to come through here. And that's a really important thing that we think about today and how we structure business climate. … Space is considered an official mode of transportation, so it's all the things from infrastructure to workforce development, investing in our children and educating them to pursue these careers that are really going to make the difference."
Jim Maus is vice president of program execution and integration space business unit at Aerojet Rocketdyne in West Palm Beach. On display at his table was the company's RL10 engine model.
The company provides aerospace defense and missile programs to defend America.
"The 10 engine" was built in Jupiter, Maus said. "And we have 500 employees at our West Palm Beach facility that built this engine and other products for the nation."
Meanwhile, students studying the space industry at the University of Central Florida in Orlando spoke with attendees about space exploration projects.
The University of Central Florida (UCF) is nicknamed the "space university," Farrar said, adding that "almost 30% of the employees that work at the Kennedy Space Center are graduates of UCF."
So far, there have been eight launches this year, Farrar added. The commercial space launches include government or military missions. And it's estimated that there will be 98 launches out of Florida by the end of 2023.
"There is more and more commercial space activity happening" in Florida, Farrar said. "And we are here to support and bolster to ensure that Florida continues to lead."