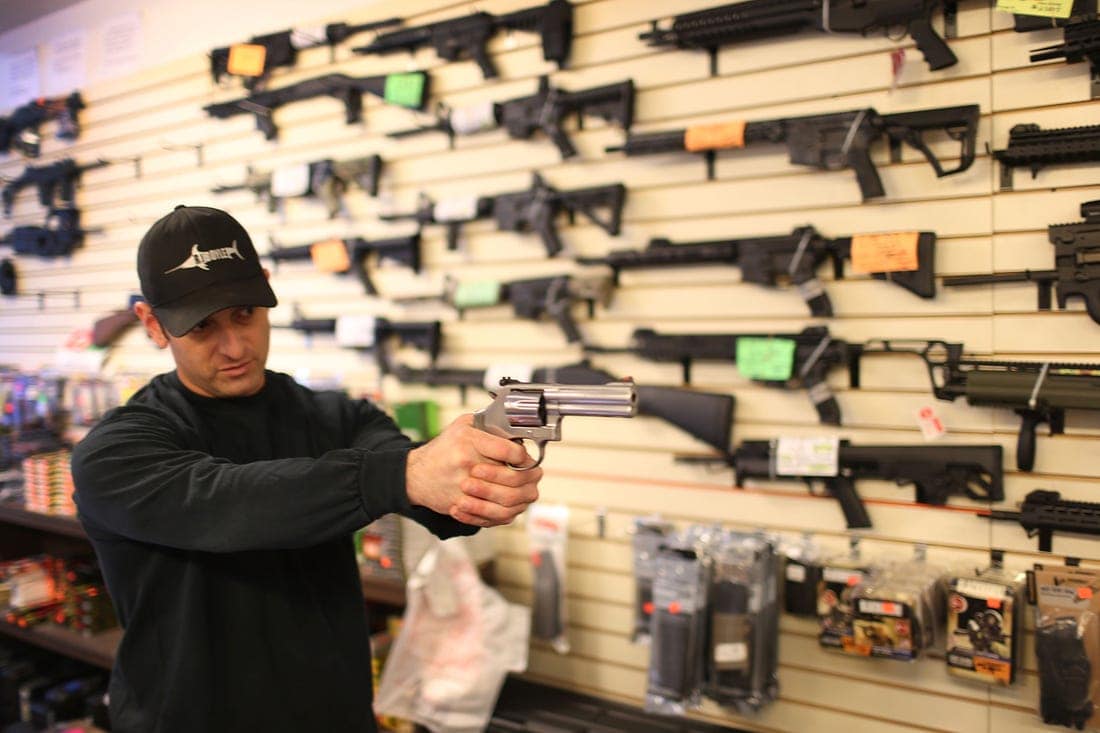 'We know when a deal's been cut. We can see it as plain as day.'
The Senate's version of legislation to remove the requirement to get a permit to carry a concealed firearm includes a series of provisions aimed at beefing up school security.
Republicans in favor of the bill (SB 150) still got a storm of condemnation from gun control advocates and gun rights supporters alike on Monday as it passed through the Senate Criminal Justice Committee.
"We're taking a giant step forward to restore our Second Amendment rights," said Sen. Jay Collins, a Tampa Republican and the bill sponsor.
The bill passed on a 5-3 party-line vote, with Republicans in favor and Democrats opposed.
Gun control advocates argued the measure would lead to more shootings and make it easier for felons and domestic abusers to get guns.
"We need common sense gun laws and getting rid of background checks and no training for firearms is not the answer," said gun control advocate Jeremy Rodriguez.
Supporters of the bill noted removing the permit requirement doesn't eliminate the three-day waiting period or background check required to get a gun, and argued the training involved in getting a permit isn't extensive.
But as was the case in the House, some of the fiercest criticism of the bill came from gun rights advocates who think the bill doesn't go far enough. They want the bill to allow them to carry guns openly, the weapon visible on their person.
"We're insulted by this bill. It's a slap in the face to the Second Amendment community in the state of Florida," said Bob White, Chair of Republican Liberty Caucus of Florida.
White, who ran for Governor in 2018 and garnered 2% of the vote in the GOP primary, said he's opposed to the bill, which can't be called "constitutional carry" as some supporters dub it, without the open carry provision. Gov. Ron DeSantis has pledged to sign a constitutional carry bill this year.
"We know when a deal's been cut. We can see it as plain as day," White said. "The Florida House and the Florida Senate and the Governor's office got together on this bill and this is what they want … and it's going to go the Governor and he's going to sign it and there's going to be this victory lap that's going to be taken where everybody is going to crow about how we passed constitutional carry in the state of Florida and you will not have done that at all."
Democrats, meanwhile, slammed the move to combine the school safety measures with the repeal of the permit requirement and bemoaned the committee's rejection of three amendments offered by Sen. Jason Pizzo, a North Miami Democrat. The amendments would've limited the ability to carry without a permit to one firearm; prohibited anyone with a domestic violence injunction from being eligible to carry without a permit and barred anyone from having a weapon on their person while they're intoxicated. Current law only bars someone from holding the gun in their hand while intoxicated. Republicans said the measures either weren't needed or were covered in other sections of Florida law.
"If you're drunk you shouldn't be carrying a loaded firearm on your person," Pizzo said.
The bill now heads to the Senate Fiscal Policy Committee before going to the floor.