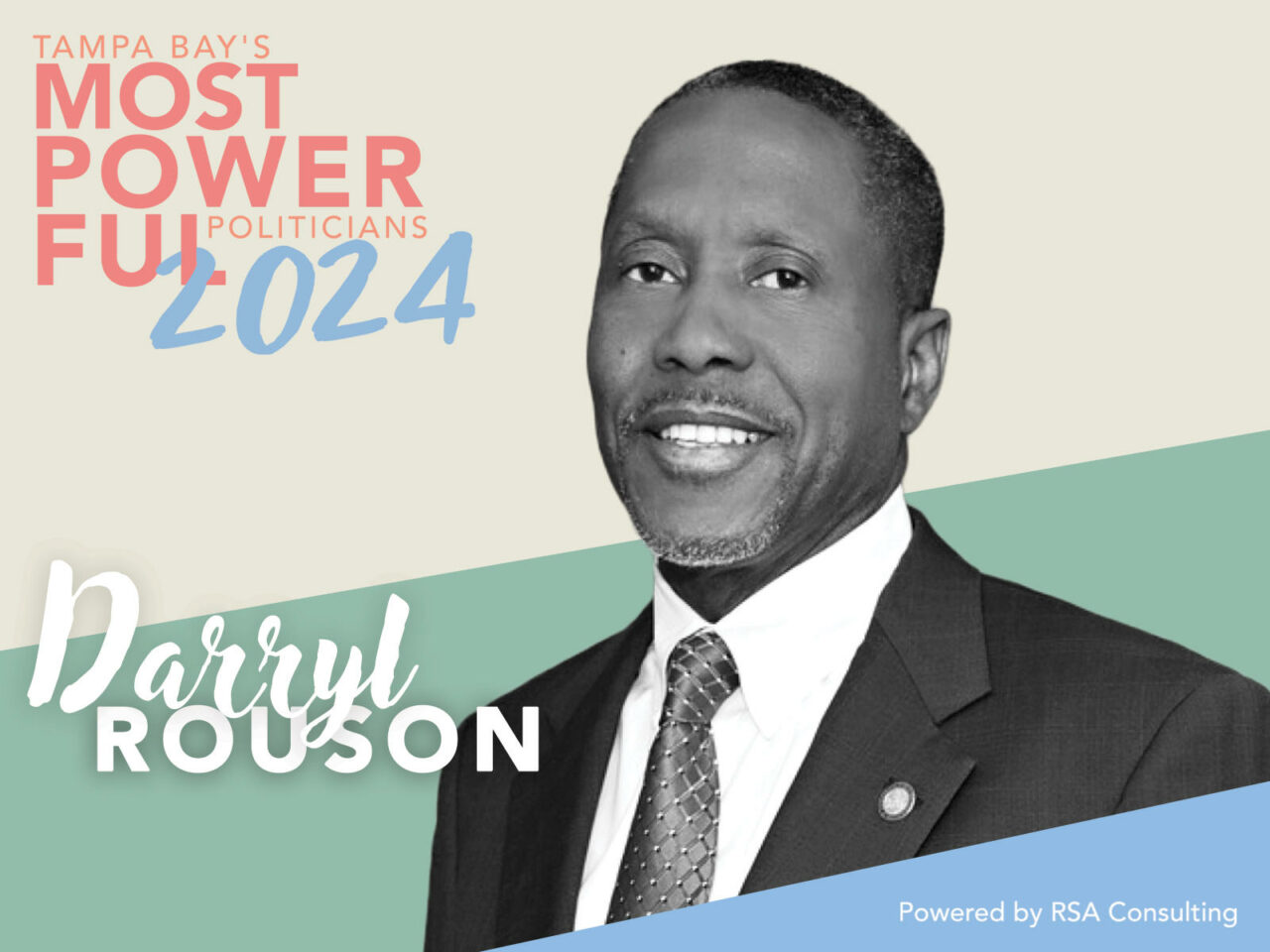 The former NAACP leader has spent a decade and a half fighting in Tallahassee for St. Petersburg.
As state Sen. Darryl Rouson tallies 15 years in Tallahassee, the St. Petersburg Democrat continues to deliver for Pinellas County.
The lawmaker has navigated a sometimes challenging course from activist to public service. The president of the St. Petersburg Chapter of the NAACP entered the political arena as a champion of Midtown. Now he's the Vice Chair of the Senate Appropriations Committee, one of the most influential positions in the upper chamber of the Legislature.
"Sen. Darryl Rouson is an effective and thoughtful lawmaker and just a good human being, totally dedicated to public service and the people he represents," said Senate Minority Leader Lauren Book.
"Sen. Rouson is soft-spoken, deliberate in his choice of words, because he knows that words matter and experiences matter. He's a successful lawmaker, passing bills including the creation of a Slavery Memorial, acknowledging abuses at the Dozier School for Boys and bettering mental health and rehabilitation programs for folks with substance abuse problems, all issues near and dear to his heart."
The memorial, established in the Florida Capitol by the Legislature in 2017, draws attention to a difficult part of American history. The achievement of establishing such a monument half a decade ago seems all the more impressive a lift at a time when forces in Tallahassee often seem to limit discussions of systemic racism.
Local leaders say the creation of landmarks recognizing Black History do more than acknowledge the past.
Esther Matthews, the current president of the St. Petersburg NAACP, notes Rouson also played a critical role in establishing the new Dr. Carter G. Woodson African American Museum, which showcases the Florida leaders in Black history. She also lauded Rouson's work so that the Science Center of Pinellas County opened branch campuses in Black neighborhood schools.
"He was just being very intentional about bringing satellite centers from that particular institution into St. Petersburg so that those who had the desire to go deep into STEM would have that opportunity," Matthews said.
She said that when it comes to being a state-level advocate for St. Petersburg, Rouson always stepped up to the plate.
That's earned respect within his caucus.
"Sen. Rouson speaks and votes with conviction and reason — and over his 15 years of service in the Legislature has shown time and time again that he is someone our caucus can look up to," Book told Florida Politics. "I am proud to count him as a colleague and as a friend."
But members note he has strong relationships across the aisle as well. He has worked closely with state Sen. Doug Broxson, a Panhandle Republican, on allocating dollars across the state.
His comfort with the appropriations process has made him a sought-after partner on budget issues following his eight years in the House.
He also remains a critical voice on issues affecting the marginalized, whether that means minority communities, the LGBTQ community or those afflicted with drug addictions. The final matter is of personal importance to Rouson, a former addict himself. Book said his work extends beyond legislation, and that he helps people on a personal level.
"When a member of my family was struggling with substance abuse, Sen. Rouson was there for me and for him, checking in weekly to offer support," she recalled.
Methodology 
We define the Tampa Bay region as Pinellas, Hillsborough and Pasco, but can also include Hernando, Polk or Sarasota — if the politicians from those counties impact either Pinellas or Hillsborough.
We define a politician as being in office or running for office.
Being first on a panelist's list earns the politician 25 points, second earns them 24 points and so on, to where being listed 25th earns a politician one point. Points are added and, voilà, we have a list.
Special thanks go to our experienced and knowledgeable panelists, who were essential to developing the 2023 list: Christina Barker of the Vinik Family Office, Ashley Bauman of Mercury, Ed Briggs of RSA Consulting, political consultant Maya Brown, Ricky Butler of the Pinellas Co. Sheriff's Office, Reggie Cardozo of The Public Square, Ronald Christaldi of Schumaker, Barry Edwards, Joe Farrell of Pinellas Realtors, pollster Matt Florell of Vicidial Group, Shawn Foster of Sunrise Consulting Group, Adam Giery of Strategos Group, political consultant Max Goodman, Mike Griffin of Savills, Todd Josko of Ballard Partners, Natalie King of RSA Consulting, political consultant Benjamin Kirby, Merritt Martin of Moffitt Cancer Center, Mike Moore of The Southern Group, Ron Pierce of RSA Consulting, J.C. Pritchett, pastor of St. Pete's Faith Church, Darren Richards of Tucker/Hall, Preston Rudie of Catalyst Communications Group, Amanda Stewart of Johnston and Stewart, Bemetra Simmons of the Tampa Bay Partnership, Alan Suskey of Shumaker Advisors and communications consultant Janelle Irwin Taylor. With Michelle and Peter Schorsch.