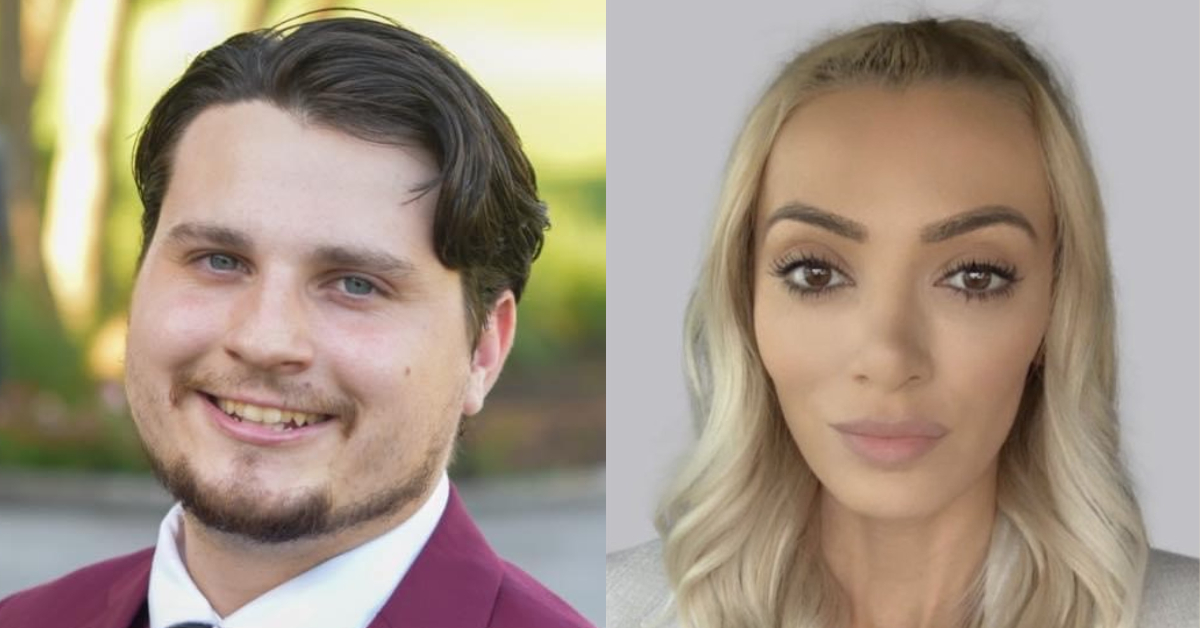 One is a political operative making his first run at elected office. The other is a finance and consulting pro.
Rep. Rick Roth will reach term limits in 2024 after eight years in the House, and two fellow Republicans have already filed to succeed him.
One is Roth's former campaign manager, Jon Carter, a 27-year-old Loxahatchee resident who is seeking office after years of working as a staffer for several elected officials.
The other is Gabrielle Fox, a 39-year-old Palm Beach Gardens psychologist and entrepreneur whose personal website says she began "researching political figures and political history (due to a big fat red pill when Killary tried running for President)."
Both are first-time candidates.
Fox owns and operates CG Premier Solutions, a business consultancy firm focused on finance operations and branding, and a "boutique bookkeeping + financial management firm" called PB Ledger. She is also a project manager with private equity firm Keel Harbour.
Carter said he's running to bring innovative ideas and solutions to the Legislature, where he hopes to promote economic growth and improve the quality of life in House District 94, which runs from West Palm Beach's suburban communities to Belle Glade.
"I'm running for office because I believe that we need leaders who will put people first," he said. "We need to work together to build a brighter future for our community, and I am committed to doing just that."
Fox's campaign website lists campaign priorities including defending Floridians' constitutional rights, combating inflation through support of Florida-based manufacturing and family farms, and promoting traditional American values in schools.
She told Florida Politics she's been thinking of running for office for a couple years.
"I live in Florida and this community. My fiancé and I will raise our family in this district. We're looking for a home here together," she said. "I just got tired of seeing people elected who say all the right things to get into office and then, once they get in, they vote quite the opposite of what their constituents are counting on them for."
Fox said she is "very active" in her church, which also inspired her to seek an elected leadership role.
"My faith has pushed me to be more involved in my community, and this is a good way for me to do so," she said, adding that she has "always been interested in legislation."
Neither candidate has reported any campaign fundraising yet. Fox last month launched a political committee, Palm Beach Conservative Patriots, to support her effort.
Carter, who since November has worked as the Chief of Staff for Palm Beach County Commissioner Sara Baxter, announced his 2024 candidacy Saturday for House District 94.
Prior to working for Baxter, he was a district aide for Roth, one of several employers Carter has had during his nearly eight years in politics.
"I believe that my experience and dedication to public service make me the best candidate to represent the people of this district," he said. "I am committed to fighting for the issues that matter most to our community, such as supporting agriculture, improving our infrastructure, creating jobs and keeping our neighborhoods safe."
Carter's first political job was as a field organizer for former Lt. Gov. Carlos Lopez Cantera's short-lived run at the U.S. Senate in 2015. He worked as a deputy campaign manager for lawyer Matt Spritz's House bid, a legislative aide for former Palm Beach Mayor Robert Weinroth and on Roth's re-election campaign last year through the Florida House Republican Campaign Committee.
He also worked as an enumerator for the U.S. Census Bureau in 2020 and served as president of the Rotary Club Downtown Boca Raton and is the current Chair of the Boca Raton Community Advisory Panel.
Carter told Florida Politics he originally expected to go into journalism, a pursuit he explored in brief stints as a political correspondent for the Boca Voice and columnist for the Boca Raton Tribune.
Then he ran for — and won — Student Body President at Palm Beach State College, where he earned an associate's degree in political science and government. He later attended Florida Atlantic University, where he continued to study political science and government, and served as the school's director of government relations.
"Going to Tallahassee on behalf of students, trying to bring home dollars for Palm Beach State College and fighting for appropriations for veteran resources — being part of those experiences, it really changed me," he said. "People told me, 'You know, this is a real job. You can do this professionally.' That got me into politics."
Fox is holding a fundraising event Tuesday at the Palm Beach Marriott, according to her Facebook page. The suggested per-person donation is $250. On March 2, Fox said she'd already received "well over 60 RSVPs."
"I'm in this fight officially and ready to rid the state … of establishment Rinos aka people who vote opposite their campaign promises," she wrote. "Appreciate the support and kind encouragement I've gotten thus far and excited to kick ass in 2024!"
Before filing to run for HD 94, Fox shared several conspiracy theories on social media, including a pair of posts in December alleging former Twitter CEO Jack Dorsey is involved in a pedophile ring and that environmental activist Greta Thunberg is a "satanic minion."
The 2024 Primary Election is on Aug. 20, followed by the General Election on Nov. 5.
@elonmusk just saying… since 2020… @jack I see you… #TwitterFiles pic.twitter.com/UL4eE5xAEe

— Gabrielle Fox | Politi-Psych (@thegabriellefox) December 9, 2022
Satanic minion. But keep liking this cool "bUrN" post guys… 😵‍💫🤡 pic.twitter.com/dFD5MXcVnt

— Gabrielle Fox | Politi-Psych (@thegabriellefox) December 30, 2022
___
Editor's note: This story was updated to include a quote and additional information from Fox.