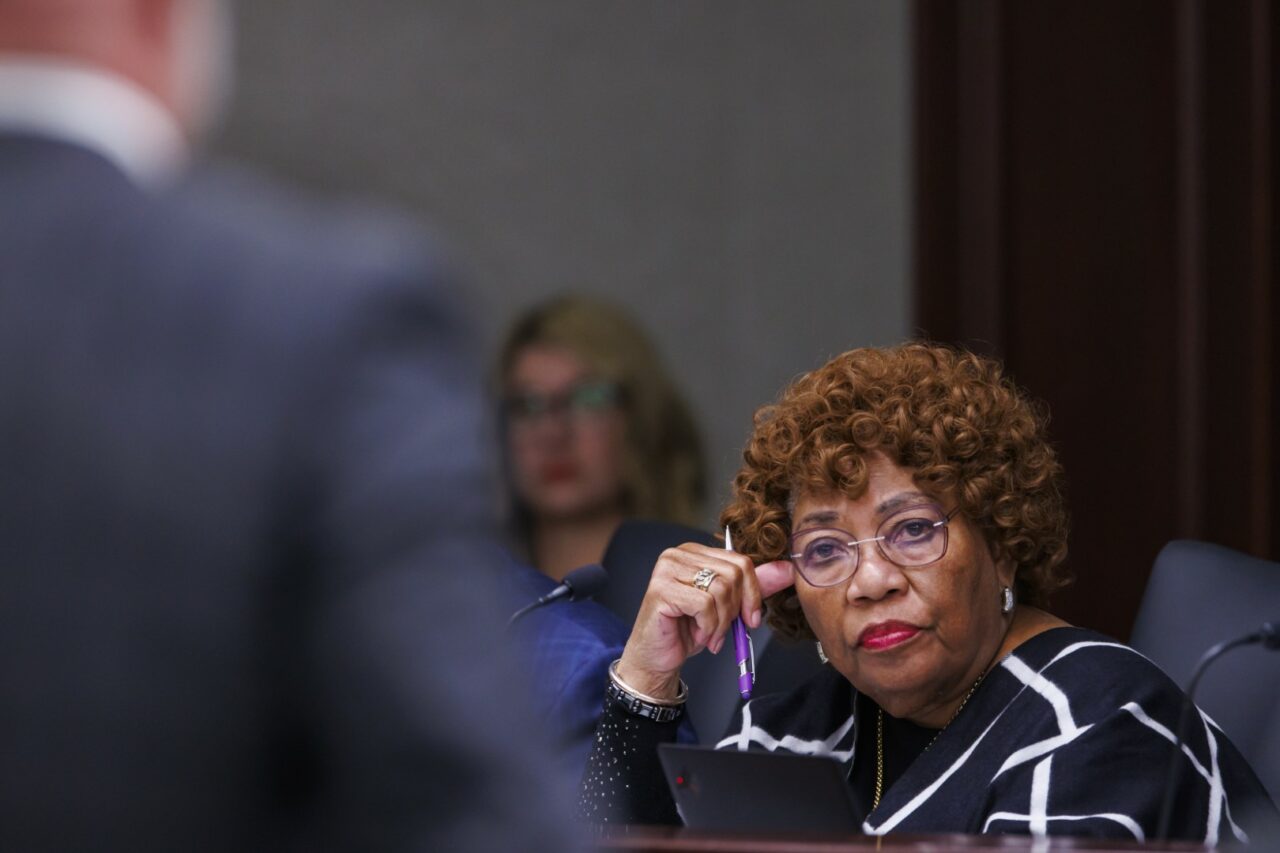 She cites a far more recent push by the Florida GOP to stifle voter access as cause.
Orlando Democratic Sen. Geraldine Thompson is pushing back on the "games" she says her Republican colleagues are playing.
Thompson said she is prepared to propose an amendment to a bill (SB 1248) Spring Hill Republican Sen. Blaise Ingoglia filed last month aiming to eliminate the Democratic Party in Florida.
Thompson's amendment would nix Republicans instead by banning "any political party that has worked to suppress voting, thereby maintaining the last vestiges of slavery."
"Voters did not send us to Tallahassee to engage in sophomoric games," she said in a statement.
Thompson cited a GOP-backed law (SB 90) Gov. Ron DeSantis signed in May 2021 restricting mail-in voting, access to drop boxes and some activities by organizations during elections. In March 2022, a district court issued an injunction after calling parts of the law unconstitutional and part of a pattern of racial bias against Black voters.
A higher court placed a stay on that injunction in May, and arguments over the issue went before an appeals court in September.
She did not mention DeSantis' new congressional maps, which the Republican-dominated Legislature approved, that eliminated two Black-performing districts before the 2022 Midterms. That issue also is the subject of ongoing legal action against the state.
Thompson noted her challenge of Ingoglia's bill comes on the 58th anniversary of Bloody Sunday, a brutal attack on nonviolent civil rights protesters who marched from Selma to Montgomery on March 7, 1965, to demonstrate the desire of Black Americans to exercise their constitutional right to vote.
"Black Americans were beaten, bloodied and killed for advocating for access to the polls in the century after the Emancipation Proclamation was signed," she said. "One hundred years later and African Americans were still fighting for their right to vote."
Titled the "Ultimate Cancel Act," Ingoglia's bill does not name the Democratic Party. Instead, it would eliminate any political party that once used slavery as part of its platform.
The Democratic Party indeed included slavery as part of its platform between 1840 and 1864.
But the party split during the Civil War, with Southern Democrats favoring slavery in all territories and Northern Democrats arguing it should go to a popular vote.
That rift triggered a long process that saw Republicans shift from being the more liberal party to the conservative GOP we know today. Those changes culminated in the 1960s through the '80s and were based, at least in part, on the civil rights movement and ideas on government control and intervention.
A century after the Civil War, it was a Democratic President from the South, Lyndon Johnson, who signed the Civil Rights Act, with support from many Republicans of the North but none from the South.
Ingoglia has made clear his bill, which would require all Democratic Floridians to re-register with the state under a "substantially different" party name, isn't meant to hold those who supported slavery accountable. The goal, he said, is to give Democrats a taste of their own medicine.
"Democrats wrote the unwritten rules of cancel culture: No matter what you do today, you should be judged by the sins of your past," he said. "If you applied the same metric to the Democratic Party, we should be canceling the Democratic Party itself."
Thompson argued the same should be the case for the Republican Party, but for a much more valid — and significantly more recent — reason.
"(Voters) want Legislators to protect their constitutional rights, including the right to vote," she said.
"The legislation filed by Sen. Ingoglia does the opposite. It is in line with his and others' wish to 'own the libs' — not protect Floridians' voices at the polls. I must stress that Abraham Lincoln signed the Emancipation Proclamation — and nobody owns me."