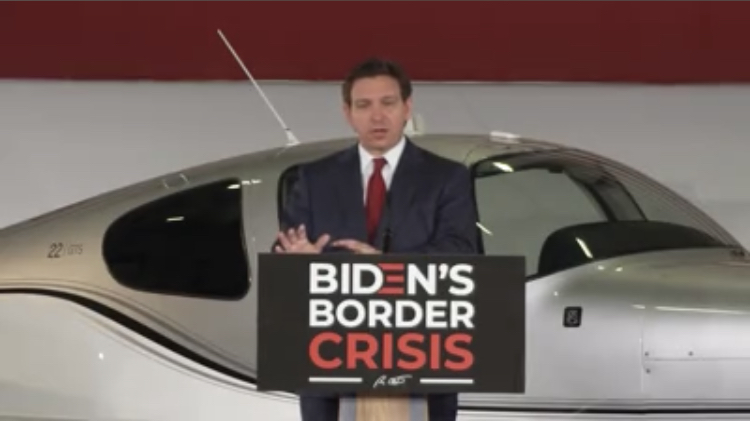 Sean Shaw, Alex Sink participated in the Zoom call with Hawkeye State Democrats.
Democrats from both Florida and Iowa are coming together to raise alarms about potential presidential candidate Ron DeSantis.
The Florida Governor is headed to Iowa this weekend to meet with Republican legislators in Des Moines and other campaign stops — a seeming prelude to a 2024 campaign for the White House — offering an opportunity for Democrats from both states to decry the second-term Florida Governor.
Former Chief Financial Officer Alex Sink explained who "the real Ron DeSantis is" in her view, saying that Floridians "deserve the freedom to live prosperous and safe lives," which DeSantis allegedly impedes.
On the Thursday Zoom call, Sink cited increasingly unaffordable housing and spiking rents and contended DeSantis has "done nothing to affect this," preferring instead to fund "ideological projects."
Insurance prices also concern Sink, who noted homeowners' insurance rates have "doubled over the last four years," with DeSantis passing a "$3 billion bailout fund for his cronies in the insurance industry" that won't help homeowners. Floridians "also pay the highest auto insurance rates in the country," Sink added.
Sink also spotlighted a proposed abortion ban after six weeks of pregnancy and the highest per capita death rate in the country from COVID-19, as well as Florida's lack of Medicaid expansion and the Governor's support for "open carry," as particularly objectionable and "totally outrageous" DeSantis stances.
"We're just here to sound the alarm. Ron DeSantis is being ruled by his own personal ambition. He doesn't care about Floridians. He's trying to sell this as a Blueprint for America. Trust me, you don't want that Blueprint for America," Sink argued.
Former Attorney General candidate Sean Shaw contended "DeSantis does not believe in true freedom," countering the Governor's assertion there is a "Free State of Florida." He noted attacks on "honest history" and "our ability to live freely and openly as we are" as particularly objectionable.
"Someone needs to tell Ron DeSantis he's not a king. I hope it's y'all, Iowa," Shaw said, accusing the Governor of "trying to pander to the lowest common denominator of American society."
In addition to the Florida leaders on the call, an Iowa state Representative, a parent from the state, and Matt Sinovic, the executive director of the left-leaning Progress Iowa, also made their cases.
DeSantis' visit comes as the first Iowa public polling is set to emerge Friday.
"As the Iowa caucuses begin to heat up and the state Legislature is at full throttle, a new Des Moines Register/Mediacom Iowa Poll will share the results of Iowans' opinions of four Republicans expected to be front-and-center during the 2024 presidential campaign: former President Donald Trump, Florida Gov. Ron DeSantis, former Vice President Mike Pence and former United Nations Ambassador Nikki Haley," the Register reported, with the poll set to drop Friday.