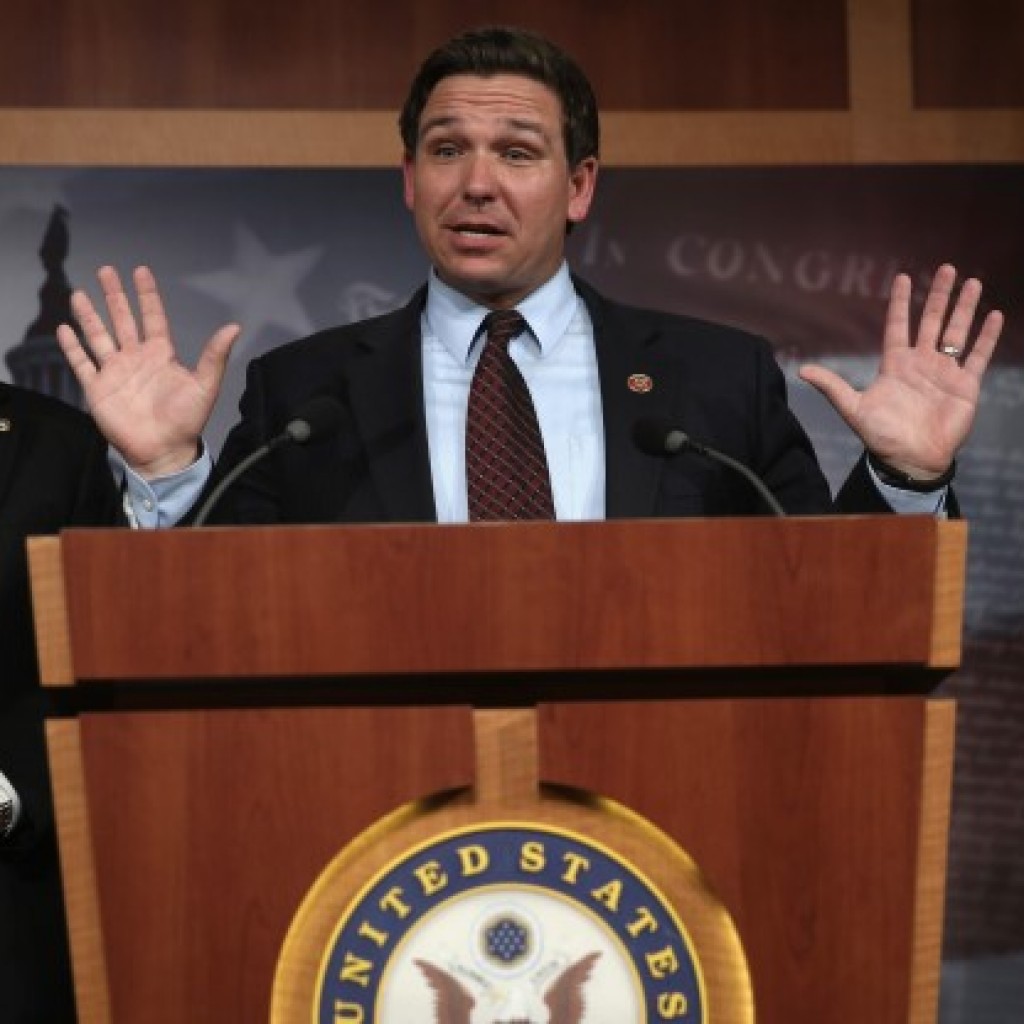 He once slammed Barack Obama for not sending enough weapons. Now he feels Joe Biden gave Ukraine a 'blank check.'
Ahead of an expected campaign for President, Gov. Ron DeSantis came out against U.S. support of Ukraine. But that's just the latest change in DeSantis' position on Ukraine over the years.
Here's what the all-but-announced presidential candidate has said throughout his political career.
2014
The U.S. House in 2014, then controlled by Republicans, passed the Ukraine Support Act, which authorized then-President Barack Obama to provide assistance to the nation after Russia occupied Crimea. The bill included sanctions against individuals in the Russian government supporting President Vladimir Putin. The legislation passed overwhelming bipartisan support, with a 399-19 vote.
DeSantis, then a Congressman, voted in support. There were three "no" votes from the Florida delegation on the measure, from Democratic U.S. Rep. Alan Grayson and Republican U.S. Reps. Bill Posey and Ted Yoho; Grayson and Yoho have since left office.
2015
As most Republicans demanded Obama offer stronger support to Ukraine, then-U.S. Rep. DeSantis told conservative radio host Bill Bennett he wanted the administration to do more. CNN unearthed the interview for a report last month.
"We in the Congress have been urging the President, I've been, to provide arms to Ukraine. They want to fight their good fight. They're not asking us to fight it for them. And the President has steadfastly refused. And I think that that's a mistake," DeSantis said at the time.
"I think that when someone like Putin sees Obama being indecisive, I think that whets his appetite to create more trouble in the area. And I think if we were to arm the Ukrainians, I think that would send a strong signal to him that he shouldn't be going any further."
2017
As Democrats criticized then-President Donald Trump for purported coziness with Putin, DeSantis took to Fox News to defend the President. At that point, he still wanted to pop Obama for appeasement while discussing the Republican President's position.
"I'm dizzy with how Russia is handled by the Democrats," he told host Trish Regan.
"A couple years ago, Obama was refusing to provide lethal aid to Ukraine, they were trying to do a reset. The Democrats lauded that. They viewed guys like me who are more of the (Ronald) Reagan school that's tough on Russia as kind of throwbacks to the Cold War. They criticized Mitt Romney in 2012. Now all of a sudden, because they're using it against Trump, they're so concerned about Russia. I think we should be concerned about them, but I think a lot of this stuff has reaped the politics from the day that election happened."
2018
While running for Governor, DeSantis met repeatedly with Lev Parnas and Igor Fruman, Ukrainian Americans who were later arrested on charges of scheming to violate campaign finance laws. Parnas would later seek a spot on DeSantis' transition team, but was passed over.
Parnas was briefly in the national spotlight, accused of acting in a shadow diplomacy role for a pro-Russia Ukrainian government in place at the time. The discussions were central to the first impeachment of Trump, who in a phone call tied aid to Ukraine in the war to a potential investigation of then-political opponent Joe Biden's son Hunter.
2019
DeSantis and associated political committees returned any money associated with Parnas and Fruman, about $50,000 worth. The Governor acknowledged knowing Parnas but said he did not know Fruman well.
The Governor, as more photos emerged of meetings with Parnas, denied any knowledge of the shadow diplomacy.
2022
DeSantis refused to comment on Russia's invasion of Ukraine last year until it was five days in. When he did, he praised Ukrainian leadership. At the time, he said President Biden needed to act tougher and bring sanctions against Putin and Russia.
"This is a guy who basically is an authoritarian gas station attendant — OK? — with some legacy nuclear weapons from the old Soviet Union," DeSantis said of Putin. "Their whole society is hollowed out except for that energy. Hit him where it counts."
He again offered praise to Trump and lamented Obama's failures.
"The media spent four years saying that Trump was some type of agent of Russia," DeSantis said.
"And yet, when I was in Congress when Obama was President, Obama refused to send weapons to Ukraine. When Trump was President, we sent weapons to Ukraine. Putin didn't like that very much. When Obama was President, Putin took Crimea. When Trump was President, they didn't take anything. And now Biden's President and they're rolling into Ukraine."
2023
In response to a questionnaire from Fox News host Tucker Carlson, DeSantis said in a lengthy statement the U.S. should not support Ukraine in its current conflict with Russia.
"While the U.S. has many vital national interests — securing our borders, addressing the crisis of readiness within our military, achieving energy security and independence, and checking the economic, cultural, and military power of the Chinese Communist Party — becoming further entangled in a territorial dispute between Ukraine and Russia is not one of them. The Biden administration's virtual 'blank check' funding of this conflict for 'as long as it takes,' without any defined objectives or accountability, distracts from our country's most pressing challenges," DeSantis wrote.
"Without question, peace should be the objective. The U.S. should not provide assistance that could require the deployment of American troops or enable Ukraine to engage in offensive operations beyond its borders. F-16s and long-range missiles should therefore be off the table. These moves would risk explicitly drawing the United States into the conflict and drawing us closer to a hot war between the world's two largest nuclear powers. That risk is unacceptable."
DeSantis went on to say that pursuit of regime change in Russia would raise the risk of nuclear war and that support of Ukraine by the U.S. pushed Russia into a "de facto alliance" with China.
"Coupled with his intentional depletion of the Strategic Petroleum Reserve and support for the Left's Green New Deal, Biden has further empowered Russia's energy-dominated economy and Putin's war machine at Americans' expense," DeSantis wrote.
"Our citizens are also entitled to know how the billions of U.S. taxpayer dollars are being utilized in Ukraine. We cannot prioritize intervention in an escalating foreign war over the defense of our own homeland, especially as tens of thousands of Americans are dying every year from narcotics smuggled across our open border and our weapons arsenals critical for our own security are rapidly being depleted."