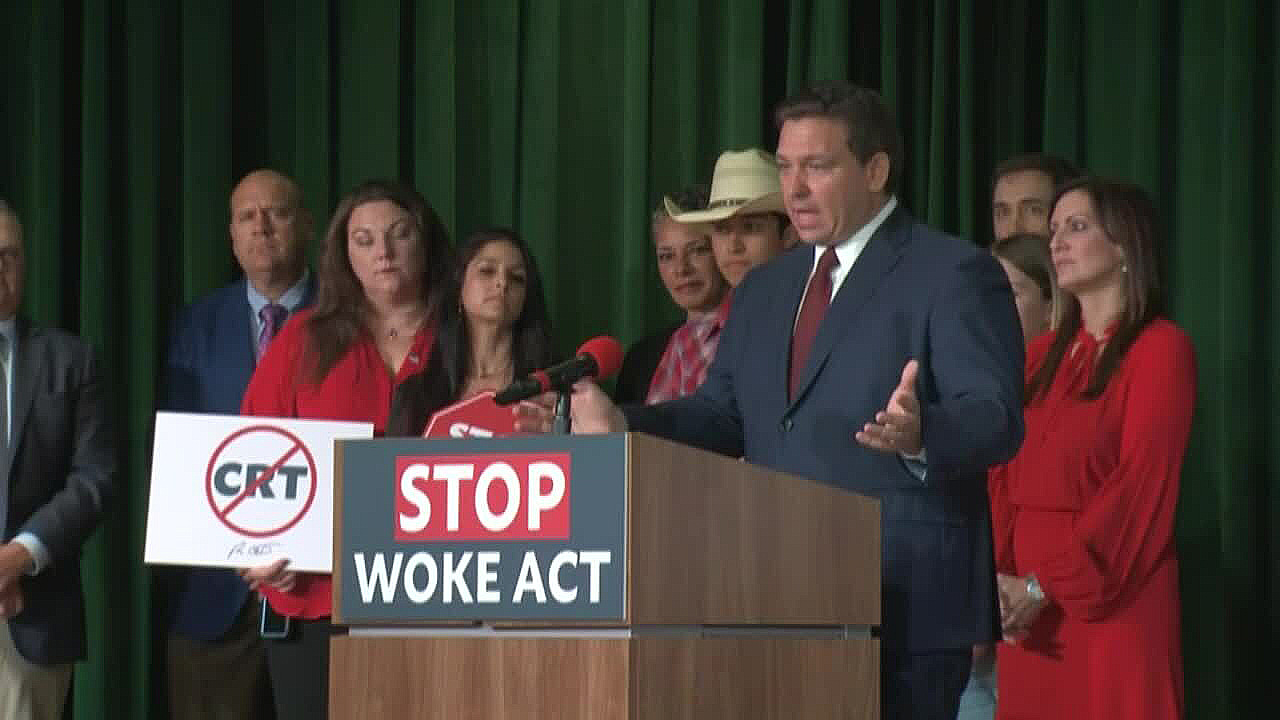 The ruling keeps in place a hold on the anti-woke law during full appeal.
Florida's attempts to crack down on instruction regarding race and gender issues will have to remain on pause — at least for now — according to a federal court ruling against Gov. Ron DeSantis.
The decision from the 11th Circuit Court of Appeals in Atlanta leaves in place a November injunction against the "Stop WOKE Act." It's a law that seeks to stop any kind of instruction or training that makes people feel uncomfortable or guilty because of race, gender or national origin.
Critics — and the law's legal challengers — argued the measure would unconstitutionally restrict discussions of the nation's history of slavery and other kinds of discrimination.
The Thursday ruling from the court of appeals brought cheers from the legal team representing a University of South Florida professor and a student.
"This is an important step in preserving the truth, civil liberties and a better future," said Jerry Edwards, staff attorney with the American Civil Liberties Union of Florida, which sued along with the Legal Defense Fund on behalf of the student and the professor.
But DeSantis' Office shrugged off the ruling's significance.
"The Court did not rule on the merits of our appeal. The appeal is ongoing, and we remain confident that the law is constitutional," said Bryan Griffin, DeSantis' spokesman, in an email.
Chief U.S. District Judge Mark Walker issued a 139-page ruling in November on the law passed last Session (HB 7), which is formally called the Individual Freedom Act (IFA). It gave students and employees a reason to sue if instruction or training made them feel uncomfortable or guilty due to their race, gender or national origin.
Professors could have faced losing their jobs and institutions faced loss of funding under the legislation, opponents said.
Walker called the law "positively dystopian" in the way it sought to limit instruction of certain topics.
After Walker's ruling, the case was immediately appealed to the 11th Circuit Court of Appeals in Atlanta, where a majority of Republican-appointed judges hold sway. It is one of a number of suits the legislation has spawned,
The "Stop WOKE Act" was part of a passel of laws considered part of the "culture war" agenda that won legislative approval last year. Other laws passed during the 2022 Regular Session allow for wider challenges of instructional materials and limited the way sexuality and gender are discussed in public schools.
DeSantis has blasted the current state of higher education as enforcing a particular point of view, saying efforts that initially aimed to include more people have become a source of indoctrination.
New bills under discussion this year seem to be treading into the same territory.
Republican Sen. Erin Grall has proposed a bill (SB 266) "Higher Education" that prohibits general education courses that "suppress or distort significant historical events or include a curriculum that teaches identity politics, such as critical race theory, or defines American history as contrary to the creation of a new nation based on universal principles stated in the Declaration of Independence."
The bill has received one committee nod. Similar legislation (HB 999) making its way through the House took that language out.
For now, though, last year's law will not affect instruction. Opponents called it a victory for the First Amendment and noted the legislation had already caused universities to scale back diversity and inclusion training as well as take down statements denouncing racism.
"The movement to restrict academic freedom and curtail the rights of marginalized communities is as pervasive as it is pernicious," argued Jason Leckerman, litigation department chair at Ballard Spahr, a law firm that is taking on the case pro bono.
"We are proud of the work we have done so far with our partners, the ACLU and Legal Defense Fund, but the fight is far from over. Today, we'll take a moment to savor this result — and then we'll keep working."
The court's refusal to lift the injunction during appeal could bolster similar challenges to classroom censorship efforts in Florida and other states, according to a news release.
Currently the ACLU has challenged similar classroom censorship laws in Oklahoma, which was the first federal lawsuit challenging one of these bills, and in New Hampshire, and awaits rulings in both cases, a news release said.