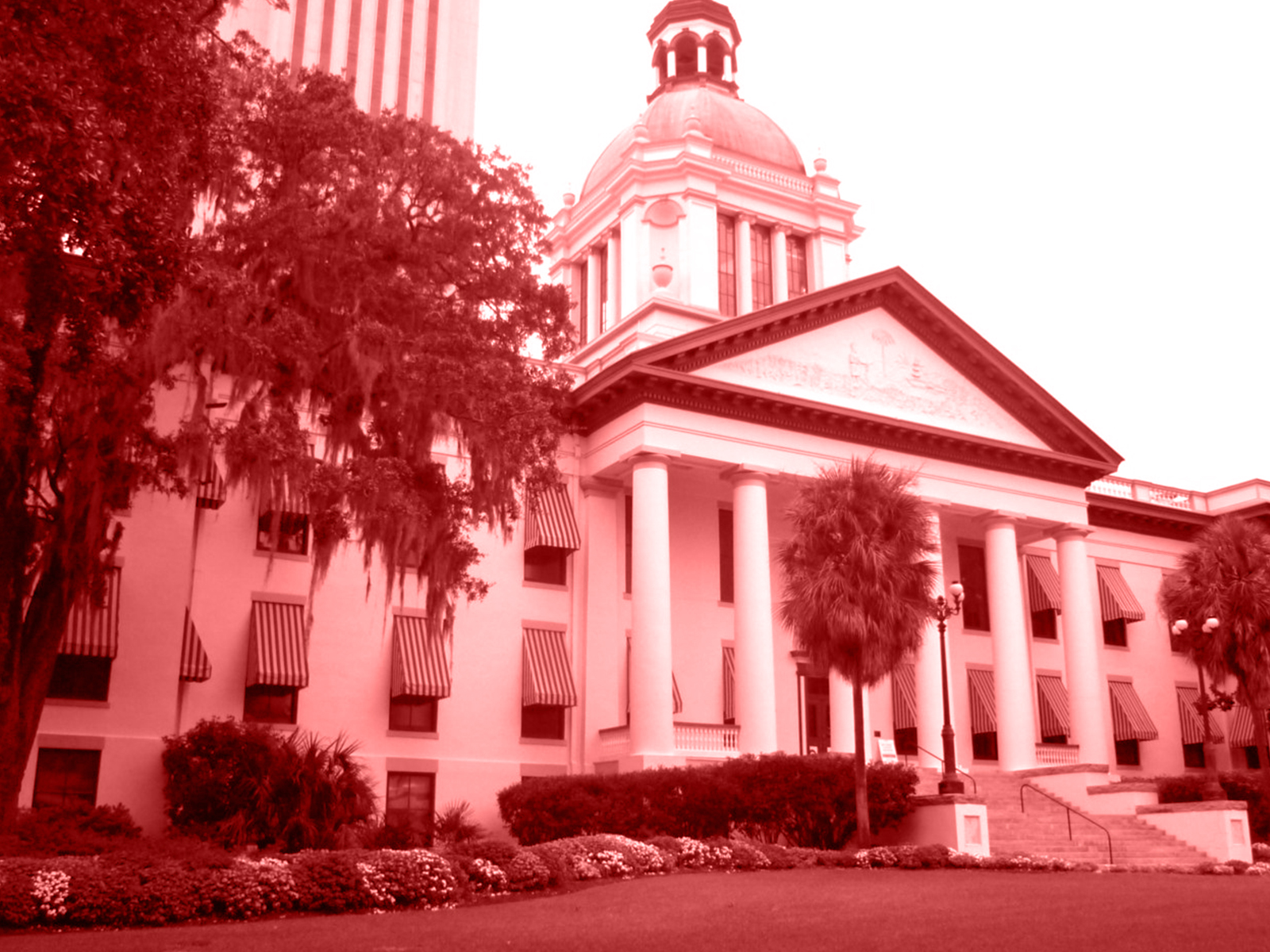 What's inside? All things Session.
Sixty Days — A prime-time look at the 2023 Legislative Regular Session:
The Last 24
Universal school choice is on the precipice of passage. The Senate on Thursday advanced its version (SB 202) of the proposal through the Appropriations Committee on a party-line vote, and it now heads to the chamber floor. It's only slightly behind the companion (HB 1), which the House has readied for a full vote as soon as tomorrow. The legislation, a priority of House Speaker Paul Renner, could represent a sea change in Florida education. Still, questions remain about how much the expanded voucher program would cost the state. The House bill says the expansion will mean $210 million in new costs, whereas the Senate bill shows the expansion will cost $646.5 million. Outside estimates, meanwhile, have been as high as $4 billion. Here's your nightly rundown.
Six-week ban: Legislation (HB 7) banning doctors from performing abortions after six weeks is now moving through the House.
Happy anniversary?: Gov. DeSantis marked the 3-year pandemic anniversary with a COVID-19 policy victory lap.
Anti-ESG alliance: DeSantis is trumpeting a multistate coalition against environmental, social, corporate governance principles in banking as lawmakers consider policy (HB 3) banning "financial discrimination."
Closer look: The Board overseeing Florida's public universities wants to look deeper into how long interim school leaders remain in power, presidential searches and Presidents' contracts.
More cash coming: Florida will receive an additional $2.7 billion in disaster relief from the U.S. Department of Housing and Urban Development.
Quote of the Day
"I cannot run in the same race when you tie my hands and tie my feet." 
— Democratic Sen. Tracie Davis, on universal school choice's impact on public schools.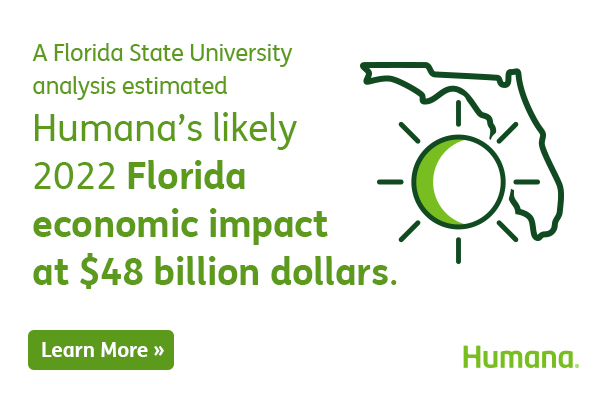 Bill Day's Latest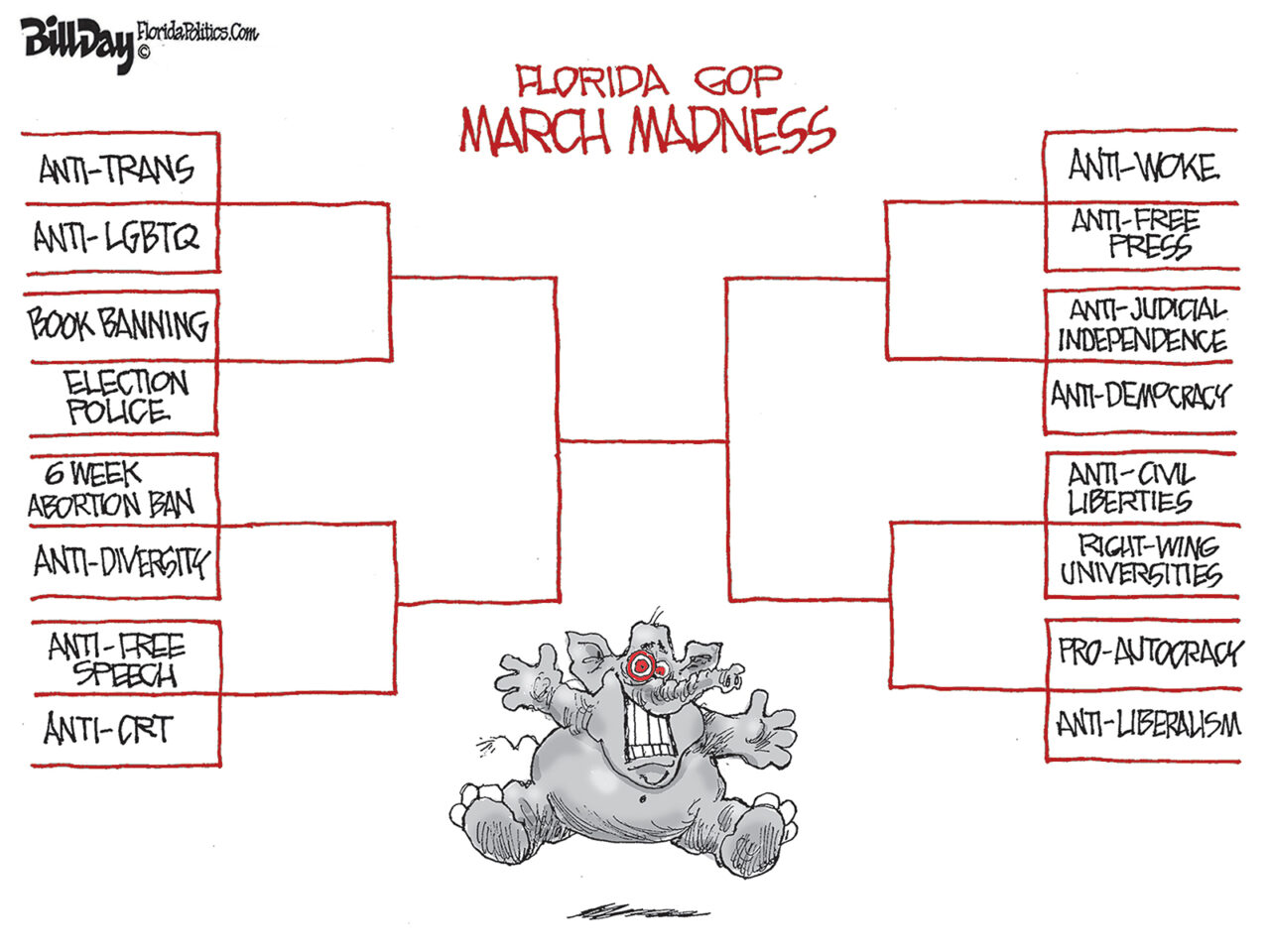 3 Questions
As On 3 Public Relations celebrates its 15th anniversary, Florida Politics spoke with founder and President Christina Johnson about how the firm has managed to survive and thrive in the competitive and rapidly evolving PR industry, and what advice she has for the next generation of political communications pros.
Q: How has Florida's communications industry changed since On3PR opened its doors?
Johnson: In 2008, the idea of using social media platforms to grow your business was new, and there was an abundance of tutorials on how to use Facebook, Twitter, LinkedIn, and other platforms — but, with the fast-paced advancements in technology, these became obsolete by the time you completed the course or read the book. It all moved so quickly, and self-proclaimed experts were in the same boat as all of us were, muddling through by trial and error. Today, we're still exploring ways social media platforms help tell our story, and with most people getting their daily news digitally, in real time, it has become an integral part of a comprehensive communications strategy. When asked to speak before groups about the industry, many have heard my favorite Rupert Murdoch quote, "The world is changing very fast. Big will not beat small anymore. It will be the fast beating the slow." I believe that is another way the industry has changed. Fifteen years ago, as a small boutique firm, we were able to move quickly on competitive bids, readily available for clients for immediate decisions, no layers of bureaucracy to get things approved as some of the larger firms faced. Rather, we could call the shots quickly and efficiently — the fast beating the slow. Those who are nimble, who can use every communications tool in their toolbox, are the ones who thrive. In fact, I find many smaller firms like mine have caught on to this business model and use it effectively. I am always thrilled to see other women colleagues open their own shop, remembering that butterfly in your stomach feeling (which I still have today)! 
Q: What do you see as the key to your firm's longevity?
Johnson: When On3PR first opened its doors, it was the beginning of the 2008 Great Recession and many businesses and organizations eliminated their public relations and communications internal and external teams. That's when the opportunity arose to begin offering short-term contracts for specific projects (Session work, political campaigns, coalition building) — and at lower rates, to begin building the company. When the economy turned around, those short-term projects became long-term anchor clients, and colleagues who, in turn, gave us rave reviews to their peers looking to bring on a firm, or to complement their existing operations. Eighty percent of our business is by word-of-mouth referrals, with 20% actively bidding on projects. I've been blessed to have some incredibly talented professionals work for me at On3PR, many whom I've collaborated with in their current positions. The key is to work hard, plan for the lean times like a recession or a pandemic to keep the doors open and empower your team to lead.
Q: What advice would you give to students considering a career in political communications?
Johnson: On3PR is one of the few firms involved in the political process as well as traditional public relations and public affairs, having led communication efforts on local, state, and federal campaigns and causes. Political comms is a different animal altogether. In this fast-paced, 24/7 news cycle, it's a mix of crisis comms, political and policy prose, with an appreciation of the ironic. The best advice in a non-election year is for students to pull case studies of recent winning, and losing, campaigns. What worked? What didn't work? How did the candidate develop his or her messaging, and was it impactful, or did it fall flat under scrutiny? In an election year, start early by volunteering on a race to learn the district, the issues, and the candidate's voice. Practice writing policy papers, speeches, releases, media Q&As, etc. It takes time honing one's political skills, but plenty of examples are out there to glean best practices. While being part of a winning campaign is more satisfying, I've learned just as much, if not more, in a losing battle. It's not for the faint of heart, but all said, it's an exciting and rewarding career that only the strong survive!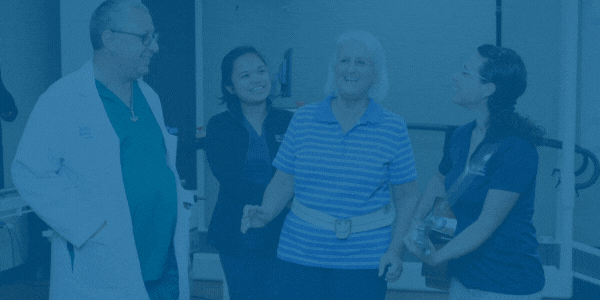 Lobby Up
Though St. Patrick is revered for driving all the snakes out of Ireland, his holiday is better known for bringing lots of people to bars.
As one of the holy trinity of drinking holidays — the others being New Year's Eve and Cinco de Mayo — the alcohol industry stands to make a bundle. Especially since St. Patrick's Day happens to fall on a Friday this year.
As ever, many bars will try to get people through the doors with inexpensive green beer. And if it's green, chances are it's a Bud Light. The brew is the top-selling beer in the world and the company that makes it, Anheuser-Busch, has one of the larger lobbying teams in the Capitol.
Anheuser-Busch is represented by in-house lobbyist BillieAnne Gay as well as contract lobbyists Slater Bayliss, Chris Chaney, Stephen Shiver, Sarah Suskey and Jeffrey Woodburn of The Advocacy Partners; French Brown of Dean Mead; Matt Bryan, Teye Carmichael, David Daniel, Jeff Hartley, Lisa Hurley and Jonathan Rees of Smith Bryan & Myers; and Frank Mayernick, Tracy Mayernick and Rob Johnson of The Mayernick Group.
If it's not a Bud, it's likely a Coors, which is also one of the top-five bestsellers in the U.S. Molson Coors Beverage Company USA is represented by Gary Rutledge, Andrew Rutledge and Richard Lindstrom of Rutledge Ecenia.
For patrons looking for something a little more authentic, Guinness is the top pick. That's one of dozens of brands owned by Diageo. If nitro isn't on the menu, they've got you covered — they also own the No. 2 Irish beer, Harp. The multinational alcoholic beverage company is represented by in-house lobbyist Lisa Garcia as well as Sara Clements, Rhett O'Doski, Ryder Rudd and Sean Stafford of McGuireWoods Consulting.
Plenty more lobbyists represent the broader industry. One of the major trade groups is the aptly named Beer Industry of Florida, which has lobbying contracts with Brian Bautista, Laura Boehmer, Nelson Diaz, Mercer Fearington, Justin Hollis, Seth McKeel, Sydney Ridley, David Shepp and Clark Smith of The Southern Group as well as Steve Crisafulli of Crisafulli Consulting.
Distributors, meanwhile, rely on the Florida Beer Wholesalers Association. It has Jared Ross on the payroll and also has contracts with Ron Pierce, Kaitlyn Bailey, Edward Briggs and Natalie King of RSA Consulting; Michael Fischer of The Legis Group; Richard Heffley and Kelly Horton of Heffley & Associates; and solo lobbyist Natalie Kato.
Breakthrough Insights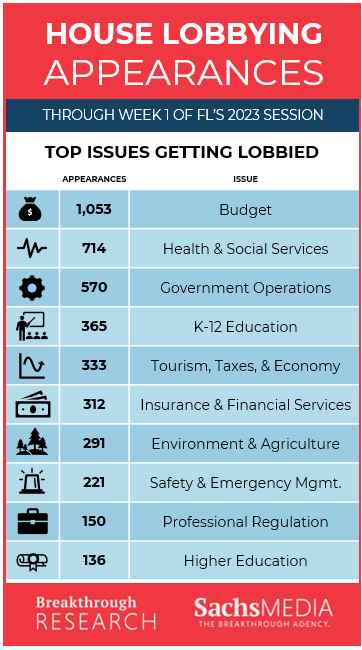 The Next 24
8 a.m. — The House Commerce Committee will consider legislation (HB 5) that would eliminate Enterprise Florida and other economic development programs. Room 212, Knott Building, The Capitol.
8 a.m. — Health & Human Services Committee will take up a resolution (HM 581) asking the feds to prohibit soda purchases with government food assistance. Room 17, House Office Building, The Capitol.
9 a.m. — The Joint Revenue Estimating Impact Conference meets: Room 117, Knott Building, The Capitol.         
10:30 a.m. — The House holds a floor session.
Full committee agendas, including bills to be considered, are available on the House and Senate websites.