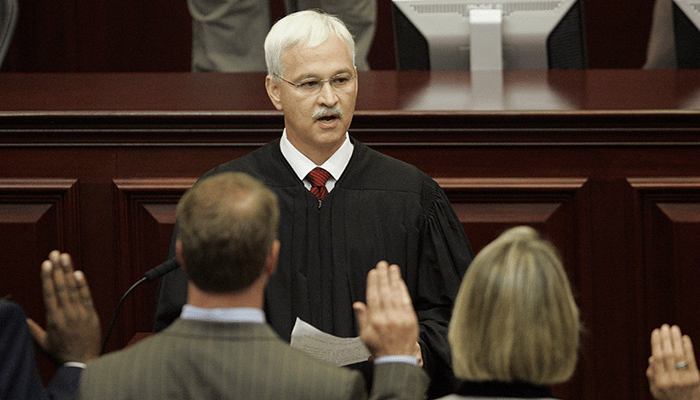 'It has been my great honor to serve the people of Florida in the judiciary for over 22 years.'
Justice Ricky Polston is stepping down from the Florida Supreme Court, effective March 31.
The conservative jurist, who has served on the state's high court for 14 years, submitted a resignation letter to Gov. Ron DeSantis.
"It has been my great honor to serve the people of Florida in the judiciary for over 22 years, the first 8 years as judge of the First District Court of Appeal and then 14 years as justice of the Court," Polston wrote. "I am truly grateful for the opportunity to work with such great jurists, lawyers, and all those involved with the judiciary."
Polston didn't give a reason for his resignation Monday. At 67, Polston had at least eight more years on the bench before facing retirement, which is mandated by the state constitution for justices once they reach the age of 75.
"Ricky Polston is a good man, and he has been a treasured colleague, friend, and role model to all of us on the Court," Chief Justice Carlos Muñiz said in a released statement. "We are grateful for Justice Polston's decades of exemplary service to the people of our state."
Polston was appointed to the Florida Supreme Court in 2008 by then-Gov. Charlie Crist. A Republican at the time, Crist appointed two conservative justices, Polston and Justice Charles Canady, and two liberal justices, Justice Jorge Labarga and Justice James Perry. After Polston's retirement, only Canady and Labarga will remain on the bench.
Polston served as Chief Justice from 2012 to 2014. He graduated from Florida State University as an undergrad and later from FSU College of Law. He worked in private practice before being appointed to the First DCA in 2001 by then-Gov. Jeb Bush.
Until 2019, Polston was outnumbered on a bench with a liberal 5-2 majority, with he and Canady regularly posting dissents. That was swiftly turned into a 6-1 majority for conservatives, as Gov. DeSantis took office at the same time three liberal justices were forced into retirement. DeSantis will now get to choose Polston's replacement.
The Judicial Nominating Commission, once it is convened by DeSantis, will review applicants and select three to six names for DeSantis to choose.