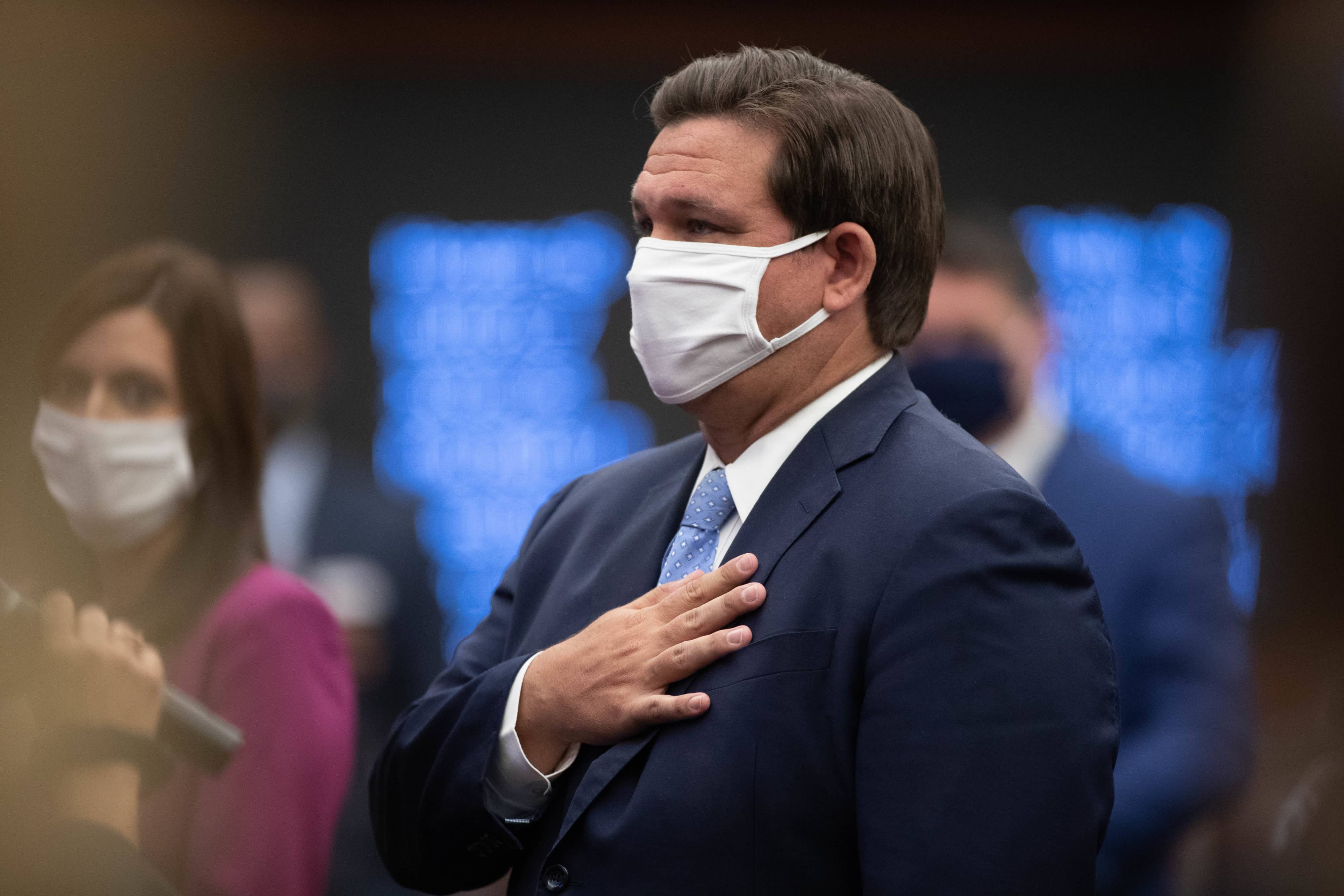 The former President continues to attack the Governor's handling of the coronavirus.
Donald Trump is yet again reminding his Truth Social audience of Ron DeSantis' record during the coronavirus pandemic.
Specifically, he's reviving old clips of the Florida Governor expressing enthusiasm for COVID-19 testing.
Overnight on Thursday, the former President posted a selection of clips from media events three years ago to underscore his case that DeSantis has changed his tune since on the disease.
"We set up an innovative and aggressive testing operation," DeSantis says, before the video jumps quickly to an interview with Miami's Jim DeFede, where he talks about "100,000 test results in a single day."
"The more you test, the less restrictive some of these things are going to need to be," DeSantis then says.
The video then cuts to Trump calling testing a "double-edged sword," before moving quickly back to DeSantis snippets.
"But man, if I could get more of those swabs, we could start running through people," DeSantis says in another excerpt, before boasting about a day with 95,000 tests.
"They test and they test and they test," decried Trump then, presumably from a 2020 rally.
The scene changes once more to DeSantis from there: "If you're aged 25 to 35 and you may have had a sniffle, just come through."
"Could be the testing's frankly overrated," Trump then says. "Maybe it is overrated."
The video continues a theme established earlier this week, in which the former President blasted DeSantis for his handling of the coronavirus.
"Ron was a big Lockdown Governor on the China Virus, sealing all beaches and everything else for an extended period of time, was Third Worst in the Nation for COVID-19 Deaths (losing 86,294 People), Third Worst for Total Number of Cases, at 7,516,906," Trump asserted.
"Other Republican Governors did MUCH BETTER than Ron and, because I allowed them this 'freedom,' never closed their States. Remember, I left that decision up to the Governors! For COVID Death Rates Per State, Ron, as Governor of Florida, did worse than New York."
Trump has also contended this week the Florida Governor lied about his coronavirus vaccination status.
The former President said "he got the vaccine and booster, just doesn't talk about it. He also closed up Florida and its beaches."
This runs contrary to DeSantis' denying he got a booster shot at all in December 2021.
"I've done whatever I did, the normal shot, and that at the end of the day is people's individual decisions about what they want to do," DeSantis said when he was asked if he had received a booster shot by host Maria Bartiromo.
The Associated Press reported in April 2021 that DeSantis had received the single-dose vaccine. The information was confirmed belatedly by the Governor's Office.