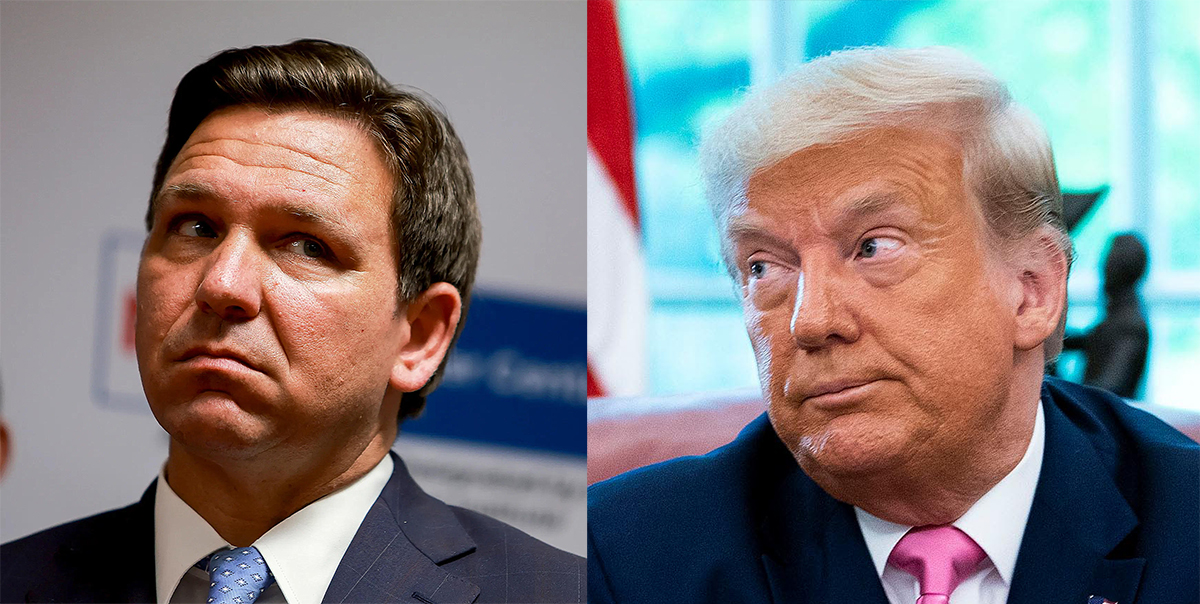 Trump also says DeSantis staffers are jumping ship to join his campaign.
Former President Donald Trump is still finding variations on his attacks on Florida's Governor, including saying Ron DeSantis is a spoiler and that campaign workers are trying to join his team.
On Truth Social over the Easter Weekend, Trump suggested that Ron DeSantis knows he has no shot at winning a 2024 General Election and is instead running as a saboteur of his electoral hopes.
Truther Dong-Chan Lee posted: "At this rate, if DeSantis decides to run, he just wants to sabotage Trump in the general because he knows he has 0 shot of winning."
"True, was a Paul Ryan disciple who voted to kill Social Security & decimate Medicare," Trump responded.
Trump ameliorated that sentiment Monday, seemingly offering the Governor an exit ramp: "Ron DeSantis is a young man who is not doing well against me in the polls, to put it mildly. I believe that if he decides to run for President, which will only hurt and somewhat divide the Republican Party, he will lose the cherished and massive MAGA vote, and never be able to successfully run for office again. If he remains Governor, which is what Florida voters assumed, it would be a whole different story….JUST SAYIN' – But who knows?"
Another Easter Weekend Trump post alleged that DeSantis staffers are looking to jump ship from his yet-to-be-launched campaign for Team Trump.
"We're getting lots of job requests from people currently working for the Social Security/Medicare cutting (JUST WATCH!) DeSanctimonious Campaign. Ron's Poll numbers are dropping so fast and furious that many people are speculating he's not going to run. Just hired 'Kiss of Death' Jeff Roe, who dropped YoungKim, to see if he can help (he will only help make Ron poor!). I'm leading in Texas by 42 points, Iowa and New Hampshire by a lot, overall by close to 40, and by 10 against Scamer Joe Biden!"
In another Truth Social post, Trump amplified a graphic posing the question "Who supports Ron DeSantis?"
The graphic answered the question: "The RINOs and the Deep State that control him," suggesting that group includes Club for Growth, the Lincoln Project and George Soros.
"Ron be gone! Just say no to Ron DeSantis," the graphic urged.
Trump's retruth included an addition: "You mean, China loving Club for NO Growth, and RINOS Paul Ryan and Karl Rove — Loser's ALL!"
Another post touted a favorable survey for Trump against the Governor.
"Polls are looking GREAT! New Poll, 61-19 against DeSanctimonious. Also, winning BIG against 'Hopeless' Joe Biden — Hence the Democrats are rolling out their Fake Prosecutors. I hope Republican LEADERS are watching this. An eye for an eye?"
It is unclear which poll Trump referenced here, though one of his internal polls from McLaughlin says that in "a one-on-one race Trump vs. DeSantis, Trump now leads by 30 points – 61% to 31%. Since January this is a net +19 point increase for Trump."