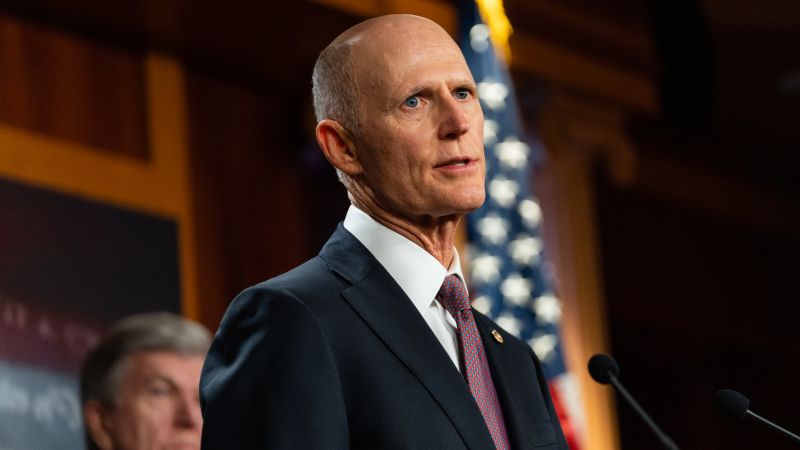 'This news is very shocking and sad for Ann and me.'
Elected officials often come to know loved ones of mass shooting victims following a tragedy. But U.S. Sen. Rick Scott said he was friends for years with one of the men murdered in Louisville, Kentucky.
The Naples Republican revealed on social media that he knew Thomas Elliott, one of five people identified as victims killed at Old National Bank on Monday.
"My friend Tommy Elliott was killed today in Louisville," Scott posted on Twitter. "He was my banker for many years. This news is very shocking and sad for Ann (Scott's wife) and me. He did so much in the Louisville community, and we pray for his family during this awful time."
Elliott notably also knew Democratic Kentucky Gov. Andy Beshears. Beshears in a media update on the shooting called the 63-year-old banker one of his "closest friends."
"Tommy Elliot helped me build my law career, helped me become Governor, gave me advice on being a good dad," Beshears said. "He is one of the people I talk to most in the world, and very rarely were we talking about my job. He was an incredible friend."
Elliott's personal connection to two high-profile elected officials has prompted calls for those individuals to use their positions and address gun safety.
Of note, Scott, a former Florida Governor, has enacted gun control laws in response to a mass shooting. He signed the Marjory Stoneman Douglas High School Public Safety Act after a school shooting in Parkland that left 17 dead. The legislation established a red flag law for Florida and restricted the ability for Floridians to purchase firearms until age 21.
But Scott, after being elected to the Senate, voted against establishing a similar red flag law at the federal level. After a shooting last year at a school in Uvalde, Texas in which 19 children and two teachers died, Congress took up legislation. Sponsors at the time claimed the bill borrowed significantly from the Florida law Scott signed as Governor.
But Scott said at the time "these bills are not the same at all." He said the federal law, later signed by President Joe Biden, lacked due process to protect the Second Amendment rights of responsible gun owners.
My friend Tommy Elliott was killed today in Louisville. He was my banker for many years. This news is very shocking and sad for Ann and me. He did so much in the Louisville community, and we pray for his family during this awful time.

— Rick Scott (@SenRickScott) April 11, 2023