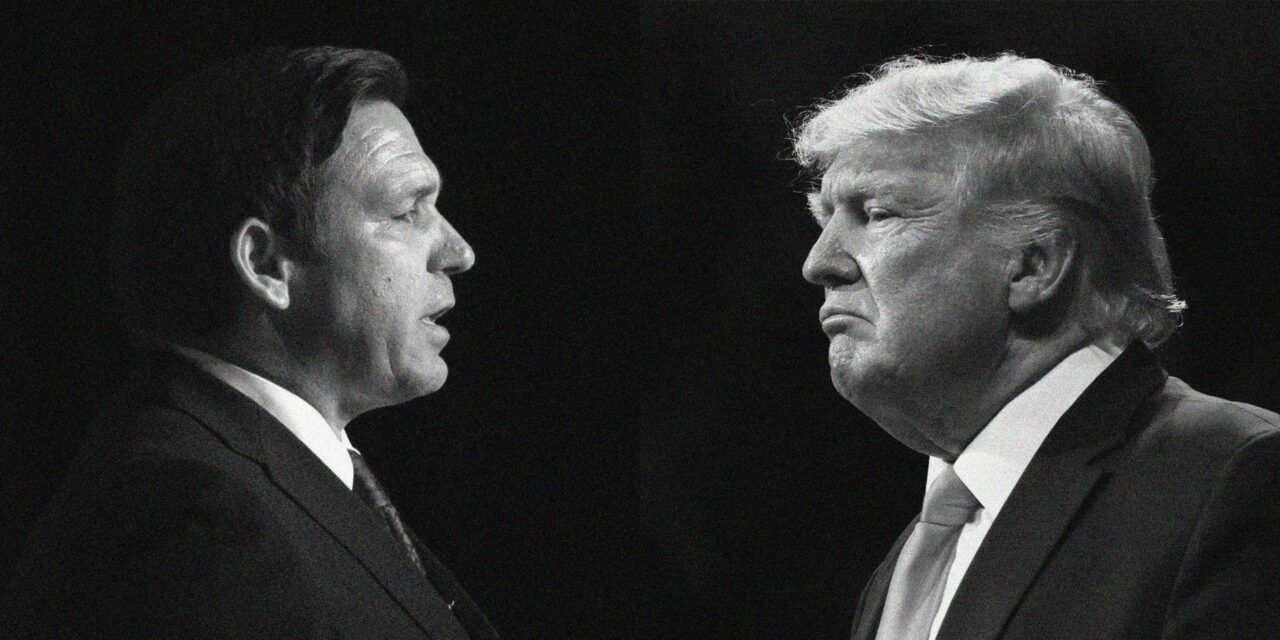 'In plain English, Trump is currently leading DeSantis in the Republican Presidential Primary.'
New polling from the Peach State is the pits for Florida's Governor.
In a survey just released by the University of Georgia's School of Public and International Affairs Research Center, Donald Trump has majority support against Ron DeSantis and the rest of the field.
The survey found 51% of the 983 likely Republican Primary voters in Georgia back the former President, with DeSantis far behind, mustering just 30% support. Nikki Haley's 4% is good for a very distant third place.
While DeSantis is better in a hypothetical and highly unlikely two-person matchup, the numbers are still bad for the Governor.
"The difference between first-place candidate Trump's estimated vote share and second-place candidate DeSantis' estimated vote share, at 20.9, is statistically significant. In plain English, Trump is currently leading DeSantis in the Republican Presidential Primary. In a Trump-DeSantis head-to-head matchup, Trump's 10.7-point lead over DeSantis is also statistically significant," writes Professor M.V. Hood III.
DeSantis does lead Trump among a few cohorts. Voters under 30 years old prefer the Governor, 42% to 20%. And DeSantis has a marginal lead with college-educated respondents, 36% to 35%. Moderate voters likewise prefer DeSantis, 30% to 24%, over Trump. And though it's cold comfort at this point, the Governor is the top "second choice," with 37% of respondents ranking him as a runner-up.
DeSantis had previously seen strength in a number of Georgia polls that tracked a potential head-to-head contest between Trump and him in a hypothetical 2024 Primary, showing a history of strength compared to the former President in the neighboring state.
A pre-Election Georgia poll pitting Trump against DeSantis shows the Florida Governor ahead 52% to 36%. Echelon Insights conducted that poll between Oct. 31 and Nov.  2.
DeSantis has not been especially active in Georgia politics, in contrast to Trump, who was an early champion of Senate nominee Herschel Walker. But he did have a line before the November 2022 election warning against electing a recurrent Democratic candidate.
"If Stacey Abrams is elected Governor of Georgia, I just want to be honest, that will be a cold war between Florida and Georgia," DeSantis said at a press conference back in the spring. "I can't have (former Cuban leader Raúl) Castro to my south and Abrams to my north, that would be a disaster. So I hope you guys take care of that and we'll end up in good shape."
While the cold war seems to have been averted, this survey suggests DeSantis lacks cross-border appeal nonetheless. The poll was taken between April 2-7 and April 10-13, which means it was in the field as Trump's legal issues intensified. The margin of error is 3.1 percentage points.