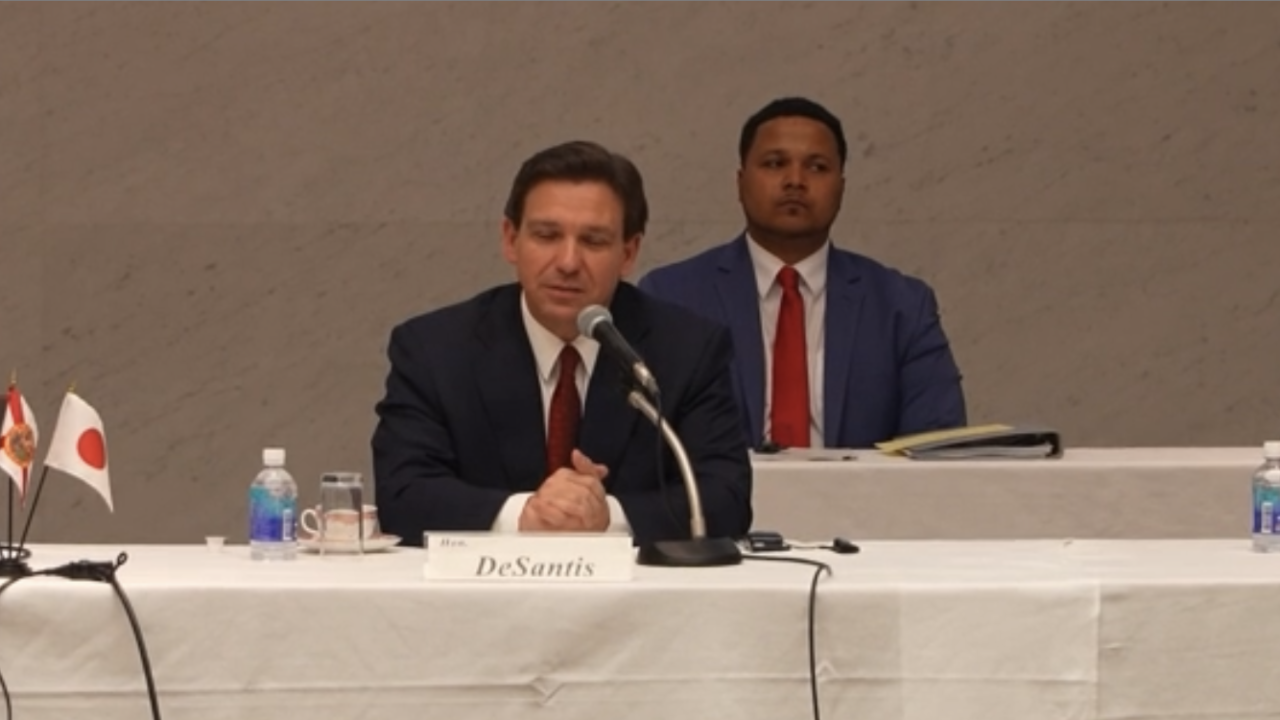 Floridians have heard this one before.
Florida's Governor is half a world away, but his message discipline remains.
During a roundtable in Japan, the Governor returned to very familiar talking points about COVID-19 mitigation strategies leading to "productive people" moving to Florida.
DeSantis described a "significant migration of productive Americans and wealth out of states that are governed more in line with high tax, weak on crime, too restrictive on COVID policies."
He soon enough pivoted to a specific example.
"And over the last four or five years, you've seen those states really hemorrhage people, even states that had always gained population, like California, have hemorrhaged productive people," DeSantis said.
The Governor called Florida "the No. 1 recipient of that migration" and "the fastest growing state in the United States."
"We are the No. 1 state for net in-migration every year since I've been Governor," DeSantis said, putting a dollar value on that trend.
"And if you look at the wealth that's moved into Florida just in the year after COVID, we had $24 billion worth of adjusted gross income move into our state. The next closest was Texas at about $6.5 billion," DeSantis added.
"So there's really never been a time where more wealth has moved into a single state than what has happened in Florida over the last few years. And so that just means there's more opportunities."
Last month, Japan lifted its mask mandate in airplanes, airports and amusement parks after three years of requiring it.
Yet travel restrictions remain, according to the Ministry of Health, Labor, and Welfare.
The most recent posted guidance stipulates "all returnees and entrants are required to show either a valid vaccination certificate of three doses of vaccines prescribed on the Emergency Use Listing of the World Health Organization (WHO), or a certificate of negative test result of predeparture COVID-19 test conducted within 72 hours prior to departure."
It is uncertain how the Governor handled this requirement. He did not have three vaccine administrations as of 2021, when he said he had the "single shot."
The government reserves the right to test entrants to the country it deems symptomatic.
Some experts in Japan expect people to continue wearing masks.
"Mask-wearing was part of our culture even before COVID-19," Hitoshi Oshitani, a Tohoku University professor who was an architect of Japan's COVID-19 response, told Channel News Asia. "I think many people will be wearing masks even after the rules are relaxed."
Indeed, people in masks could be seen behind DeSantis at a press availability Monday. Unlike when he approached high school students to chide them about "ridiculous" mask wearing, he said nothing.