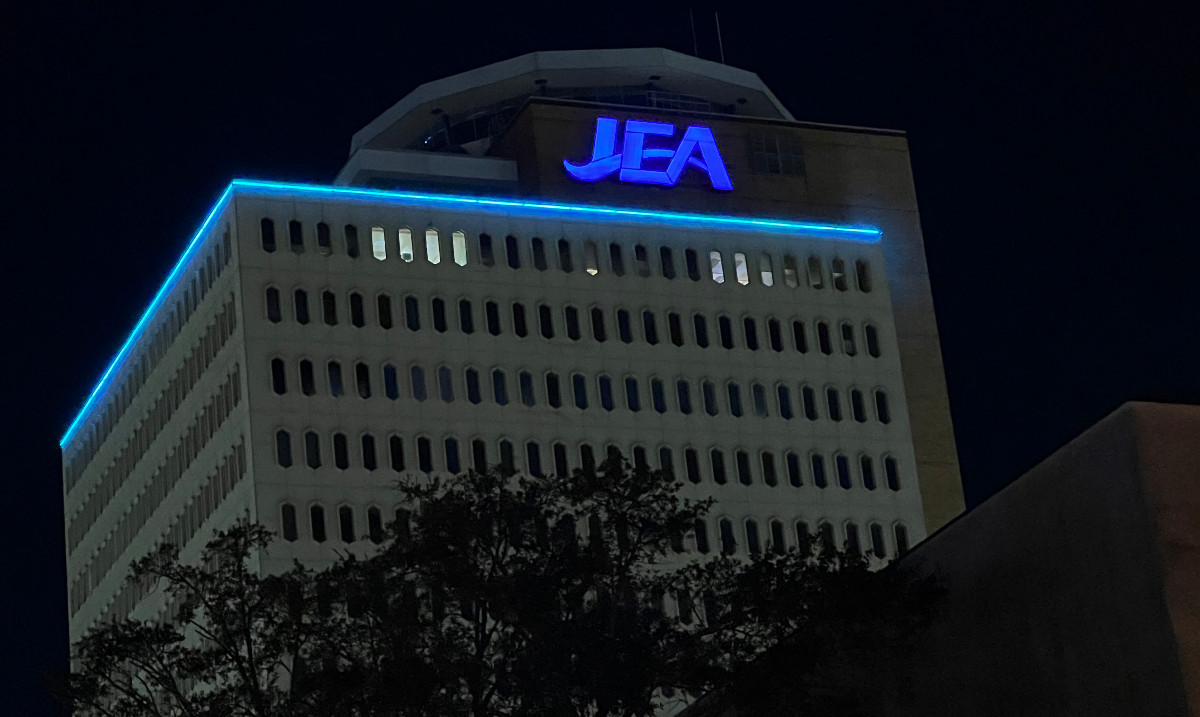 The utility is agreeing to '100% clean energy' to power its facilities.
Jacksonville's electric utility is moving forward with plans to ensure its energy generation mix includes 35% clean energy by 2030 and using 100% clean energy to power its facilities.
"These objectives here, in my opinion, they are — some characterized it as modest — I think they are very pragmatic," board member Joe DiSalvo said regarding the Electric Integrated Resource Plan (IRP).
"Again, my concern was making promises we can't keep. I don't think we've done that. I think these goals are laying a solid foundation for improving on our commitment to being renewable by 2050 to whatever percentage."
JEA anticipates revisiting its integrated resource plans every few years or so.
"Throughout the stakeholder advisory process that I participated in, and in attending these meetings, I've kept waiting for a vision of what JEA hopes to become would emerge," said Logan Cross, Chair of the Sierra Club of Northeast Florida.
"What does JEA want to be in 10-20 years? What type of utility? The conclusion I've arrived at is the mission, or purpose statement, and JEA's vision, are one in the same. The vision of JEA for the future is to deliver affordable, reliable electricity regardless of the consequences."
There is something to that vision, even in the short term. JEA's average bill for April came in around $203, the lowest of major Florida cities. Tallahassee and Gaineville residents paid the most, around $285 and $280 respectively, followed by Tampa ($268), Miami ($233) and Orlando ($231).
There are ups and downs — Jacksonville was No. 2 most expensive among these cities in September and tied with Miami for least expensive in November.
Cross said the new plan is an affirmation of that vision, though it contains positives like the 35% clean energy goal.
"The question (that) remains is how much of that would be included if JEA had been able to get out of its contract with Plant Vogtle," Cross said. "Would the 12% nuclear energy be part of that plan? I kind of doubt it."
He also noted JEA is holding on to the Northside Generating Station and otherwise sticking with fossil fuels for the foreseeable future. The station currently accounts for more than half of JEA's carbon emissions.
The utility is also looking at a new natural gas facility, which despite the "natural" descriptor is a fossil fuel with all the issues that come along with those fuels.
"It's not that we've fully committed to doing that," DiSalvo said of the natural gas facility. "In (Fiscal Year) '24, we're going to be looking to see if that's the way we want to go."
Among the recommended 2030 goals is to retire less-efficient generation and to offset increased electrification demand with energy-efficient programs. JEA also intends to produce 80% less carbon dioxide compared to 2005 levels.
"I know everybody's anxious for zero carbon, but it takes time and there's a lot of things that are new," JEA Board Chair Bobby Stein said.
"When we make commitments, they are large commitments. When you add transmission, that's probably 25% of additional cost nobody's thinking about. So when you talk about, 'this is the cost of solar,' 'this is the cost of gas,' one of the things we've got to think through is what is the additional cost of transmission, and that's one of the things (JEA leadership) is focused on."
JEA and Jacksonville Today are hosting a forum May 25 on the IRP that will include JEA CEO Jay Stowe and IRP stakeholders. The event is free and begins at 5:30 p.m.