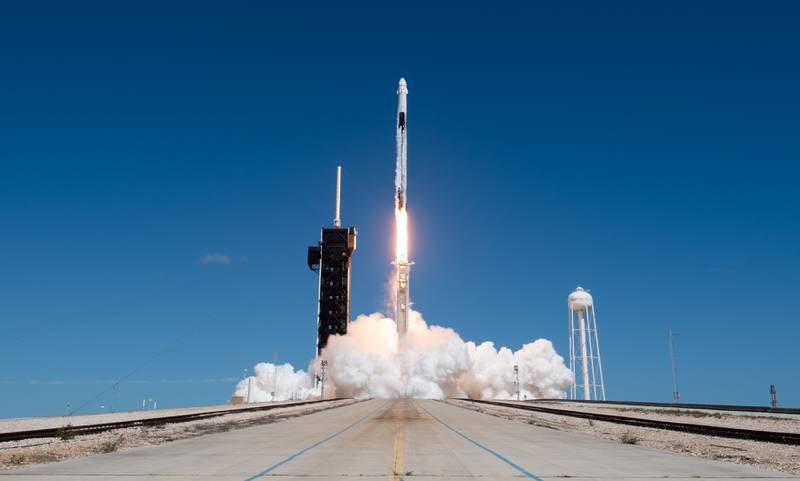 SpaceX and Blue Origin, two aerospace companies backed by billionaires, could save money on legal expenses thanks to new protections from a Senate bill.
The Senate unanimously passed a bill that gives aerospace companies, like SpaceX and Blue Origin, more liability protection from civil lawsuits if crew members are killed or seriously injured in spaceflights.
Senators passed SB 1318 with a vote of 39-0 and no debate on the floor.
"This change would adapt Florida law to address the evolution of spaceflight," said the bill's sponsor Sen. Tom Wright, a Republican whose district makes up part of Volusia and Brevard counties.
SpaceX and Blue Origin — which are owned by billionaires Elon Musk and Jeff Bezos, respectively — could potentially save money under the bill, which Senate staff analysis said "has the potential to limit the cost of litigation to businesses engaging in spaceflight activities."
The bill shields the companies from liability if they are negligent in the crew member's death or injury. The legal protections do not apply, according to staff analysis, if the companies committed gross negligence, knew or should have known about dangerous conditions that could hurt a crew member, or if the company intentionally tried to hurt a crew member.
For the companies' legal protections to take effect, crew members must sign a waiver that reads: "Under Florida law, there is no liability for an injury to or death of a participant or crew in a spaceflight activity provided by a spaceflight entity if such injury or death results from the inherent risks of the spaceflight activity. Injuries caused by the inherent risks of spaceflight activities may include, among others, injury to land, equipment, persons, and animals, as well as the potential for you to act in a negligent manner that may contribute to your injury or death. You are assuming the risk of participating in this spaceflight activity."
Earlier during the sSession, as the House lawmakers were discussing the companion bill (HB 839), Rep. Tyler Sirois said the state will likely be updating many laws in the future to account for the changes in the industry now that more commercial operators are launching into space.
"Astronauts are no longer government astronauts. These are commercial crew," the Merritt Island Republican said last month at a House committee meeting. "I suspect that moving forward, we're going to see a lot more legislation in this area because we are working very hard, I think, to update Florida law."
The House is still considering that measure.