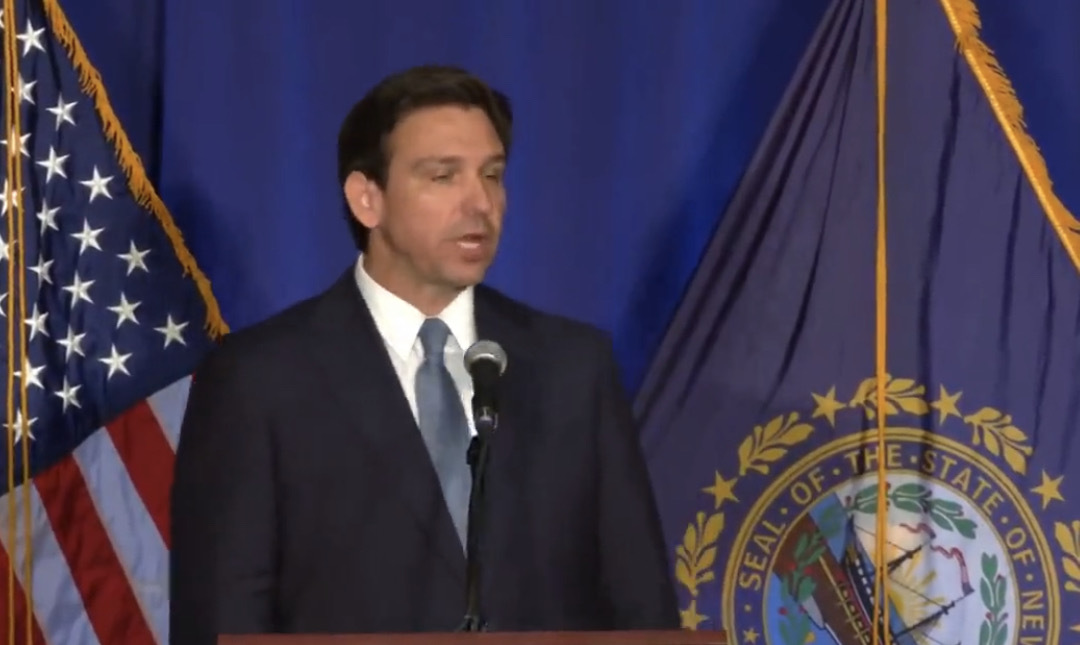 'I hope to see him on the trail soon.'
One of the most important legislators in New Hampshire is backing Ron DeSantis for President.
State Rep. Jason Osborne, Majority Leader of the Granite State's House of Representatives, offered a long-form 2024 endorsement of the Florida Governor Thursday.
"DeSantis is exactly the candidate America needs in 2024. He has the drive and energy to win, record of success to prove it, and the leadership qualities to bring our country together. With DeSantis as our nominee, Republicans can win back the White House, Congress and state Legislatures — continuing the work of making America great again," Osborne asserted.
He urged the Governor to begin campaigning actively.
"While it may still be early, other candidates have already been on the ground for a while. It's time for Gov. DeSantis to get into this race and start earning Granite Staters' support. I hope to see him on the trail soon."
Osborne "believes that with "DeSantis at the helm, the Republican Party can become a true coalition of working-class Americans and suburban voters." The endorsement was first reported by NHJournal.com.
The endorsement comes a week after Donald Trump was in Manchester, where he described DeSantis as "crashing and burning" in polls, "failing … because he's getting a chance to campaign without Trump."
New Hampshire polls are, in fact, going Trump's way.
A recent New Hampshire poll from J.L. Partners shows the Florida Governor way behind Trump. The former President nearly triples DeSantis' vote share, 51% to 18%.
Trump is up by 20 points over DeSantis in the new Granite State Poll from the University of New Hampshire Survey Center.
A poll from the St. Anselm College Survey Center pegs the former President at 42% support, 13 points ahead of DeSantis.
A March poll from Emerson College found Trump taking 58% support, with DeSantis in a distant second place with 17%.
Despite DeSantis' doldrums in surveys, the Governor enthuses about New Hampshire. Addressing the New Hampshire GOP at the Amos Tuck Dinner, the Governor suggested Floridians were not proud of the state before he arrived on the political scene.
"I was born and raised in Florida, and it's only been recently that we've developed a sense of state pride ourselves," DeSantis said. "We're proud to have stood up for freedom in the last few years when it wasn't easy. We did it our own way and I'm proud of that.
"But I must admit we draw inspiration from the people here in New Hampshire," DeSantis continued. "Because more than any other state, you don't mince words when it comes to your stand on liberty. You say it very clearly: Live Free or Die."