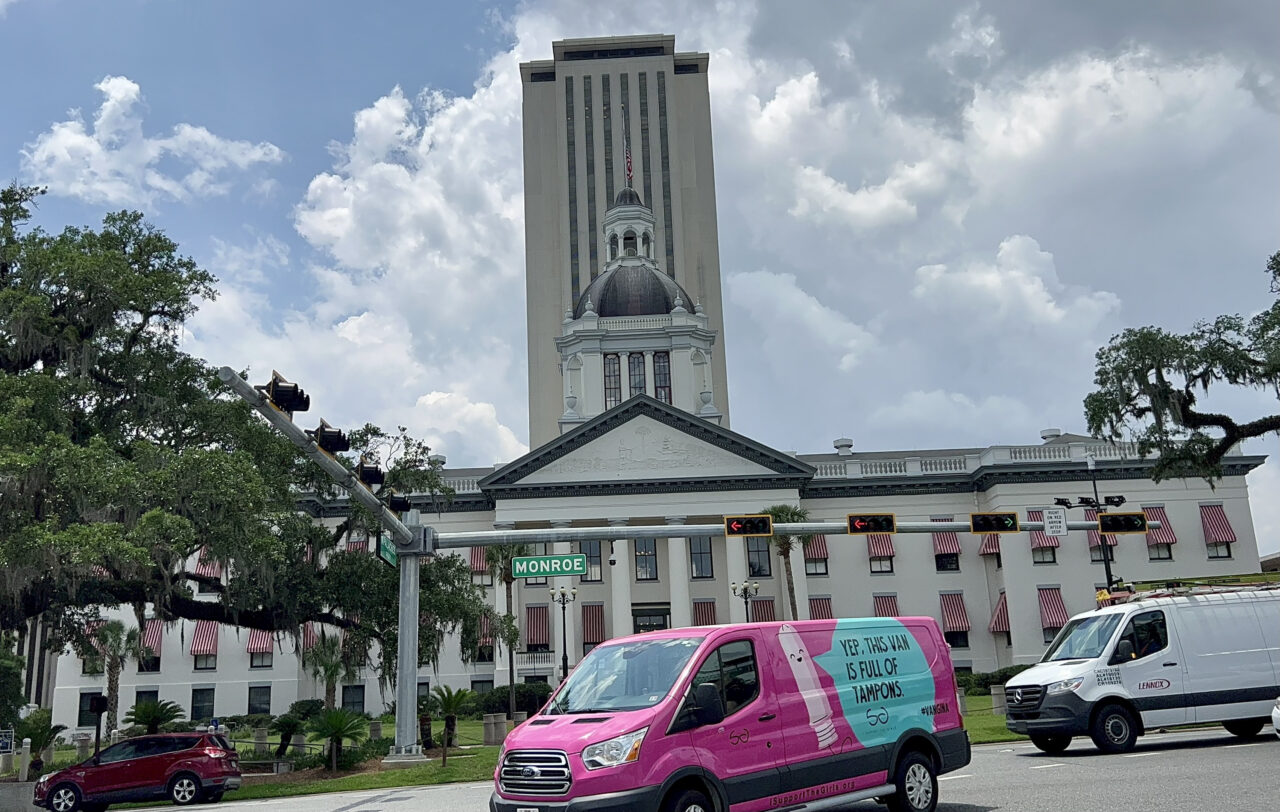 Session with period controversy ended with both chambers approving legislation that allows schools to offer periods and tampons for free.
Legislation that's become best known for more tightly regulating schools' use of pronouns that don't match reproductive function briefly garnered national notoriety for potentially banning the traditional, fifth-grade menstrual cycle lesson.
The first and second versions of the bill (HB 1069), now awaiting the Governor's signature, had a line saying that discussion of human sexuality must wait until the sixth grade. And Democratic Rep. Ashley Gantt in committee debate asked the sponsor of the bill whether it would delay conversations about periods until after many girls get their first one, which is often in the fourth or fifth grade.
"It would," replied Republican Rep. Stan McClain.
A video clip of that exchange went viral, got picked up in publications coast to coast — even some based in Britain — and, this weekend, drew the "Vangina" to Florida for some counterprogramming on the importance of talking about flow.
"What the implications (of the bill) are for menstrual health and hygiene for students in the fourth and fifth grade in the state of Florida is concerning to us," said Dana Marlowe, CEO and founder of I Support the Girls and part of the Vangina's crew that camped out at Brandi Carlile's Mothership Weekend festival in Miramar Beach.
"We want to make sure that children receive information about their bodies because the less information young students learn and receive about their bodies … concern and anxiety will increase as these changes naturally occur," said Marlowe, who is based in Maryland.
Camped out at the music festival, with a van showing a talking tampon, the organization collected more than 1,000 filled-out postcards urging Gov. Ron DeSantis to consider the state's stance on periods. On the way back to Maryland, the Vangina rolled through Tallahassee to drop the postcards in the mail.
"Menstruation is a natural bodily process that affects nearly half of the population, and it's time to stop treating it as a taboo topic in Florida schools," the postcard begins.
McClain did not return a call seeking comment, but the bill's cosponsor, Republican Rep. Adam Anderson, said at no time did the proposed legislation ban talk about periods — even when it doesn't involve grammar.
"That was taken out of context," Anderson said of the viral clip showing the exchange between Gantt and McClain.
The list of amendments to the bill doesn't delete the line barring sex education until sixth grade. But Gantt said she's satisfied that the bill doesn't explicitly forbid a teacher from answering girls' questions should they reach this milestone before sixth grade and want more information from a teacher.
The overall bill, however, has her concerned the same way last year's Parental Rights in Education Law (HB 1557) worried teachers enough that pictures of nontraditional families were taken off desks and rainbow stickers in classrooms removed, she said.
"I think there still will be a chilling effect on teachers talking about basic biology," Gantt said.
But the Session did include some recognition that lawmaking needed to go with the flow. A bill (HB 389) that allows school districts to make menstrual hygiene products available in schools without charges passed unanimously in both the House and the Senate.