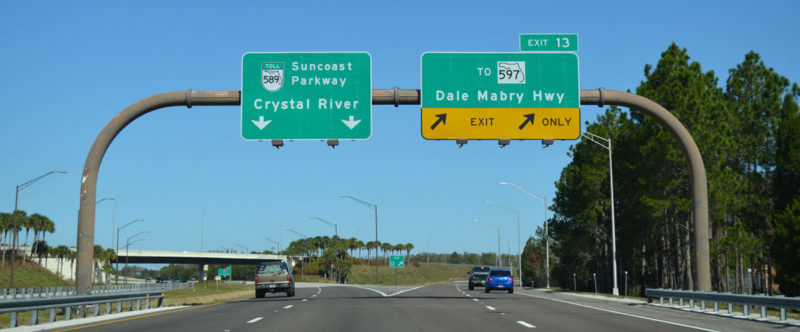 'We continue to see this road move further north.'
The groundbreaking that no one envisioned 30 years ago has now taken place as officials from the state and Citrus County gathered to celebrate an extension of the Suncoast Parkway.
Construction on the three-mile, $103 million parkway extension between State Road 44 and County Road 486 in Lecanto began in April and will be completed in late 2026, Florida Department of Transportation (FDOT) officials said.
"Today is a day of celebration," FDOT District 7 Secretary David Gwynn said. "We continue to see this road move further north."
An interchange at C.R. 486 was never in the state's plans for the Suncoast Parkway in Citrus County. Exits at S.R. 44 and County Road 495 were always on the books with an overpass at C.R. 486.
The state added the C.R. 486 interchange in 2017 at Citrus County's request.
FDOT completed the first leg between U.S. 98 in northern Hernando County and S.R. 44 in Lecanto in February 2022. The project is funded for construction to U.S. 19 north of Crystal River in three phases, starting with the 3-mile section to C.R. 486.
While Tuesday's groundbreaking ceremony included speeches that talked about regional connectivity, the county's original reason for requesting the C.R. 486 interchange had little to do with transportation needs outside of Citrus County.
Rather, county officials were concerned that the north-south County Road 491, which slices through the county's midsection, couldn't handle parkway traffic coming off S.R. 44.
The last year, however, has seen an explosion of commercial growth at the C.R. 486/491 intersection. Construction on the Shoppes of Black Diamond, a shopping complex anchored by Target, is ongoing.
Commissioner Jeff Kinnard, the only one of five current board members in office when the C.R. 486 interchange was approved, said the parkway will allow that section of the county to grow commercially.
"None of this commercial development happens," he said, "if that interchange isn't there."