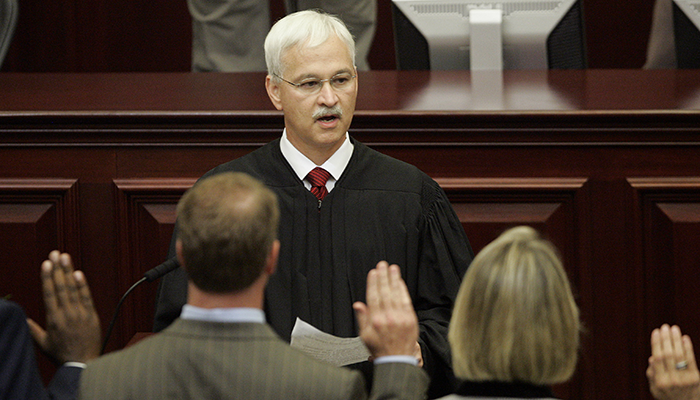 'My decision was not an easy one.'
Former Florida Supreme Court Justice Ricky Polston is on the move again. Three months after leaving the state's high court to become General Counsel for Citizens Property Insurance, Polston is leaving that gig for a position with Shutts & Bowen.
In a memo, Citizens President and CEO Tim Cerio said the move is effective June 30 and Polston will head up the constitutional law section at Shutts & Bowen, a well-connected firm with a roster of lawyers appointed to various state boards and offices throughout the state.
"(Polston) was presented with an opportunity he felt was best for him and his family at this stage of what has been an exemplary legal career," Cerio wrote.
"During his brief tenure here at Citizens Ricky has become a respected counsel and trusted advisor to me and other members of the Executive Leadership Team. With hurricane season approaching, and the Legislative Session in full swing, he hit the ground running."
Ken Tinkham, Deputy General Counsel at Citizens, will take over as Acting General Counsel and chief legal counsel.
Cerio passed along a statement from Polston in his memo:
"My decision was not an easy one. During my time with leaders and employees from across the company, I have been amazed at the team's level of professionalism, dedication, and enthusiasm. I understand and fully appreciate the critical role Citizens plays during these challenging times in the Florida property insurance market. Citizens' policyholders and the people of Florida are in good hands."
In a released statement, Polston expanded on his reasons for joining Shutts & Bowen.
"The opportunity to join a statewide firm with immense legal talent and a full-service platform was too great to pass up," Polston said. "For me this is the chance to join a group of lawyers I greatly respect who practice law with the utmost integrity, professionalism, and skill and who are on the front lines of important legal battles not only in Tallahassee but throughout Florida. I could not be more excited for the opportunities to come."
Cerio also noted that Polston can still represent Citizens as outside counsel and will be a part of the search and hiring process for his permanent successor.
Citizens is a state-run insurer with a board chosen by Gov. Ron DeSantis, Chief Financial Officer Jimmy Patronis and legislative leaders. It has grown to more than 1.3 million policies in the last two years, the largest in the state, as the private sector has contracted, looking to avoid losses in Florida.
Polston was appointed to the Florida Supreme Court in 2008 by then-Gov. Charlie Crist, a Republican at the time. He earned nearly $240,000 per year in that position and was due to take in $450,000 per year at Citizens.