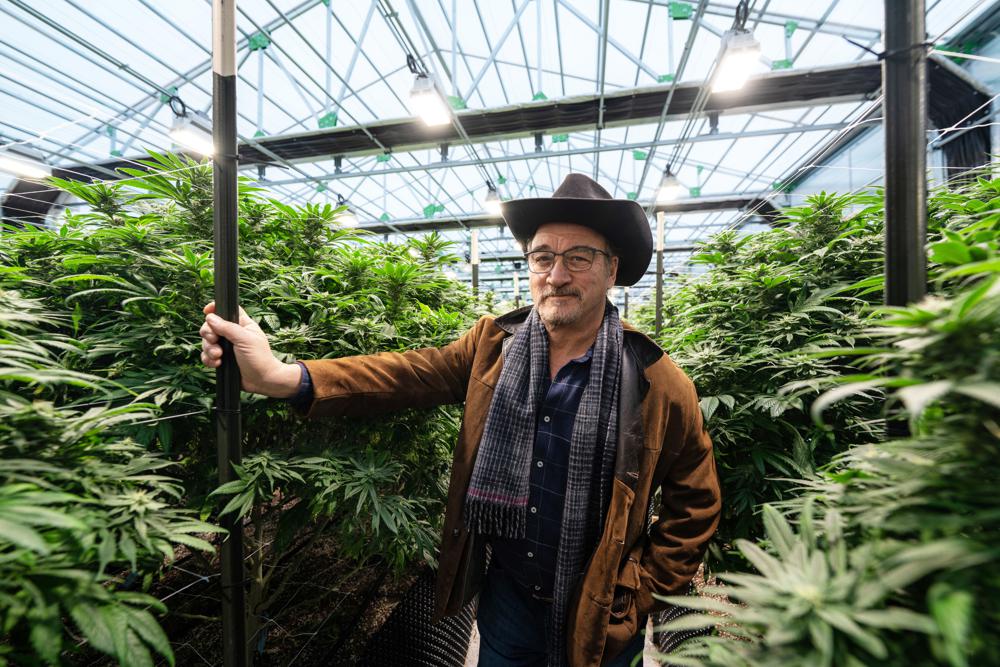 According to Jim, green takes away the blues stemming from his brother's death.
Florida's medical marijuana market could be going Hollywood.
Actor, comedian and cannabis farmer Jim Belushi wants to be a player in Florida's growing medical marijuana marketplace.
Belushi is the owner of Belushi's Farm, one of 74 entities that submitted a licensure application to the Office of Medical Marijuana Use in the Florida Department of Health. While the state has posted the names of the 74 applicants on its website, it has not yet released redacted applications for the public to review.
Belushi, who made his film debut in "Trading Places," has operated a 93-acre marijuana farm in Southern Oregon since 2015, when weed became legal there. In 2020, Discovery Channel premiered the reality series Belushi's Farm. It's now in its third season.
Belushi told Discovery that while farming is fulfilling, he still enjoys the performance spotlight. "So it was natural for me to bring a camera to the farm and discover a show around it," he said.
Belushi's older brother, John, was an original cast member of Saturday Night Live who died of a drug overdose in 1982. Jim Belushi says marijuana relieves his post-traumatic stress disorder, which he attributes to his brother's death. Jim Belushi also has said he doesn't think his brother would have died from a mixture of heroin and cocaine had marijuana been legal.
Belushi's Farm products are available in Oregon, Massachusetts, Maine, Pennsylvania, Nevada, Arizona, California, New York and Michigan. According to the company website, the product will "soon" be available in Colorado, Mississippi, New Mexico, South Dakota, Missouri and Illinois.
Florida voters in 2016 approved a constitutional amendment legalizing marijuana for medical purposes. The state ultimately set up a vertically integrated licensing program allowing for marijuana to be grown and dispensed by a limited number of producers and vendors working together.
The state announced earlier this year it was awarding 22 additional medical marijuana licenses and would be accepting applications for those permits over a five-day window in April. Along with the application, interested parties were required to submit a $146,000 nonrefundable fee to the state. That means the state received $10,804,000 for the April 2023 batching cycle.
While they may not have the high profile of Belushi's Farm, there are some other recognizable applicants.
Esposito Nursery is a well-known one-stop-shop in Tallahassee where people can purchase everything that's needed for lush green lawns and gorgeous gardens. Esposito Nursery also offers landscape services.
Ralph Esposito and Nancee Esposito partnered with five other people and submitted a medical marijuana application. If approved it would operate under the moniker PharmPham, LLC.
Tallahassee physician Mark Moore founded MEDCAN, which, according to the website, is the first medical marijuana doctor's office in the state. Moore applied for a medical marijuana license under the name Capital Cannabis.
Also included in the 74 applications are three Black farmers who previously applied for medical marijuana licenses and are currently in litigation against the state: Shedrick McGriff, FTG Development Inc. and Charles Smith.
The Legislature this Session passed SB 372, which would award those farmers — and others who are currently in litigation — licenses. But the bill has not been sent to Gov. Ron DeSantis yet. There also is speculation the Governor may veto the bill. 
As of June 2, 822,818 patients in Florida are qualified to use medical marijuana and 2,480 physicians are certified to order it.