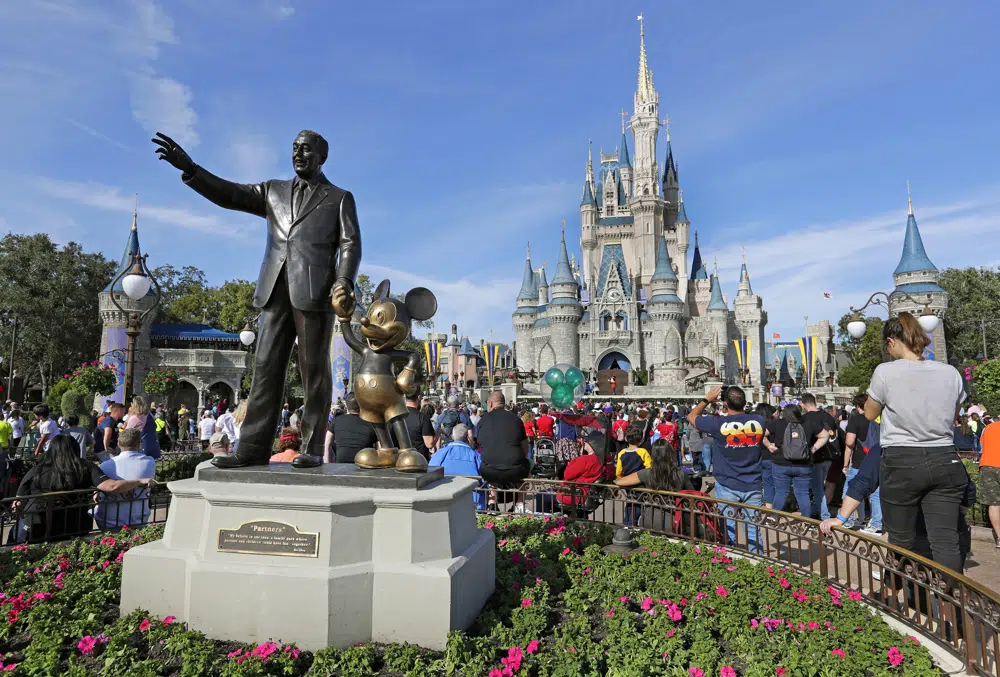 The governor has brandished his legal battle with the entertainment giant on the campaign trail as part of his ongoing war against 'woke.'
Two lawsuits entangling Florida and the Walt Disney Co. are still on track after a judge denied a motion to dismiss one of them from state court.
The judge's decision on Friday kept alive a lawsuit brought by the state against Disney's efforts to neutralize Gov. Ron DeSantis' takeover of the Reedy Creek Improvement District, Disney World's governing body.
It's one of two lawsuits stemming from the takeover, which came after the company's public opposition to the so-called "Don't Say Gay" law championed by DeSantis and Republican lawmakers. The other in federal court has Disney accusing DeSantis of violating the company's First Amendment free speech rights.
The governor has touted his yearlong feud with Disney in his run for the 2024 GOP presidential nomination, often accusing the entertainment giant of being too "woke."
Attorneys for Disney had argued that any decision in state court would be moot since the Republican-controlled Legislature already has passed a law voiding agreements that the company made with a prior governing board made up of Disney supporters that gave design and construction powers to the company.
In the federal case, Disney sued DeSantis and his appointees to the Central Florida Tourism Oversight District to stop the takeover, saying the governor was "weaponizing the power of government to punish private business."
The state has asked a federal judge to dismiss that case. The Reporters Committee for Freedom of the Press, a Washington, D.C.-based nonprofit group, filed court documents Friday arguing that U.S. District Judge Allen Winsor should reject that request.
"If the state of Florida and its officials succeed in defending their actions against Disney in this case, governments across the country may be emboldened to take action against not only public companies, but journalists, reporters, and the greater news media when they exercise their First Amendment freedoms," its lawyers wrote.
The fight between DeSantis and Disney began last year after the company, facing significant pressure internally and externally, publicly opposed a state law banning classroom instruction on sexual orientation and gender identity in early grades, a policy critics call "Don't Say Gay."
DeSantis took over the district through legislation passed by Florida lawmakers and appointed a new board of supervisors to oversee municipal services for the sprawling theme parks and hotels.
___
Republished with permission from The Associated Press.