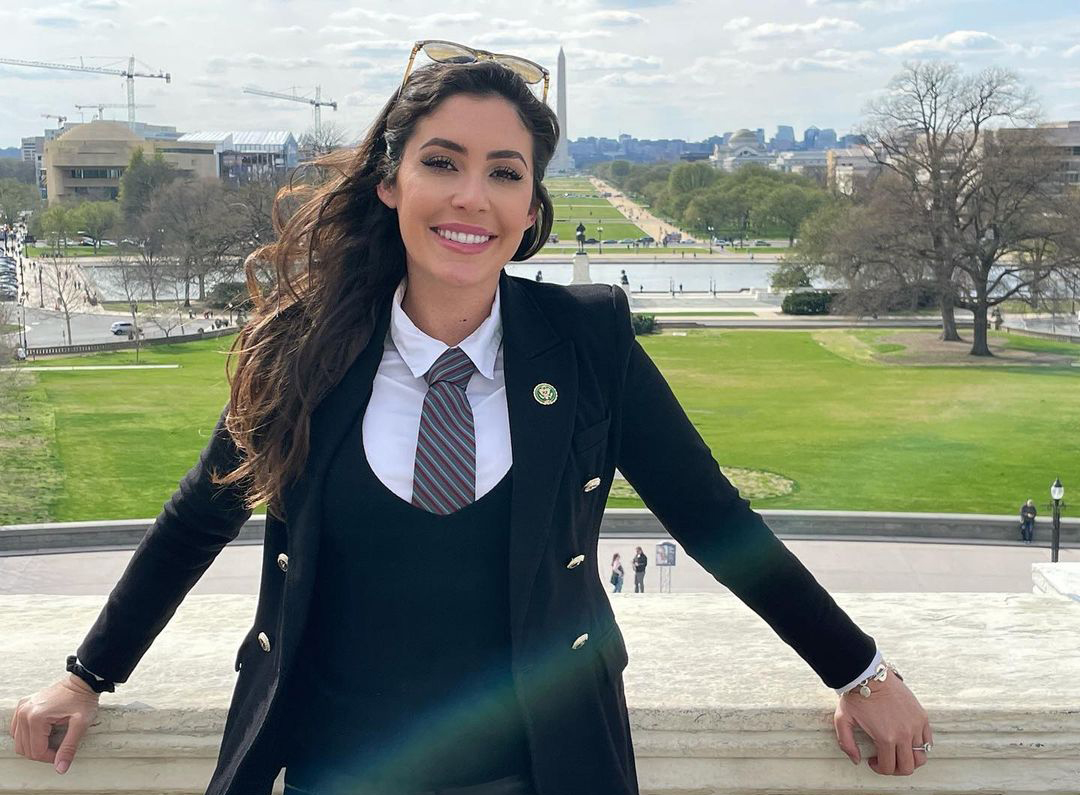 'If we continue to see this wall of silence ... we reserve the right to actually defund positions.'
If America's top defense officials aren't more forthcoming about extraterrestrial activity on Earth, they may see their paychecks shrink or their jobs disappear altogether, U.S. Rep. Anna Paulina Luna says.
The freshman Republican lawmaker from St. Petersburg has vowed to get to the bottom of recent, credible claims that the U.S. government has secretly run a covert recovery-and-research program on alien technology and biological remains.
Any government official still standing in the way of that goal, she said, would risk a sizable financial hit — or be out of a job altogether.
"We pay these people's salaries. We're paying into these programs billions of dollars, and yet they don't want to share this information. I just disagree with that," Luna, an Air Force veteran, told the Daily Mail Tuesday.
"If we continue to see this wall of silence, where they're giving us the runaround, we reserve the right to actually defund positions."
Luna's comments drew criticism from the Democratic Congressional Campaign Committee (DCCC), which argued this isn't the first time she's used defunding government offices as a "political cudgel." In June, she floated eliminating FBI Director Christopher Wray's position after he temporarily withheld a document alleging President Joe Biden engaged in bribery while serving as Vice President.
Instead of focusing on flying saucers and political grudges, DCCC spokesperson Justin Chermol said, Luna should prioritize more tellurian matters like addressing nation-high inflation in her district.
"Anna Paulina Luna cares more about aliens from outer space than Floridians," he said in a statement. "Rather than protect our national security, defend law enforcement, and lower costs, Luna has resorted to chaos, conspiracy theories, and confusion."
But Luna his hardly alone in demanding that the Pentagon open its books on ETs to Capitol Hill following a congressional hearing last week that probed into the potential sightings, interactions and recovery of alien aircraft colloquially known as unidentified flying objects (UFOs), but officially called unexplained aerial phenomena (UAPs).
During the July 26 hearing, three military veterans testified before Congress about their knowledge of alien vessels, machinery and the government's alleged retrieval of non-human biological matter from crash sites.
How dare the Pentagon & our own military tell members of Oversight that we have no classification to look into these reports.

The protection of the American people must always be put first no matter what. pic.twitter.com/1AmBI9zfKZ

— Rep. Anna Paulina Luna (@RepLuna) July 27, 2023
Retired Major David Grusch is a former Air Force intelligence officer who has filed multiple whistleblower complaints related to his four years as a member of the Department of Defense's UAP Task Force. He told the House Oversight Committee's national security subcommittee last week that while he had not seen any alien vehicles or bodies himself and was denied access to related programs, he knew the "exact locations" where the government was hiding recovered UAPs and technology through interviews he'd conducted with more than 40 witnesses.
Subcommittee members also heard from retired Navy Commander David Fravor and former pilot Ryan Graves, both of whom shared stories of their uncanny encounters with UAPs. The Pentagon released a video to the public of Fravor's run-in with the strange vessel in April 2020. It's since been viewed online by millions.
Those jaw-dropping accounts prompted Luna and fellow Florida lawmakers Matt Gaetz and Jared Moskowitz, a Republican and Democrat, respectively, to co-author a letter with Republican U.S. Rep. Tim Burchett one day later requesting that House Speaker Kevin McCarthy establish a Select Committee to collect further UAP information.
"This issue is much bigger than the news cycle: it represents a confluence of concerning governmental actions that indicates a lack of forthrightness on the part of the Pentagon and intelligence community," the letter said.
"No governmental program, no matter how sensitive, can be outside the view of Congress. And yet, the Executive Branch routinely redacts and entirely withholds information in other domains that we are entitled to, and is doing so here."
In addition to seeking previously undisclosed information about otherworldly beings and the ships that brought them here, Luna said she wants to dig into Grusch's claims he'd been threatened for speaking out and that others may have been killed in an effort to conceal the truth.
"To me, that is extremely scary," she said. "That's not how a republic runs itself. That's how a mob runs itself."