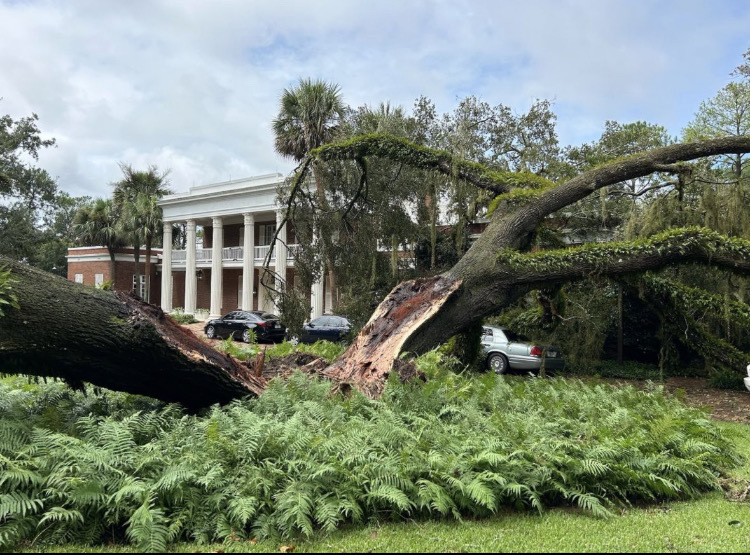 Did it hit the house or not?
Hurricane Idalia has exited the state, but not before at least one major Florida landmark was impacted by the storm.
However, stories diverge as to what the impact actually is.
First Lady Casey DeSantis posted Wednesday to X that the Governor's Mansion suffered storm damage when an old oak tree fell on the premises.
"100 year old oak tree falls on the Governor's Mansion in Tallahassee — Mason, Madison, Mamie and I were home at the time, but thankfully no one was injured. Our prayers are with everyone impacted by the storm," the First Lady wrote.
But during a press conference Wednesday at the Emergency Operations Center, Gov. Ron DeSantis offered his own account, seemingly contradicting the First Lady's version of events.
"I don't know that it fell on like the residence, per se. I think it was a little bit off to the side," the Governor said.
The Governor was upbeat about the tree's removal.
"I don't know if they're going to have to cut down the whole tree," the Governor said. "If they do cut down the whole tree, that's just going to be more room for my kids to hit baseballs in. And so, in some respects for us, even though the tree was nice, we'll probably make do and just be quite all right."
The Governor said the "ancient oak tree" split in half and "part of it fell."
Florida Politics has reached out to the Governor's Office for more information on the incident.
As residents on the Gulf Coast and points northward assess damage from the  storm, they may find it relatable that the First Couple is doing the same.