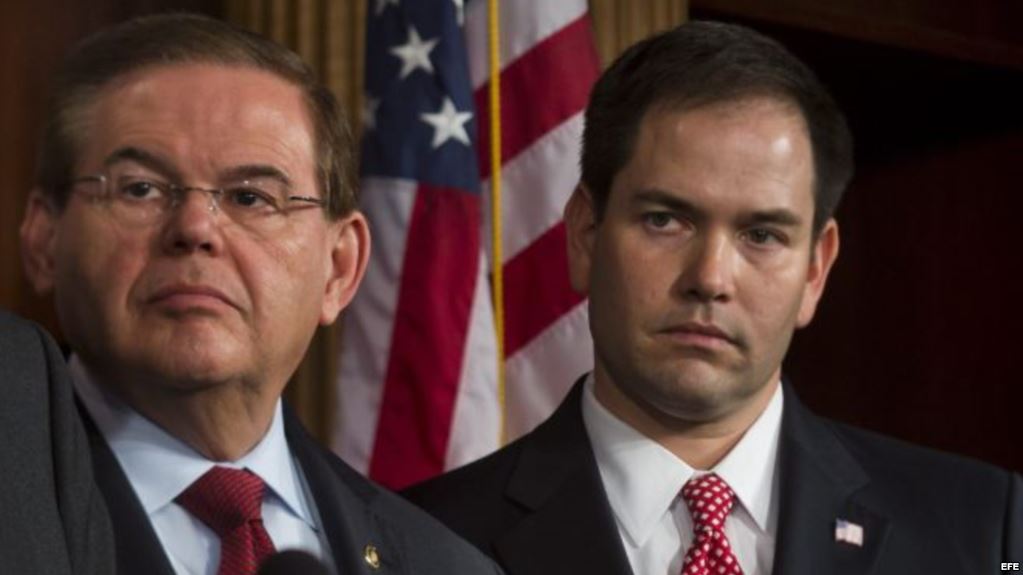 Many Senate Democrats want their New Jersey colleague gone. But Rubio said his colleague deserves a day in court.
As the list of Democrats calling for U.S. Sen. Bob Menendez's resignation grows, Florida's Republican senior Senator offered a different take.
U.S. Sen. Marco Rubio, a Miami Republican, delivered somewhat of a defense of his Democratic colleague.
"The allegations against the Senior Senator from New Jersey are nasty (and) the evidence offered difficult to explain away," Rubio posted on X. "But in America guilt is decided by a jury, not politicians in fear of their party losing a Senate seat."
Menendez, a New Jersey Democrat, faces federal corruption charges and was indicted last week, with federal prosecutors alleging he aided figures in the Egyptian government in exchange for cash.
Of note to Florida political observers, Menendez leaned on his Cuban heritage at a press conference where he tried to explain the presence of roughly a half million in cash and gold bars at his home. He cites his parents' tendency to hoard cash at home for fear of the Cuban government confiscating funds kept at financial institutions.
Should Menendez resign, New Jersey Gov. Phil Murphy, a Democrat, would appoint his successor.
"This may seem old fashioned, but these were monies drawn from my personal savings account based on the income that I have lawfully derived over those 30 years," said Menendez, according to The Associated Press.
Rubio, himself the son of Cuban immigrants, did not address that explanation nor did he try to push back on evidence released so far.
But his insistence that any consequences for Menendez be rendered by the court system came as a growing number of Senate Democrats bailed on their colleague.
U.S. Sen. Cory Booker, a Democrat and New Jersey's junior Senator, called allegations against Menendez "shocking" and "disturbing."

"As senators, we operate in the public trust," Booker said in a statement. "That trust is essential to our ability to do our work and perform our duties for our constituents."
Rubio and Menendez notably have filed countless pieces of bipartisan legislation together, usually involving matters of foreign policy.
Most recently, the two introduced a resolution in July honoring victims of a terrorist attack in Argentina. Just this year, the paid have worked together on legislation regarding illicit mining practices in Venezuela, potential human trafficking of medical workers by Cuba and humanitarian intervention to curb gang violence and corruption in Haiti.