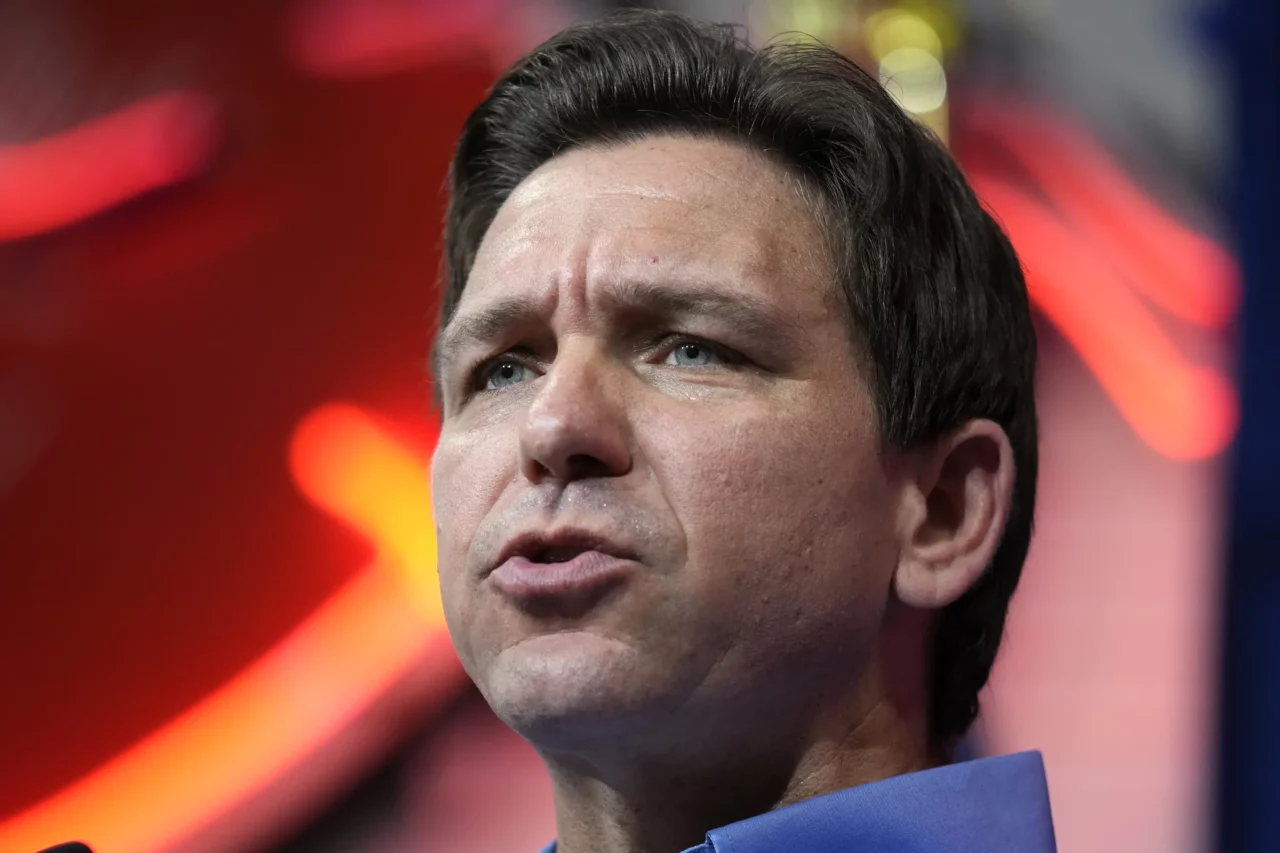 He'll take the debate stage in California Wednesday night while mill workers an hour south of Tallahassee wonder if they'll make their next mortgage payment.
He launched a legislative blitz against Disney when it dared to weigh in on a law aiming to stamp out talk of LGBTQ issues in schools. He demanded the state try to sue Bud Light's parent company after the beer brand involved a transgender actress in a marketing campaign. He dedicated the bulk of a Legislative Session to his war against "Big Tech" companies.
But when — in an audacious display of greed — Georgia-Pacific threatens the existence of the rural town of Perry, all that known-corporate-assailant Gov. Ron DeSantis can muster is a feeble request for severance benefits in a barebones statement devoid of criticism of the paper giant.
Why? The issue is too real. There's no sexy culture-war angle. It doesn't exhibit any of that forbidden wokeness and DeSantis won't touch something that doesn't advance his national ambitions. He's far too busy losing a presidential campaign. Moreover, the Koch-owned Georgia-Pacific is only being cutthroat and cruel, precisely the kind of business traits that DeSantis and his party tolerate and encourage.
Georgia-Pacific threw the entire town of Perry into jeopardy when it said last week that it would soon shutter its Foley Cellulose mill. The announcement was as corporate as it gets: a nine-sentence press release to end 70 years of hard work and 525 jobs.
In a flash, one of the largest employers in Taylor County pulled the rug on the people of Perry — population of around 7,000 — as they still licked their wounds from the Category 4 Hurricane Idalia that swept through the area just weeks ago.
One might think that a corporation puts itself in political crosshairs when it inflicts deliberate economic devastation in the aftermath of a massive hurricane. But it wasn't until nearly two days after the announcement that DeSantis quietly released a statement on X, formerly known as Twitter.
It read in relevant part: "I am calling on Georgia-Pacific to do what's right: pay severance and insurance that will bridge the gap and allow these hard working Floridians to get back on their feet — especially after a hurricane." He also said there will be a job fair to help those displaced, hosted by an agency that has long been tasked with doing just that.
No official press release. No site visit. None of his usual authoritarian hallmarks like manipulating the levers of government to punish corporate dissenters. The statement doesn't begin to hint at anything resembling admonishment and yet it's authored by a man who's been so eager to wield the stick in the past. If Disney chief Bob Iger so much as sneezed at Tallahassee, it would prompt more of a reaction from DeSantis.
Perhaps the lackluster response is explained by the fact that DeSantis is a busy man. He's on mission to build as much clout as he can as his presidential campaign enters end-of-life care.
Just look at what did fetch more attention from the executive branch last week, such as the Chinese Communist Party's alleged influence over some of the best private schools in the state. That somehow merited its own Friday press release — a transparent attempt to manufacture news for his national campaign over the weekend.
Even if DeSantis did care about the mill closure, he's all but abandoned his official responsibilities. There were "no scheduled events" on Thursday, Friday, Saturday and Sunday, according to daily schedules released by the Governor's Office. That trend continued on Monday and Tuesday of this week.
On Wednesday, he's in California while mill workers an hour south of Tallahassee wonder if they'll make their next mortgage payment. This apparent dereliction alone illustrates a possible rationale behind a "resign-to-run" law DeSantis repealed just as he geared up for his presidential campaign. Ironically, DeSantis is spread too thin to handle the state, and yet he's running in part on the idea that an executive leader should be energetic and powerful because of the demands of the job.
There's also something more sinister driving the lack of response from DeSantis: modern Republican philosophy. GOP politicians, the bulwarks of late-stage capitalism, cannot jump ship when a corporation rears its ugliest head. When controlling shareholders and executives prioritize yearly returns over human lives, Republicans at large find themselves in a bind. How can you criticize something about which you've done nothing but facilitate?
That's especially true for DeSantis, who's tried his very best to prevent corporations from considering anything other than raw profit when making decisions. Earlier this year he prioritized and signed a landmark blow to environmental, social and corporate governance (ESG), something he dubbed as "a worldwide effort to inject woke political ideology across the financial sector."
In truth, the businesses that attract ESG investors are those that take a more holistic approach to strategic decisions. That's an inexplicably terrifying prospect for DeSantis.
But what about actual corporate savagery? What about the reality that hundreds of Florida families have had their lives upended in the name of profit? To DeSantis and his contemporaries, that's just business as usual.