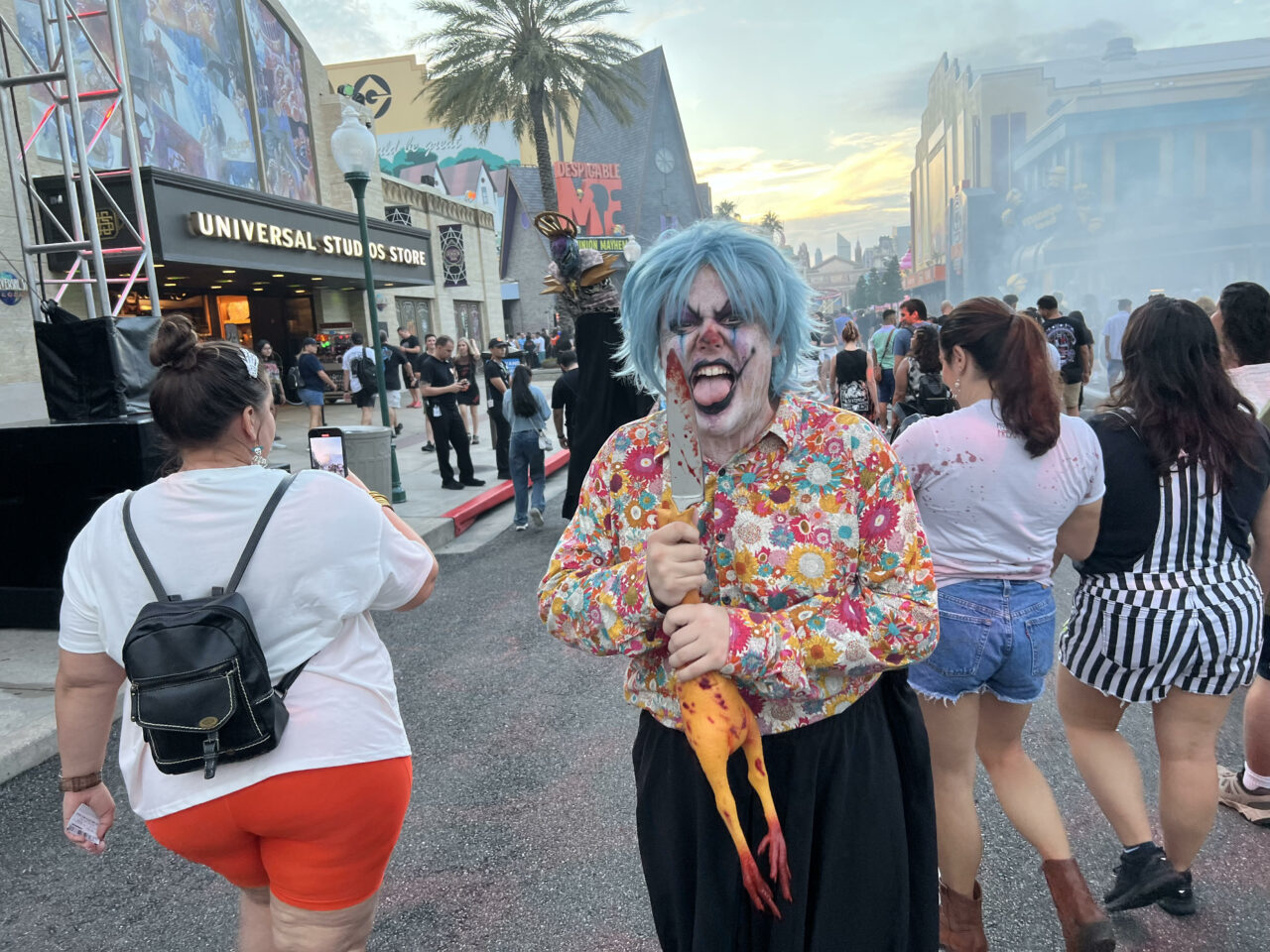 Prepared to be scared at Universal Orlando's Halloween Horror Nights.
Theme park fans appreciate the familiarity of the theme parks. There's a comfort in knowing when the next thrill is coming on the coaster you have ridden hundreds of times or taking the same predictable shortcut through the park.
But on nights like this in October, Universal transforms into something unexpected and frightening at Halloween Horror Nights (HHN), the premier Halloween event in Orlando. A monster jumps out from behind a corner. A ghastly murder scene is so gross, it catches me off guard. The dark shadows take over Universal Studios.
HHN, which runs on select nights through Nov. 4, features 10 haunted houses this year including "The Exorcist: Believer," HBO's zombie hit "The Last of Us," "Stranger Things 4" as well as others with original storylines.
"We are so excited about all the haunted houses this year. We feel that everyone will have their favorite and they all won't be the same. We love to make sure the event has a diverse slate," said Lora Sauls, Universal's Assistant Director in Creative Development and Show Direction.
"Our team works year-round to bring more terror and horror every year. We started planning for 2023 in the Fall of 2022, and it truly takes a village to bring the world's premier Halloween event to life."
One of Attractions Magazine publisher Matt Roseboom's favorite haunted houses is Dueling Dragons, Choose Thy Fate. The house draws inspiration from the coaster that closed to make room for Hagrid's Magical Creatures Motorbike Adventure at Universal's Islands of Adventure.
"This is the first time they have made a haunted house from an old attraction," Roseboom said. "The house is fun even if you never rode the Dueling Dragons ride, but it's extra fun if you have and remember it well."
The haunted houses are such a sensory experience. The pungent odors hang in the air so even your nostrils are on alert. In one haunted house, you walk through a maze of dangling sleeping bags, the touch of the fabric sends you back into the woods as a yeti stalks your party.
It's immersion at its best. Blues music plays in Bub's Lounge in one original house that spins the tale of a musician who makes a deal with the devil. All these sights, sounds and smells create the full body experience at HHN.
"I think this year the event is truly back to the levels it was before the pandemic. It's just as good as any previous year," Roseboom said.
Outside the houses, what makes HHN special is the atmosphere from the walk-through scare zones to the special foods and live entertainment.
If you're in the right spot at the right time, you can stumble onto a flash mob performance from M3GAN, the creepy 2022 horror movie.
"We had an amazing choreographer who took inspiration from the movie and character of M3GAN, but created one-of-a-kind choreography to make it completely unique for Halloween Horror Nights," Sauls said. "We work closely with all of our partners when it comes to IP content to ensure our guests get the most authentic experience possible."
For advice for HHN first-timers, Roseboom recommends going on a weeknight when it's less crowded. But even on a Sunday night, when most humans work Monday morning, the park was still bustling with long lines. Needless to say, HHN is popular. Trying to do all the haunted houses in one night? Roseboom suggested buying an express pass, although he warns they aren't cheap.
"If you're an annual passholder, do stay and scream: you enter the park during regular hours, then stay and wait for the event to start. You'll be among the first into one or more of the houses," Roseboom said. "Don't worry if you don't have time to go through all the houses. Pick the ones you want to see most and do those first. Relax and have fun in the park instead of waiting in long lines at peak times."
He recommends hitting the scare zones after dark when they are spookier.
"You can enjoy them during the day, but they look best after dark," he said. 
Don't forget proper etiquette and a little decency either.
"Have fun and be respectful of all the scare actors," Roseboom added. "They won't touch you, so don't touch them."
Sauls' suggestion. Put down your cell phones to truly enjoy the full experience.
And don't act scared, he added.
"The scare actors can smell fear," he said.