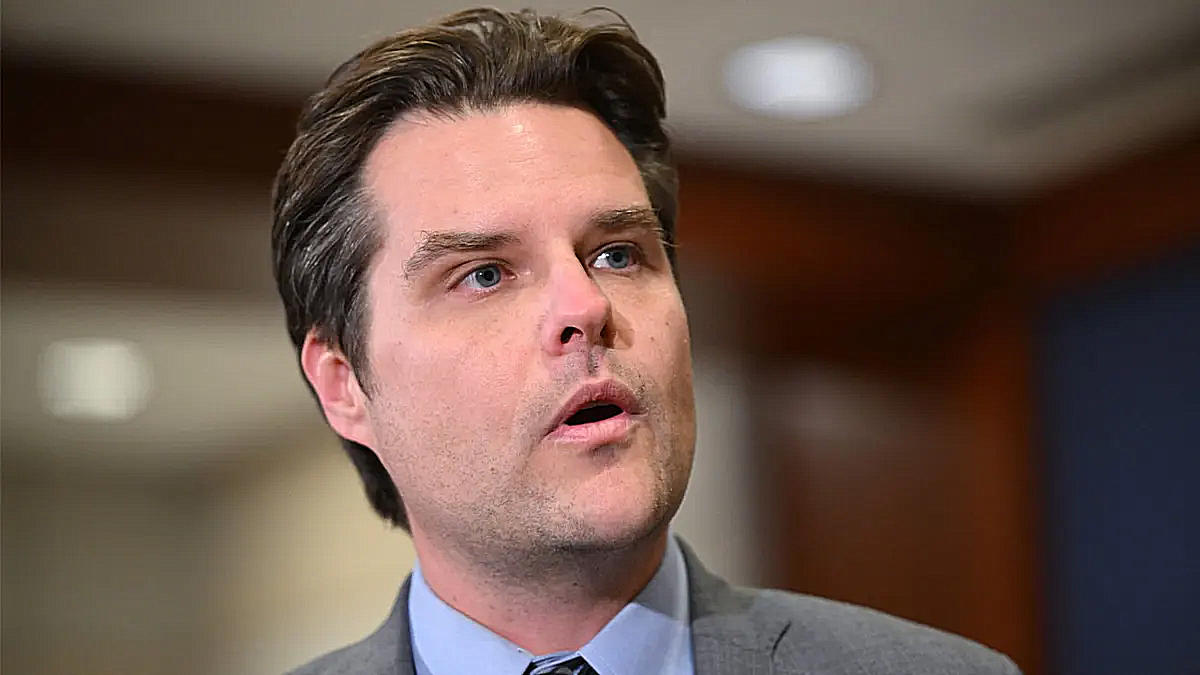 The House of Representatives has removed a presiding officer for the first time in history.
In a historically unprecedented move, House members removed Speaker Kevin McCarthy from power. The move was driven chiefly by U.S. Rep. Matt Gaetz, a Fort Walton Beach Republican. But most Republicans representing Florida in the House greeted the move with hostility.
A roll call vote shows while all Florida Democrats voted to remove McCarthy, Gaetz stood alone among Florida Republicans in forcing the ouster; U.S. Rep. Anna Paulina Luna did not vote because she is out on maternity leave.
Here's what Florida Republicans had to say.
Gaetz posted on social media: "I take no lecture from those who would grovel and bend knee for the lobbyists and special interests who own our leadership, hollow out this town, and borrow against the future of our future generations. Washington must change. We must put the House of Representatives on a better course. Speaker McCarthy has failed to take a stand where it matters. So if he won't, I will. The fight is not over. Now we must elect a Speaker."
U.S. Rep. Aaron Bean, a Fernandina Beach Republican, issued a statement: "For the past 10 months, I have been proud to stand with Speaker Kevin McCarthy. He is a principled leader, who puts our great nation and the American people first. Under the leadership of Speaker McCarthy, we've reopened the People's House, eliminated proxy voting, and championed bills that cut reckless spending from our oversized government. The motion to vacate is a total distraction from the serious work Congress is considering. Instead of political games, we must focus on securing our open border and reducing the size of our government. Kevin McCarthy is the right Speaker for this moment in our nation's history."
U.S. Rep. Kat Cammack, a Gainesville Republican, posted on X shortly after the drama: "The perpetual chaos in Washington does nothing to secure the border, cut spending, or lower inflation. The American people sent us to Washington to work and we're doing the opposite now."
U.S. Rep. Mario Díaz-Balart, a Hialeah Republican, posted: "A small group of members in coordination with the radical left socialist squad are attempting to derail the conservative GOP agenda. Over the last nine months, Speaker McCarthy has demonstrated his ability to unite the GOP, kept his promise to pass the strongest border security bill, and pushed back against the Biden Administration's wasteful spending, regulatory overreach and woke agenda. I refuse to vote with the socialists in the squad to remove the Speaker chosen by GOP members."
U.S. Rep. Neal Dunn, a Panama City Republican, posted a series of comments on X: "I voted against the Motion to Vacate Speaker Speaker Kevin McCarthy. Speaker McCarthy has been helpful in securing disaster funding & other priority items for the people of #FL02. House Republicans must focus on serving the people & passing all 12 appropriations bills before Nov. 17. Unfortunately the Motion to Vacate was passed. I would like to thank Speaker McCarthy for his service & dedication to Americans nationwide. My hope is that we fill the Speaker spot quickly so we can focus on passing a budget. We cannot afford to run down the clock & risk setting with an omnibus package. We all wear the same jersey; we all play for the same team. It's time to focus on serving the people as a team."
U.S. Rep. Carlos Giménez, a Miami-Dade Republican, posted: "Speaker Kevin McCarthy has been a champion for the American Dream his entire career. I lost my native homeland of Cuba to a brutal Communist tyranny — everything I am is because of America. We need to keep Speaker McCarthy and continue fighting to protect our freedoms!"
U.S. Rep. Anna Paulina Luna, a St. Petersburg Republican, released a statement: "I will vote for the Speaker who publicly and clearly commits to defunding Jack Smith's anti-American election interference witch hunts and subpoenas Hunter Biden while bringing a vote on the impeachment of Joe Biden to the floor of the House. We must have free and fair elections and end the corruption of our government. America will only survive if we do those things. These are my terms."
U.S. Rep. Cory Mills, a Winter Park Republican, issued a lengthy statement reading in part: "I voted against a Motion to Vacate because my goal is still the same: 12 single subject appropriations bills that get the necessary cuts with good conservative policy, secures our border, turns our economy around, puts America first, and allows us to continue to serve and govern as we were elected to do. Not having a Speaker at this time does mean a freeze on appropriations bills that still need to be voted on. Without a Speaker, the House cannot vote on any legislation. Because of this, we will now likely end up with another CR, which will continue funding for a weaponized DOJ. Just last week, I voted AGAINST McCarthy's last-minute CR. Again, my goal is to secure the border and get 12 single subject appropriations bills passed. That being said, I agree that the Speaker had broken several of his promises by not meeting the September 30 deadline on those bills and not following the 72-hour rule. As leader, these failures fall on McCarthy as leader."
U.S. Rep. John Rutherford, a Jacksonville Republican, issued a lengthy statement reading in part: "Today Representative Matt Gaetz (FL-01) led House Democrats and a handful of dissenters in handing the House back to the Far Left. It is a lie to characterize this as anything but a personal vendetta. Rep. Gaetz's 'concern' for the American people is hollow. He claims to support cutting spending and securing our southern border, yet last week voted down a bill to cut nondefense discretionary spending by 30 percent and secure our border. He claims to support the military, yet voted against paying our troops – twice last week. He claims to support passage of single-subject funding bills, yet here we are today living out his personal vendetta against Speaker McCarthy instead of considering two single-subject appropriations bills scheduled to be on the floor. Rep. Gaetz is driving our nation toward the brink of another government shutdown, all for clicks and cash and a boost in his national profile. His disrespect for his colleagues, this institution, and the people we serve is a clear reflection of his lacking fitness to serve in Congress and has made him President Biden's greatest ally."
U.S. Rep. Maria Elvira Salazar, a Coral Gables Republican, posted a clip of herself on CNN's show Anderson Cooper 360: "We have a few members that are just not in line with what the Republican Party represents, moderates and conservatives. And that has been debated in conference all throughout this month. But let's look forward because what happened, it's not what we wanted to happen, but maybe something good comes out of it. I am an eternal optimist. We have a problem with the border and we have a problem with spending. As you know, that was all we heard in that debate. McCarthy has tried to do what he could in eight months."
U.S. Rep. Greg Steube, a Sarasota Republican, posted on X: "Today, 5% of the Republican conference partnered with ALL of the Democrats to oust a Republican speaker … let that sink in." Steube later posted: "@realDonaldTrump for Speaker."
U.S. Rep. Mike Waltz, a St. Augustine Beach Republican, reposted a clip of himself on Tony Perkins' show Washington Watch. "In a broad sense I certainly understand the frustration in the sense that Washington has got to change. Our debt is out of control, our borders are out of control, inflation is out of control and everyday Americans are suffering. But I have to tell you, I just disagree with these tactics. Just so everybody understands: Without a Speaker, the House can do nothing. Republicans in the House are the only Republicans in charge of anything in all of Washington. We are fighting against House Democrats, a Senate run by Democrats and of course the entire Biden administration. And now, rather than pushing forward measures to secure the border, pro-family legislation … we passed the parental bill of rights, we need to be negotiating and pressing the Senate so that parents can take charge of their children's education and China is breathing down our necks. All of that has ground to a halt … In the military, we would call this a circular firing squad, or you know, my daughter's soccer team would call this an owned goal. I just think this is incredibly unfortunate and the happiest people in Washington are Joe Biden, (Chuck) Schumer and House Democrats right now."