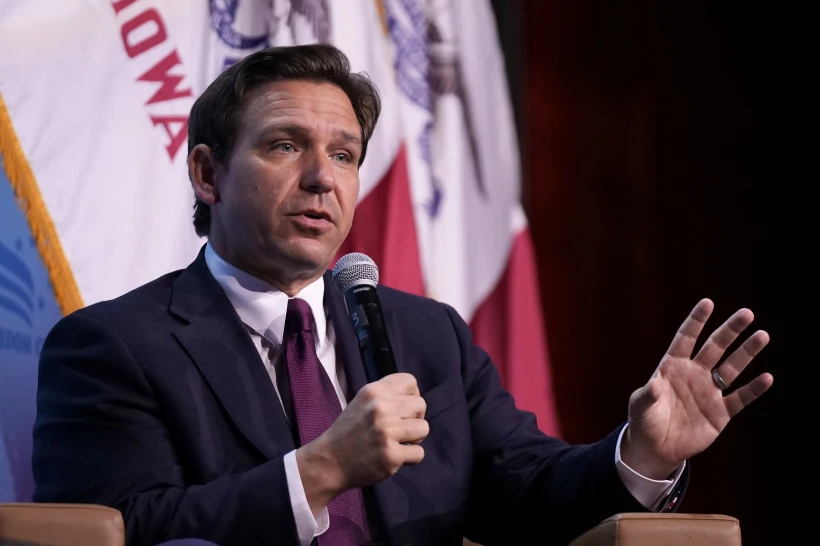 'DeSantis earns a majority faster than Trump and comes out on top, 51-49%.'
If Republican Presidential Primaries embraced a ranked choice format, Ron DeSantis would be ahead of Donald Trump in key early states.
That's one takeaway from a WPA Intelligence and FairVote national poll of 801 likely Republican Presidential Primary voters on Sept. 28-30, conducted after last week's GOP debate in California.
Trump has 48% support overall nationally, putting him 35 points ahead of DeSantis and besting Nikki Haley 62% to 38%. But when a ranked choice model is applied nationally, it's a different story when it comes to the first states on the 2024 calendar: Iowa, New Hampshire, Nevada, South Carolina, Michigan, Missouri and North Dakota.
"In an RCV tabulation, Ron DeSantis earns a majority faster than Trump and comes out on top, 51-49%," the pollsters note.
That 2-point lead is within the poll's margin of error of +/- 4.5 percentage points, but suggests that despite Trump's expanding lead in many national polls, DeSantis still resonates with voters — particularly those who will hold disproportionate sway in early contests. However, that doesn't mean he's competitive in polling of Primaries and caucuses as they actually are.
"In the early state sample, Donald Trump is also a clear front-runner with 43% of voters' first choices. Ron DeSantis finishes second, with 16% of voters' first choices. In our ranked choice voting tabulation, the results are much different. DeSantis consolidates non-Trump voters, and "comes from behind" to defeat Trump (though the final result is within the margin of error). DeSantis is clearly a more popular backup choice than Trump."
It bears mentioning that DeSantis is not the only candidate who looks better in a ranked choice voting context than in typical horse race polls.
"Four candidates are real rivals to Trump, but polling shows that DeSantis is the only candidate who beats Trump head-to-head. Along with DeSantis, Nikki Haley, Vivek Ramaswamy, and Chris Christie are all within the margin of error during the round-by-round count, suggesting any of them could make it to the final round in an RCV contest. In other words, the field could consolidate around any of these contenders."