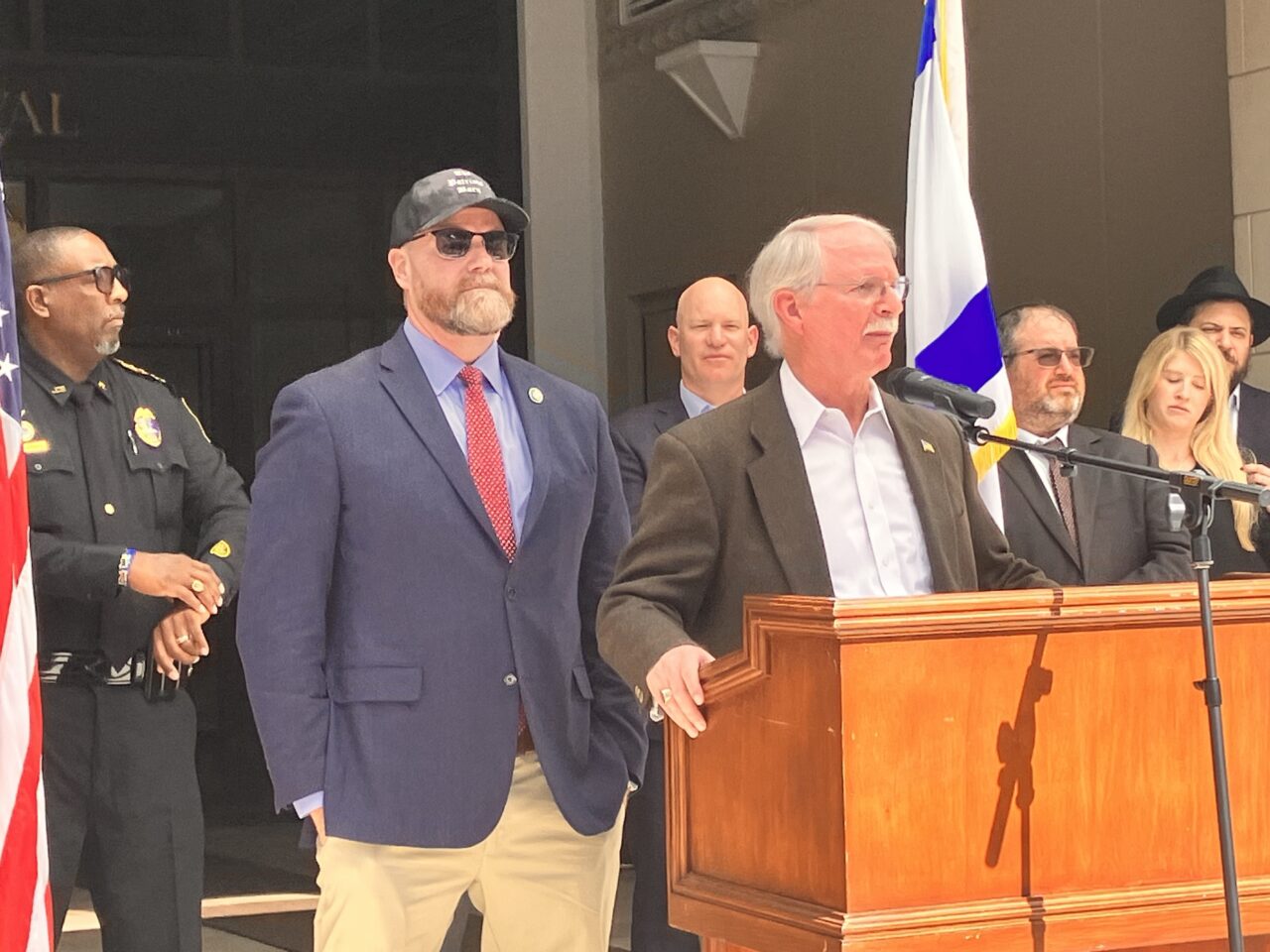 Northeast Florida Republicans took a stand on the war against Hamas, but answers were harder to get on related topics.
The Republican Party of Duval County brought foreign policy to the front door of Jacksonville's City Hall, with GOP legislators from federal, state and local levels standing united for Israel's military offensive against Hamas.
U.S. Reps. Aaron Bean and John Rutherford were on hand, as were state Sen. Clay Yarborough, state Reps. Jessica Baker and Dean Black (the party Chair), Sheriff T.K. Waters and City Council members Ken Amaro, Michael Boylan and Nick Howland.
The rally comes in the wake of a Howland-sponsored City Council resolution "in Support of Israel as It Defends Itself in the War Launched by the Terrorist Organization Hamas." The measure stipulates that the Council "stands unequivocally allied with Israel" during its military operations.
Various of the speakers offered remarks, none more memorable than the fiery Bean, who tied in the 80 degree weather with the situation in the Middle East.
"I know it's warm. I know it's uncomfortable. But guess what? Sometimes when you have to confront evil, it can get a little hot to face down people that have no idea what they're talking about. It can get a little uncomfortable," Bean said, as people chanted pro-Palestinian messages in the park across the street from City Hall.
"On Oct. 7, 1,400-plus innocent civilians were murdered, were slaughtered in the most inhumane way possible."
Bean then alluded to the protesters.
"Oh, they're going to tell you it didn't happen," Bean said, blaming colleges for the protests.
"What the heck are our higher institutions doing anyway? That's the product right there. We've got work to clean up our education system," Bean charged, as a "from the river to the sea, Palestine will be free" chant radiated from the park, where a few dozen protesters were held at bay by bicycle cops.
Other speakers included Yarborough, who contended the "genocidal acts evoke parallels" to the Holocaust perpetuated by the Nazis.
In Q&A, Florida Politics' reporter covering the event noted the difference in GOP legislative response to Israel's current conflict and the more muted reaction to neo-Nazi displays and protests in recent years in Jacksonville and elsewhere. Those events preceded the Israeli conflict and saw Gov. Ron DeSantis claim on at least one occasion that the demonstrators were trying to politically subvert him by holding up pro-DeSantis signs along with Nazi symbols.
The legislators were slow to respond, save Rutherford, who noted he "put a tweet out that night" and that "it's a matter of what gets reported and what doesn't."
Black noted that while everyone should "condemn" neo-Nazis, that "wasn't the point of this gathering," which was to demonstrate that legislators stand "loudly and clearly" with Israel.
Democratic Mayor Donna Deegan, who is of Lebanese descent, is out of town and was not at the rally organized by the opposition party. Earlier this month, she asserted that Hamas had "engaged in unprecedented barbarism," while maintaining hope that a "peaceful resolution" is possible.
Bean noted that he wanted to meet with her Monday, but her being out of town precluded that.
"I think if she was here, she would be here," Bean said.
The sole "no" vote on the Council resolution was President Ron Salem, a Republican who is of Palestinian descent and who has dealt with security challenges since his vote against the measure. Asked for comment on the GOP gathering last week, Salem said, "No thanks."
Questions about whether Salem should resign, as some conservative activists have called for, were pointedly ignored by Chairman Black, the three Republicans on the stage, and everyone else.