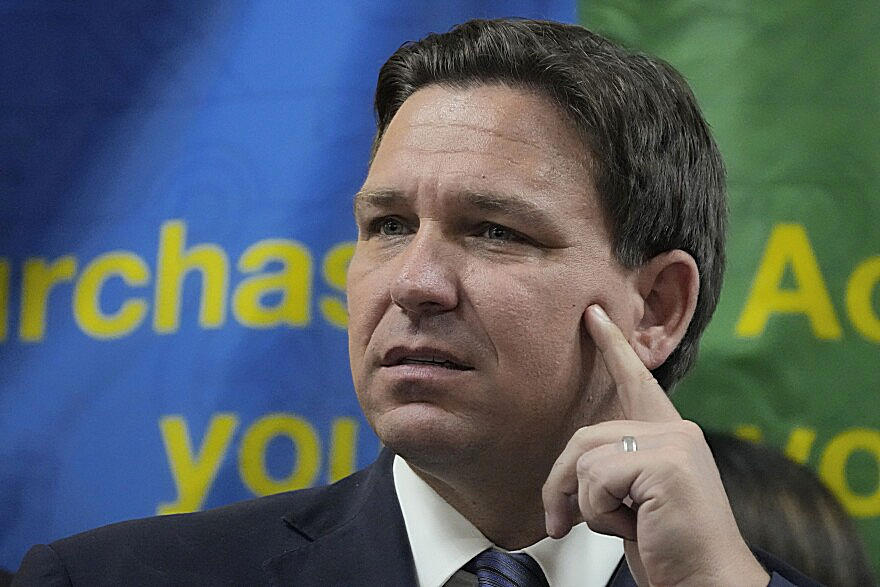 'Maybe Ron should consider visiting a smoke shop.'
The ongoing feud between Ron DeSantis and Donald Trump took a turn into Cheech and Chong territory Saturday.
In the latest of a series of statements from Team Trump suggesting the DeSantis campaign is experiencing the "kiss of death," spox Steven Cheung trolled the Florida Governor by telling him to sample local cannabis products while in Nevada for political events.
"Maybe Ron should consider visiting a smoke shop and buy some edibles to take the stress away, something (Never Back Down strategist) Jeff Roe should know about since he's lobbying for marijuana legalization in Iowa," Cheung snarked.
While it remains to be seen how the pro-DeSantis super PAC impresario is juggling presidential messaging with marijuana promotion, Cheung's cannabis comment is ironic in the context of the Governor's long-standing disgust about the substance.
During a summer campaign stop in Iowa, the Governor said he opposed adult use legalization, arguing  that young children would be able to access cannabis, and that it possibly could be adulterated with fentanyl.
"Yeah, I would not legalize," DeSantis said. "I think what's happened is this stuff is very potent now."
"I think it's a real, real problem and I think it's a lot different than stuff that people were using 30 or 40 years ago. And I think when kids get on that, I think it causes a lot of problems," DeSantis said. "And then, of course, you know, they can throw fentanyl in any of this stuff now."
DeSantis discussed what he saw during a trip to San Francisco this Summer as evidence that cannabis should not be legalized, before acknowledging that in Florida, cannabis has been available for years and that it has not been spiked with fentanyl.
"We have medical in our Constitution, we have medical marijuana, we enforce that, you know, we abide by it, but to take action now to make it even more available, I would not do that," DeSantis said, adding that legalization in Colorado has only expanded the "black market."
Early in his first term in office, DeSantis pleased reformers when he came out against the Rick Scott-era opposition to cannabis that could be smoked. Previously, loose flower was not available, with only vaporizer cups for sale at dispensaries.
"I look at someone who has Lou Gehrig's disease or terminal cancer or multiple sclerosis … I think the Florida voters who voted for that wanted them to have access to medical marijuana under the supervision of a physician. Whether they have to smoke it or not, who am I to judge that?" DeSantis said. "I want people to have their suffering relieved. I don't think this law is up to snuff."
However, the Governor took a harder line against marijuana in recent years.
"If you look at some of the stuff that's now coming down, there's a lot of really bad things in it. It's not necessarily what you would've had 30 years ago when someone's in college and they're doing something. You have some really, really bad stuff in there, so I think having the ability to identify that, I think, that's safety, and quite frankly when you get into some of that stuff, it's not medicinal at that point for sure," DeSantis said, in response to a reporter's question in 2021.
In 2022, the Governor took an even harder line position against so-called "recreational" use.
"What I don't like about it is if you go to some of these places that have done it, the stench when you're out there, I mean, it smells so putrid," he told reporters. "I could not believe the pungent odor that you would see in some of these places. I don't want to see that here. I want people to be able to breathe freely."
In other words, don't expect the Governor to "visit a smoke shop" on this trip out west.