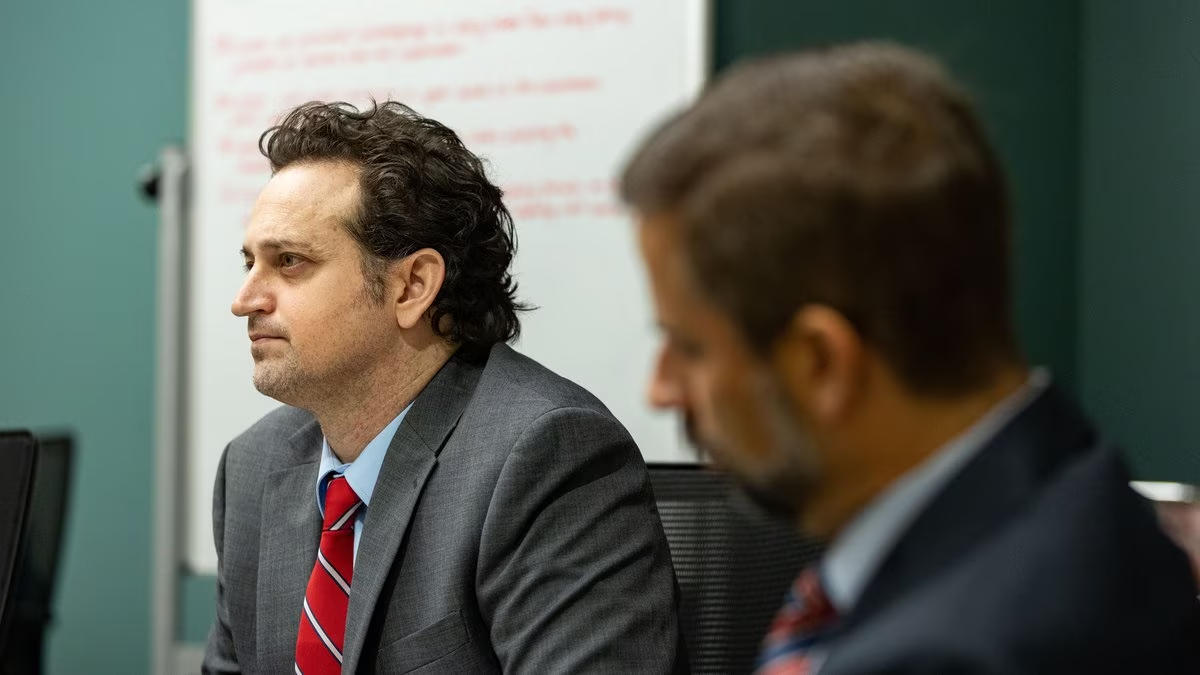 Tapping into Adelson.
Over the past many years, prosecutors Georgia Cappleman and Sarah Kathryn Dugan have listened for dozens of hours of Charlie Adelson talking on the phone. Today, a jury of 15 (including three alternates) got to hear a set of these wiretaps for four or so hours, with FBI Special Agent Patrick Sanford on the stand, testifying to their meaning.
In sum, the conspirators — including Charlie, his parents Donna and Harvey Adelson, Katherine Magbanua and Sigfredo Garcia — began speaking in highly coded conversations with one another after an undercover FBI agent bumped the family with the ruse of a blackmail attempt. The conspirators began speaking in code, and Charlie had instructed his mother not to talk about things "in the apartment or any place."
Charlie and Katie repeatedly lamented how the undercover had come with "all of the information" — a lot of details, while Charlie and Donna were primarily fixated on figuring out whether the undercover had been law enforcement or a thug attempting to extort the family.
A quick cross, with little cleanup
Defense attorney Dan Rashbaum's cross-examination of Sanford attempted to validate his contradictory interpretation of these wires.
In the defense narrative, Katie approached Charlie the night of Markel's ambush and told him that a person associated with her had committed the murder and would need money, or else another member of his family would be killed. In this twisted explanation, that's why Charlie gave Katie all of the moldy, stapled money, and why he put Katie on the payroll at the Adelson Institute even though she did no legitimate work there. In other words, to the defense, Charlie knew from Day One who committed the murder, but kept his mouth shut out of fear of the blackmailers.
But under this theory, why, then, would Charlie have to speak in code with Katie? Why would he and Donna have to obscure who and what they were talking about on the phone?
"What law enforcement didn't know is that an extortion had already happened, right?" Rashbaum led.
Sanford disagreed, "I don't believe there was an extortion."
Rashbaum also aimed to discredit Katie's cooperation, asking Sanford to affirm that Katie had lied to Charlie when telling him she had tried to contact the undercover agent. He also had Sanford affirm that Sanford had felt frustrated with Katie during her proffer, which occurred after her conviction and sentencing.
The defense also tried to do some cleanup for Wendi, who has been scrutinized for cutting off contact between Dan's parents and their grandsons following the 2016 arrests and used a wiretap to suggest that Charlie had considered the murder of Markel to be a "tragedy."
Cappleman's redirect was concise. She clarified a point or two and then closed her case.
"At this time," Cappleman said, "the State rests."
As is customary at this point in the trial, defense co-counsel Kate Meyers moved for Judge Stephen Everett to acquit Charlie, saying that the State had failed to prove its case that their client was responsible for Markel's murder. "I don't believe there's sufficient evidence to go to the jury," Meyers said.
Everett was quick to rebuke, "the motion of acquittal is denied."
Defense relitigates divorce
In keeping what appears to be a highly Wendi-focused defense, Myers began the defense's case with Kristin Adamson, Wendi's divorce attorney.
Adamson testified that she told Wendi that she might have a shot at winning the relocation battle, but that it would be a challenge.
Meyers asked Adamson how Wendi reacted to the court's denial of relocation.
"She was pretty calm about the whole thing," Adamson replied, "She seemed to understand that it wasn't a given that it would happen, that it was a long shot."
Adamson also said that it was a fairly common occurrence for one party in a divorce to offer the other party money in exchange for relocation.
"It shouldn't be the case that money and children are connected," Adamson said, but that it does happen. "Sometimes it works and sometimes it doesn't."
Meyers also asked Adamson questions about financial fights between Markel, Wendi and Adamson herself, in which Markel had threatened sanctions. Adamson said that she'd assured Wendi she wasn't concerned about the legal ramifications of Markel's filings. But on cross-examination by Cappleman, Adamson conceded that had Markel been alive and filed certain motions, there could have had serious ramifications for her personally and for her law license.
Charlie prepares to take the stand
Wednesday closed with Charlie raising his hand and swearing that he'd tell the truth — that he planned to testify on his own behalf and that he understood the ramifications of his choice to do so.
Charlie will take the stand on Thursday morning.
___
Florida Politics provides ongoing coverage of the Markel murder case, which is drawing international media attention to Florida's capital city. Our reporting draws from sources including contributor Karen Cyphers of Sachs Media, who, with attorney Jason Solomon, advocates with the grassroots group "Justice for Dan" to draw attention to the case and provide analysis relevant to Florida's political, advocacy and legal communities.