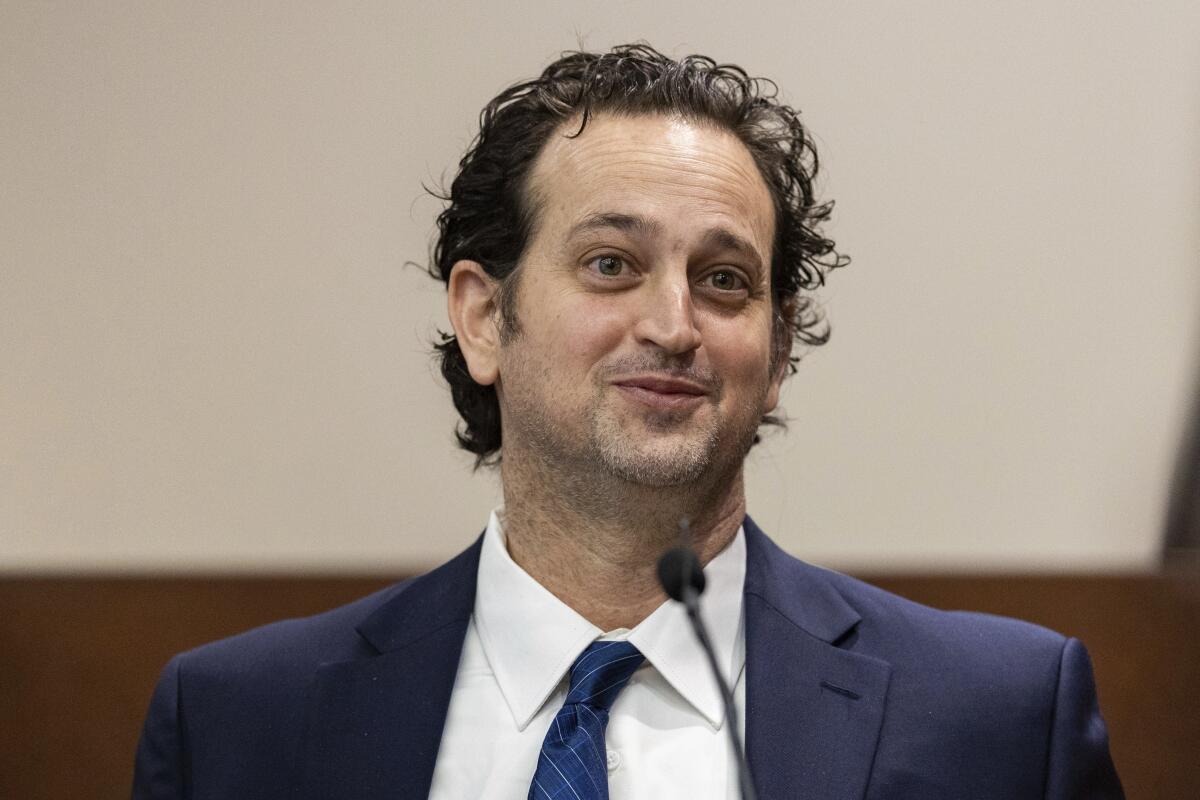 The jury was given the case to deliberate at 1:45 p.m.
Prosecutor Georgia Cappleman walked up the lectern and faced the jury with dozens of arrows in her quiver — each a piece of evidence against defendant Charlie Adelson — and proceeded to land every single one on the bull's-eye. Then, defense attorney Dan Rashbaum faced the jury and attempted to tell them that the target was wrong.
"The evidence shows that the Adelson family was all about psychological warfare," Cappleman said — referencing the actions that Charlie, Wendi Adelson, Donna Adelson, and Harvey Adelson first took to extricate Wendi from her marriage to Dan Markel, and then the actions they ultimately took to eliminate the "problem" of Markel by hiring contract killers.
But to Rashbaum, Charlie was "conned" by his once quasi-girlfriend Katherine Magbanua, along with her gangster associates Sigfredo Garcia and Luis Rivera, who he claims plotted Markel's murder behind the Adelson family's back and then extorted the family for years on end. To Rashbaum, the wiretaps exonerate his client — despite the fact the defense fought hard to keep these recordings away from the jury's ears.
Rashbaum spent hours painting his client's absurd story over the State's set of facts in a one-volume impassioned yell, which made it indistinct which points might matter most. He ended by asking jurors to think, during deliberations, "What Would Rashbaum Say?" And then, to do the hopefully implausible, to "end this nightmare. Send him home."
In short, Rashbaum's closing attempt to move the goal post, but Cappleman's rebuttal returned focus to the field.
She first cleared up misrepresentations of fact and law that Rashbaum recklessly threw out — such as asking the jury to "speculate" — but Cappleman clarified that speculation is not reasonable doubt.
The problem, Cappleman said, with almost all defense interpretations is "arrogance" — that Charlie believed himself "untouchable." She set the record straight on other misrepresentations by Rashbaum in his closing, such as falsities he attributed to Wendi's ex-boyfriend Jeffrey Lacasse, Special Agent Patrick Sanford, Wendi, and Katie, too.
"Unfortunately, the defense, his brain was working just fine," Cappleman said of Lacasse — who reported information to law enforcement long before corroborating details were discovered by law enforcement. This speaks to the credibility of Lacasse's accounts of the hit man "joke," celebration dinner, Charlie's bragging of connections to Cuban criminals, and ultimately, Wendi's admission that her brother had actually looked into hit man the prior summer.
Viewers will want to watch Cappleman in action firsthand and can do so through multiple channels, such as the Tallahassee Democrat's YouTube feed.
"Georgia Cappleman nailed it in her closing by presenting the scores of details of the conspiracy with phenomenal visuals and authentic intonation to walk the jury through the murder plot. The jury was glued to everything Georgia said as it came across like a riveting movie, seamlessly harmonizing big picture facts with mass amounts of granular details," said trial attorney Carl Steinbeck, a legal expert who runs Jury Trial Mentor, who visited Tallahassee to watch closing arguments and will livestream commentary after the verdict. "This is such a brilliant trial advocacy method that trial advocacy professors should model this closing format for trials with the level of complexity we have in this case."
Rashbaum claimed the state had put on a "magic show" with their case against Charlie. But Cappleman retorted: "Only one of us is putting on a magic show; it's up to you to decide who is."
Only the 12 members of the final jury will get a say in deciding whether this complexity removes any reasonable doubt about Charlie's guilt or whether any meaningful shreds of uncertainty remain.
The jury was given the case to deliberate at 1:45 p.m.
___
Florida Politics provides ongoing coverage of the Markel murder case, which is drawing international media attention to Florida's capital city. Our reporting draws from sources including contributor Karen Cyphers of Sachs Media, who, with attorney Jason Solomon, advocates with the grassroots group "Justice for Dan" to draw attention to the case and provide analysis relevant to Florida's political, advocacy, and legal communities.