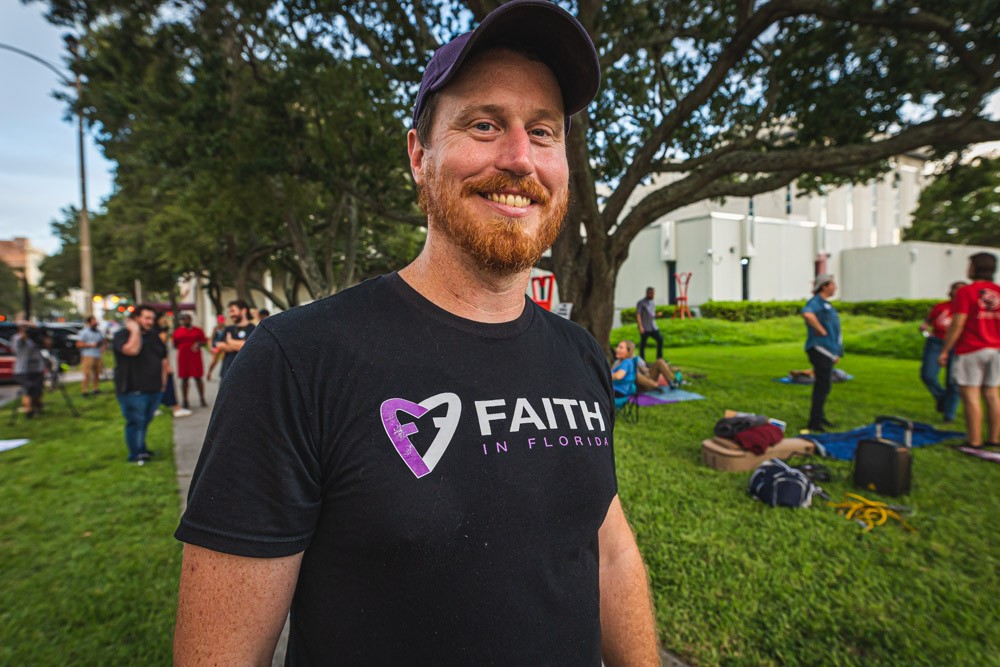 'He has a burning desire to make St. Petersburg a better place to reside for all of its citizens.'
Nick Carey, a candidate for St. Petersburg City Council in District 3, is touting support from members of the local faith-based community and community leaders throughout central Florida.
Endorsers include union leaders, church leaders and progressive activists.
LaVon Bracy, who advocates for voting rights, is among Carey's supporters.
"It is an honor to endorse Nick. He has a passion to serve and is an advocate for the people," Bracy said. "He has a burning desire to make St. Petersburg a better place to reside for all of its citizens."
Union leader Lee Bryant also offered support.
"Nick Carey's desire to make life better and safer for the citizens of St. Petersburg has already yielded results," Bryant said. "As a member of the St. Pete City Council, the people of St. Pete will have even more to gain."
Carey is one of two candidates currently filed to run for the District 3 seat, which is currently held by Ed Montanari. Montanari is not seeking re-election due to term limits.
Dismayed by the events surrounding the murder of George Floyd in the summer of 2020, Carey left his career in pharmaceuticals that year to become a staff organizer focusing on housing, ballot access and public safety for Faith in Florida after finding a faith community at Allendale United Methodist Church in Old Northeast, a congregation known for progressive activism.
District 3 is one of only two City Council districts with a voter registration advantage for Republicans, making Carey's candidacy as a progressive perhaps a difficult climb. Though City Council races are nonpartisan, Montanari is a Republican, and the only one on the current board.
Still the voter registration advantage for the GOP is just about 1,500 voters, and there are more than 5,600 independent voters in the district. But a Republican is expected to get into the race, bar and restaurant owner Pete Boland, who could disrupt Carey's path to victory.
Nevertheless, he is gathering support early.
"I have had the pleasure of knowing Nick for several years as an activist for the people. As a minister and citizen of St. Petersburg, I believe it is essential to elect leaders who are committed to improving our community and have the heart of the people," said Father Victor Ray of St. Teresa of Calcutta Church. "Nick has the skills and the moral fiber to make a difference."
Likewise, church elder Bambi Jones of Shiloh Missionary Baptist Church touted Carey as a "catalyst for change" who would be "a great asset in this political climate."
Eliseo Santana, a community leader who ran unsuccessfully for Clearwater City Council, said Carey is a "superhero" who is "always fighting for the well-being of the community."
Manuel Sykes, a longtime fixture in St. Pete politics, also offered his support.
"Nick is a compassionate, hard-working individual who cares for every St. Pete resident. His leadership will help St. Petersburg become a better place for all," Sykes said.
Other endorsers include business owner Gloria Campbell, Mt. Zion UMC Rev. Lee Hall-Perkins, Barbershop Book Club founder Antonio Brown, Clearwater community advocate Matt Byrd and labor rights advocate Bruce Nissen.
While Carey is collecting support from area progressives, he isn't the only candidate in the race on the left. Cuban American sales executive Juan Lopez Estevez entered the race earlier this month with support from more mainstream liberals, including former St. Pete Mayor Rick Kriseman, former Tampa Mayor Bob Buckhorn, former Hillsborough County Commissioner Les Miller, former St. Pete City Council member Steve Kornell, and former Rep. Sean Shaw.
Carey exceeded $10,000 raised for the race in his first 30 days on the trail. He announced Thursday that the campaign raised another more than $5,281 in October. While the most recent reports are not yet publicly available, Carey said his total raised so far is now more than $16,690.
"With this grassroots support we'll continue marching forward in our campaign to uplift the voices of working people in this city through lowering the cost of living, preparing the city for the impacts of climate change, and building strong neighborhoods with economic stability," Carey said.