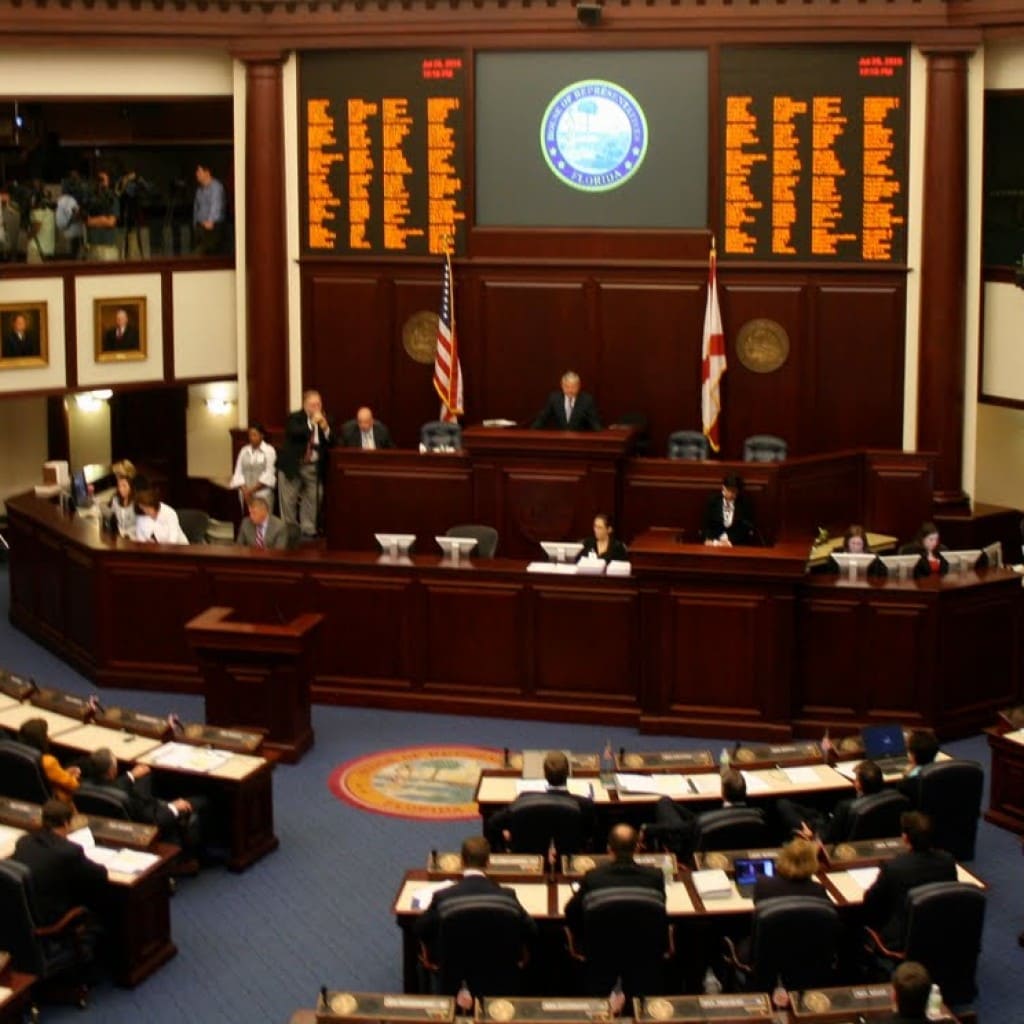 On Friday morning, lobbyist Ron Watson prepared reports for clients' whose interests he represents before the Florida Legislature.
The curtains close officially on the 2015 Regular Session Friday, but for all intents and purposes, it ended Tuesday when any accord between House and Senate degenerated into insults and the House adjourned without a  state budget in place. Statute requires a budget for the new fiscal year by July 1.
"In the latest episode of As Tallahassee Turns," Watson joked was the opening line of his dispatches.
A record low number of bills, 231, met with both chambers' approval. Chris Moya, the government affairs director for Jones Walker, said he thinks that's a good thing.
"That's the committee process at work. It's a sign that the filters worked," Moya said. "I don't know if any bad legislation passed, a lot of bad things died but if you did a poll among the bills that passed I don't think that you would find anything really, really bad."
Any assessment of the 2015 Session has to come with a disclaimer because the budget still needs to be written. The current spending plan is $77 billion and a lot of policy is wrapped up in $77 billion dollars said Keith Arnold, who lobbies for Buchanan Ingersoll & Rooney.
"Money drives policy so it was a remarkably non-productive session. Very little of substance passed and all the big issues are still out there," Arnold said. "Taken as a whole, it's not over."
Advocates, though, are making their lists and preparing for lawmakers' return to the Capitol.
Damien Filer, political director for Progress Florida, said one of the best things that happened is the Senate put a health care expansion plan in its proposed budget. The move blew up the session, the House choosing to go home rather than accept it, but Filer said the idea remains alive.
"That's the best news we can point to," he said. "The last two years the session ended and health care expansion was dead. We're on the 60th day of the Regular Session and it is still alive."
The bad news, according to Filer's group, is that a 24-hour waiting period for an abortion was approved.
"The mandatory abortion-delay bill, SB 724, was one of the most offensive proposals we saw. Every year for the past five years they have moved forward with another way to chip away at the reproductive rights of the women of Florida," Filer said.
Florida Smart Justice Alliance includes two measures on its best of 2015 list.
"For us, the revenge porn bill was a very big one," said J. Christian Minor, the Alliance's director of Legislative Affairs. SB 538 makes it a first-degree misdemeanor to seek retribution from an ex by posting images that were supposed to remain private. A second violation would be a third-degree felony.
Smart Justice is also celebrating getting SB 378 through both the House and Senate. The bill gives police officers the discretion to give a juvenile a civil citation rather than a criminal charge for a petty offense. Studies indicate the recidivism rate is lower with a civil citation than when a youth is charged and convicted. And, Minor noted, it is less expensive; with a civil citation the youth pays $375. An appearance in teen court costs the state $500 and juvenile court comes with $5,000 in costs.
"Probably one of the best things we saw go to the governor," Minor said. "It gives the teen another bite of an apple and a chance at rehabilitation, and allows them to keep their record clean so they can find employment and get into certain schools."
Child advocates are also applauding approval of the Regis Little Act, HB 437. It provides foster children who are incapacitated with a guardian once they age out of the system.
"What happens is these children who are not able to protect themselves would turn 18 and go back to the parent they were removed from and that child could be exploited by them taking their SSI check or anything else they could do," said Allan Abramowitz, executive director of the Guardian ad Litem program.
The measure is named after an Orange County teen who was murdered on the streets of Orlando after he aged out of foster care. Abramowitz estimated the measure would apply to more than 100 youths a year.
Patient advocates are pointing to the Right to Try Act as the best thing lawmakers did during the Session. HB 269 allows terminally ill people to experiment with drugs and devices not yet approved by the Food and Drug Administration. It clarifies liability, providing protection for doctors and drug companies when the patient wants to try an experimental drug.
"You have a person who is dying, why not allow them to try something that is available?" Watson said.
"I'll tell you the worst thing that happened: SPB 7066 died. That's the worst part of what's going on," Watson said. That was the glitch bill for the Charlotte's Web law that never moved from the Senate's special order calendar.
Smart Justice also was disappointed about time running out on a reform package for the Department of Corrections. There have been numerous turnovers in leadership at the department, allegations of whistle blowers being targeted, and a Miami Herald investigation into inmate deaths.
"Sen. Gregg Evers and Rep. Carlos Trujillo worked very hard hashing out the issues to fix the problems and shortcomings in the system," Minor said. "It was a shame to see it go down."
Then again, Keith Arnold sounded quite emphatic on his drive back to Fort Myers.
"It's not over," the former House Education Appropriation chair said. "Money drives policy and without a budget it's simply not over."