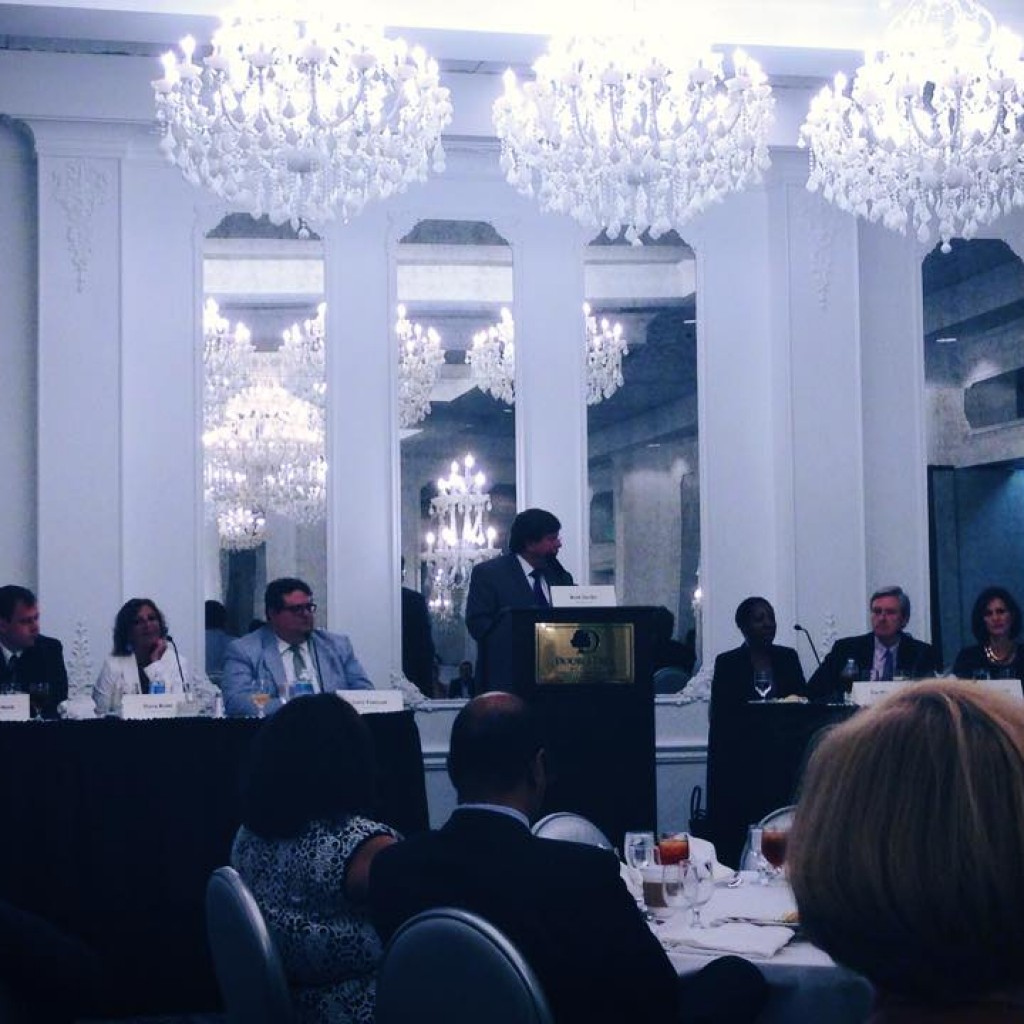 Expect Florida lawmakers to spend a long hot summer in Tallahassee. Plus, they will be at the state Capitol for a pretty contentious fall as well. And they just might, with a little luck, be able to fit in a holiday break before returning for the 2016 Legislative Session in January.
That's the consensus of a handful of Capitol reporters who spoke Wednesday at a Florida Leadership luncheon co-hosted by Sachs Media Group to examine the busted 2015 session that failed to produce a state budget.
Lawmakers have a July 1 deadline to produce a spending plan but a couple of court cases before the U.S. and state supreme courts along with a gaming compact with the Seminole Tribe means they will be spending a lot of time in Tallahassee.
About 100 Tallahassee politicos attended the discussion featuring the Jacksonville Times-Union's Tia Mitchell, The Associated Press' Gary Fineout, News Service of Florida's Dara Kam, the Tallahassee Democrat's Sean Rossman, Miami Herald's Mary Ellen Klas and the Palm Beach Post's John Kennedy. The writers shared their perspective about how a health care dispute turned into intraparty warfare.
"(Senate President Andy) Gardiner bet the farm on LIP," Kennedy said. "This always sniping Senate with each other, they hung together. They fought this thing right to the very end until the Session blew up, something that many of us didn't see coming."
The writers placed some of the blame for the failed session at the Gov. Rick Scott's door, noting that when the House adjourned three days early he was on a Ferris wheel ride in Orlando.
"There seems to be a leadership vacuum. It would be hard to imagine a scenario like we saw last week if Gov. Bush was on the plaza level," said Kam. "I'm not saying it couldn't have happened but it would have been more difficult for us to expect that."
The Herald's Klas noted that Scott is learning on the job and that being the executive of a state is different from being a CEO of a company.
"One thing he's learned to do very well, I think is campaign," Klas said. "He's kind of been an absentee landlord in many ways."
The 2015 Session fell apart when the House refused to consider a Senate plan to provide health insurance to the working poor. When the Senate would not withdraw the proposal, the House adjourned and left town without lawmakers completing the one job mandated by the state constitution, producing a state budget.
This is where the political calculus could become difficult for the ruling GOP. The event organizer, Ron Sachs, communications director for Gov. Lawton Chiles, observed that the vast majority of Florida's 19 million residents are unaware of the dispute, for now.
But by the middle of June, cities, school districts and universities will need some direction from the state to prepare their budgets. If the budget dispute continues into July then the dynamics of the debate will change.
"This is going to come home when people take their kids back to school in the fall … and you have to say you can't hire new teachers," Fineout said. "When you start messing with people's regular lives, the things they have to do on a regular basis, then there will be some consequences."
Fineout observed that a ruling on a pending case concerning the Affordable Care Act could complicate the debate in Tallahassee. If the decision goes against the federal government then more than a million Floridians could lose their ObamaCare subsidies and health insurance.
Another factor that may require lawmakers to return to Tallahassee is a redistricting case before the Florida Supreme Court. A ruling against the Legislature would force a redrawing of state Senate districts.
And the Seminole gaming compact is set to expire. The Tribe and state are working on a new deal that would require legislative approval.
The first thing lawmakers need to take care of though is a state budget. The panel of reporters was asked to speculate what would be their lead sentence for a story on the day after a Special Session to write a state budget.
"We're going to be here for a long time," said Klas, mentioning the court cases and gambling.
"Come July 1, health care expanded slightly," Kennedy said. "There will be a turkducken. Instead of a fix there will be lesser reform of health care expansion so everyone can declare victory but nobody wins."
"It will be a budget that will get us down the road a few months then they will be back," Fineout said.
Earlier Fineout had said the only way lawmakers are going to resolve the debate over providing insurance to the working poor is for someone "to cave."
"The question is, do they all cave together and all give and all not get everything they want or does someone stand tall until they get everything they want?"
"