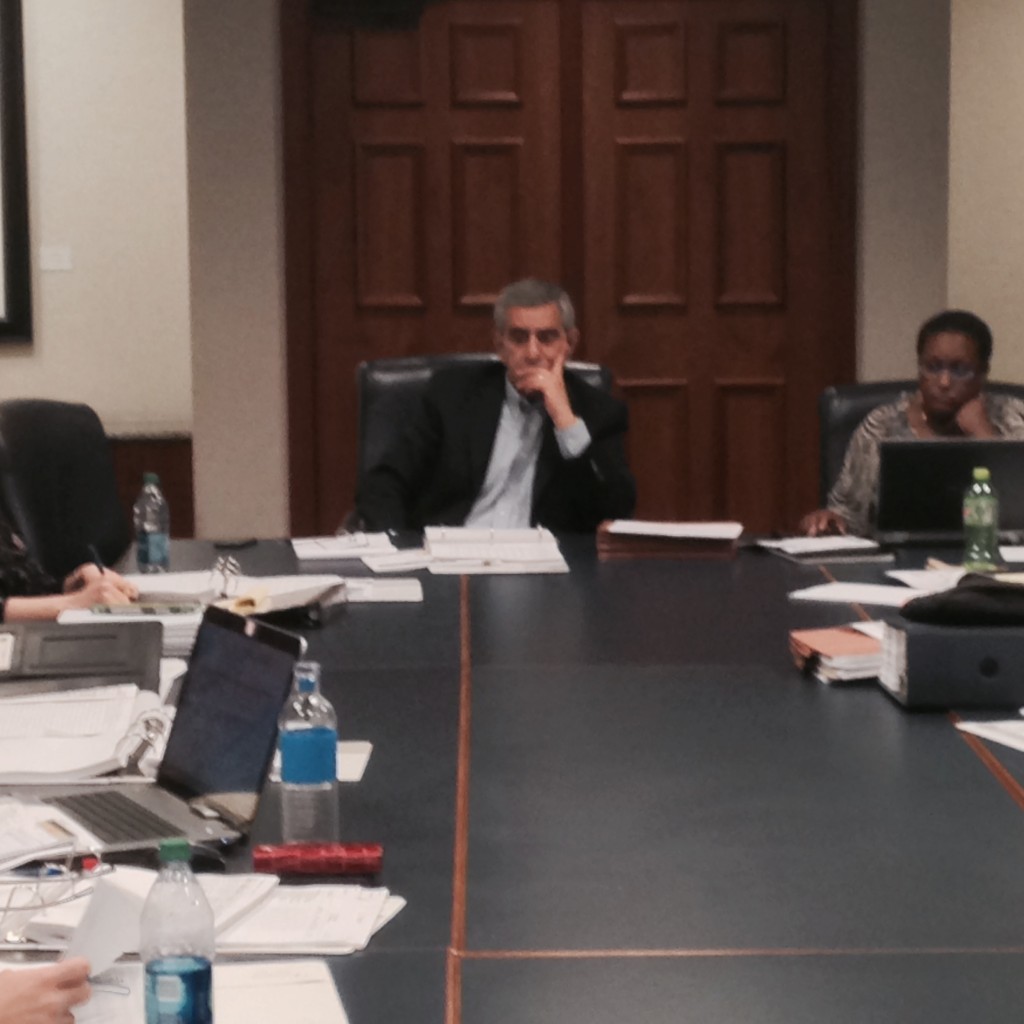 The afternoon session of Transition Executive Director Sam Mousa's budget reviews with Jacksonville's city departments begins with a foray into the Finance Department's budget. On hand were Glenn Hansen and Ronnie Belton from the Alvin Brown administration.
1:15: Assistant Budget Officer Angela Moyer starts. The revenue piece from the Jax Pier is $36,000. Salaries and benefits up $48,000. Looking for additional position for Budget systems administrator. In need of "institutional knowledge" in Budget office. Eleven people on staff; one vacancy.
1:26: Other than Office of General Counsel allocation, Internal Services have not moved much. The extraordinary lapse placed on the department has been removed. Belton says they essentially are right at budget.
1:30: OGC will be over by "like half a million dollars," according to Moyer.
1:31: OGC was paying for actuarial middlemen related to the pension negotiations. Eventually it ran out of money. Needed another way to pay for it.
1:33: Hansen says "almost all of the financial areas have been short on personnel." Did not have the money to do what they should have been doing, or to compensate people at market rate. Suggests that this is a professional department with no dollars for training. Willing and capable people, but not experienced or trained "in a manner that is appropriate." No depth either; lack of backups for key, technical positions so that there isn't lost institutional knowledge. People get picked off by other departments.
1:37: On to the enhancement list. Hansen: "First time I've seen this today." It apparently has a $33 line item on it. Mousa is incredulous.
1:45: There are needs for enhanced risk management and safety protocols. They've gotten outside advice that they are understaffed in terms of safety presence. They want to add a person and make up the difference electronically. This additional safety officer is a "feeble attempt" to get closer; would be paid for out of the Risk Management fund. Another position needed has to do with insurance. There are departments that need risk management assistance related to insurance. One people handles Risk Management currently; it is described as "completely overwhelming," and they could use five or six people in the role.
1:51: An executive order this year established a framework for a citywide safety program. Right now, the laws are not being adhered to relative to safety.
1:52: On to Risk! The big mover is "gross premium written," which is up $4 million and is billed as a "direct correlation between the revenue and the expense side of the budget."
2:07: After a discussion of the Adams Mark loan, which has five or six years to go to be paid off, a discussion of the "adverse position" of the insurance fund, which has been starved of resources. After a good year, the funds are dispersed to equity partners, which does not permit accumulation of reserves.
2:11: People are working for the city with an "80 percent impairment rating," which paints the city into a corner with respect to workers' comp. The "confidence level" has been at 55 percent, which is a function of a failing in the ordinance that dates back decades.
2:13: Mousa concurs with the impact of workers' comp.
2:14: This year, a heart transplant claim was a $1.6 million hit. There has to be a way to eliminate the claims from getting older.
2:15: Mousa wants to know how many of these legacy claims get settled a year. They are, apparently, numerous. They date back to 1955; others date to 1978. There are varying degrees of statutory limitations, but a lot are heart claims the city is on the hook for. City has been trying to buy off the claims to get rid of "aged claims" and absolving the city of liability. Twenty legacy claims have been removed from books this year; they could have cost a million dollars each if allowed to stay on books and become worst-case scenarios.
2:23: A shortfall is expected in claims this year. The exact amount cannot be forecast.
2:30: Professional services, reduced by $36,000. Premiums paid for property reduced $1.7 million. There were issues with data previously that led to brokers offering the highest rates. Better appraisals led to better negotiation power. The medical malpractice budget of $350,000 was removed completely; was a policy removed because of the exposure at the jail, and considering the track record at the jail, that budget would have had to increase. So they decided to forgo a malpractice policy, and rely on sovereign immunity and the cap on damages.
2:34: Mousa wonders whether there is risk of a malpractice claim regarding a physician; the thought is no, but that's debatable. Buying a malpractice policy now is prohibitive, says the risk guy, who compares it to buying car insurance with two drunken driving offenses on the record. An amputation claim, and another similarly unfortunate incident, hampers the city's ability to get a cheap-ish malpractice policy.
2:38: On to Capital Improvement Projects. Hansen says there is a large list necessary for catchup and maintenance. More than $100 million requests now. Hansen doesn't know how to cull that down. Vehicle list request: $26 million, including $9 million of fire trucks. "There is a very large adverse reaction in council to borrowing," Hansen says, referring to Tuesday's Finance meeting. Where does the new administration choose to draw the line?
2:41: Mousa wants to know how much cash is on hand. The choice, says Hansen, is to borrow or to close down projects. He does not know how to prioritize.
2:43: Mousa wants a prioritized list. A sharp exchange between him and Hansen about what constitutes such a list, and if that list has already been distributed. Mousa wants to get "Fire, Sheriff. and Public Works" back in to review their requests.
2:45: Hansen gives some priorities: "Roads, sidewalks, ADA, Ash, bridges, Liberty Street." Mousa wants to know progress on the latter; spoiler: not much.
2:45: "Thanks for the guidance on CIP. You dumped it in our court. That's where it belongs."