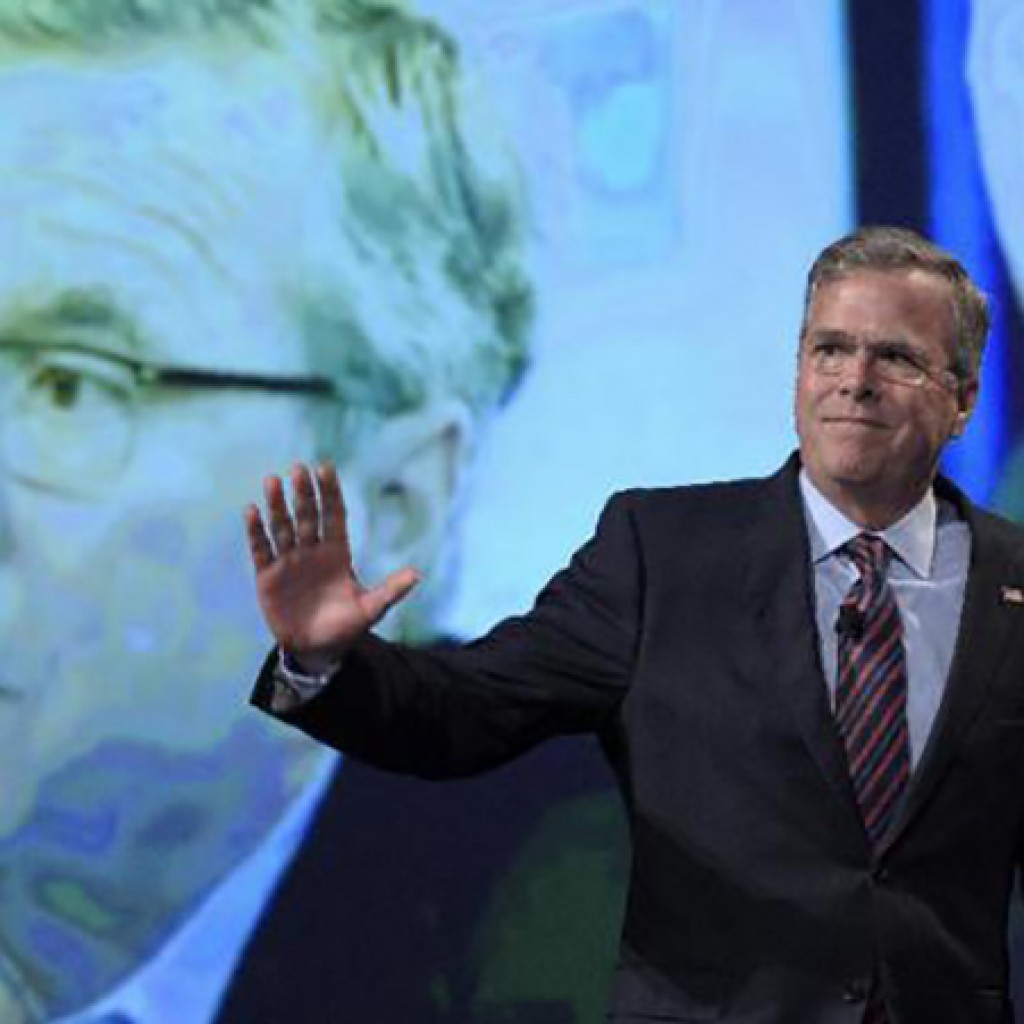 A new national poll of all of the Republican presidential candidates from Public Policy Polling shows Wisconsin Governor Scott Walker with a slight lead over Jeb Bush, 17 percent to 15 percent.
Marco Rubio is third with 13 percent, followed by Dr. Ben Carson at 12 percent and Mike Huckabee with 11 percent.
Ted Cruz and Rand Paul show up next in the poll with 8 percent support each. Carly Fiorina gets 5 percent and Chris Christie is next at 4 percent.
Though Walker's lead is small, it's the fourth consecutive national survey PPP had conducted with him leading nationally, albeit a full half-year before the Iowa caucus takes place, the first election that matters in this contest.
Walker continues to lead thanks largely due to his strength with voters who identify themselves as 'very conservative.' Among them he gets 23 percent support with Carson at 17 percent, Cruz at 13 percent, and Huckabee at 11 percent the other candidates who enter double digits.
The survey also includes interesting statistics about both of Florida's two candidates.
The poll is a mixed bag for Bush. On one hand, he's the only candidate who's really gained in support over the last month, going from 11 to 15 percent. On the other hand, he actually starts out with a negative favorability rating among GOP primary voters — only 37 percent see him favorably to 40 percent with an unfavorable view. That's largely due to his struggles with conservatives- just 32 percent of 'very conservative' primary voters have a positive opinion of him, while 51 percent see him negatively.
Bush does lead the field with moderates at 19% to 17% for Rubio. Paul gets 15 percent and 10 percent for Huckabee.
Rubio has the best favorability rating of the GOP hopefuls- 59 percent of primary voters have a positive opinion of him to only 16 percent with a negative one. Rubio is also the most frequently named second choice of GOP voters. Only three hopefuls are either the first or second choice of more than 20% of voters — Walker at 28 percent, Bush at 26 percent, and Rubio at 25 percent.
On the Democratic primary, it's the same old story. Hillary Clinton dominates, leading Bernie Sanders 65-9 percent. Martin O'Malley gets 5 percent, while Lincoln Chafee and former Virginia Senator Jim Webb are at 4 percent (Webb has not officially announced his candidacy).
In head-to-head national survey matchups, Clinton leads the entire GOP field in hypothetical general election match ups but it's not by that large of a margin. The closest Republicans to Clinton are Rubio and Carson, both of whom trail Clinton 46-43 percent.
Rubio is the only candidate on either side of the aisle who has a positive favorability rating with the overall electorate — 37 percent of voters see him favorably to 36 percent with a negative opinion.
Public Policy Polling surveyed 1,129 voters nationally, including 492 Republican primary voters and 471 Democratic primary voters, between June 11th and 14th. The margin of error for the overall survey is +/-2.9 percent, for the Republicans it's +/-4.4 percent, and for the Democrats it's +/-4.5 percent. 80 percent of participants responded via the phone, while 20 percent of respondents who did not have landlines conducted the survey over the internet.