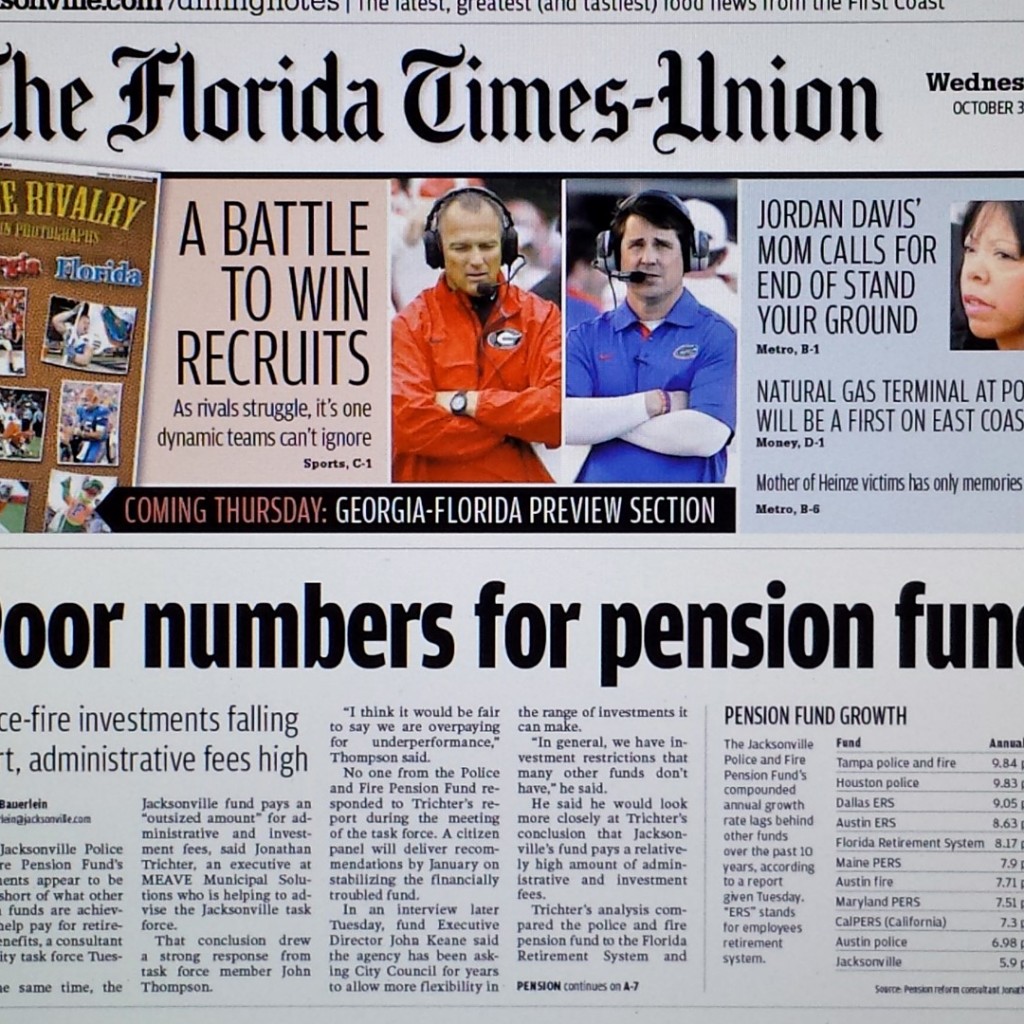 The solipsism of the paper of record. It never gets touted as a subscription benefit for the Florida Times-Union, but it's a much more reliable feature than their website. You can always count on it, as a recent column from the paper's editor Frank Denton indicated.
It started off fine enough, talking about how Lenny Curry and the transition team were preparing to take office at the first of the month, then to submit the budget.
Yep. True.
Then it went off the rails.
"We can only hope they were taking time to read the Times-Union because Thursday's front page inadvertently presented Curry's two biggest, and probably most expensive, challenges," wrote Denton.
He talked about how the paper had an article on the Pension Deal which passed on Friday, of which (spoiler alert) Lenny Curry is acutely aware. I know this because I talked to him right after it passed. He told me it was a "tremendous step" and that his team is turning its focus toward addressing the unfunded liability, which is the issue that trumps all others.
Denton said, about this deal, that "it's only money." Really?
It's cops on the streets, and making sure they have cars that work right and body armor that isn't end of life. It's schools, and children in them. It's the Human Rights Commission, the Libraries, Public Works. The unfunded liability is like the boss in the old Nintendo game. If you don't slay it, you don't win. So to say "It's only money," well, that's not particularly deep.
What Denton called "the much tougher challenge" was related to "children in the crime wave" (a problem which is rooted in many things as Denton points out, but at the core of it has been a few years of "flat" budgets). Apparently, this is new to him, but kids as young as 13 are involved in turf wars.
"I hope the Curry team paused at the obvious question of how children, so many children in this town, can suddenly, seemingly overnight, go from basketball, bicycles and games to violence, guns and death."
I can guarantee you that they are aware of that. I was with Lenny Curry in Grand Park, a couple of weeks before the election, when he talked about the things that happen on those streets. About how he talked to a young man whose best friend was shot in his chest. And the thing is, you don't go from "games" to "guns" overnight.
Denton then goes on, after the self-promoting rhetoric, to talk about local initiatives and, tellingly, the Jacksonville Journey: something that Curry talked about at great length while Denton and others were lamenting mailers that his PAC sent out. Curry is an advocate for the Jacksonville Journey. There is a rub though; the programs that are less funded than they used to be have been co-opted and taken over by other aspects of city government, more powerful organizations.
Knowing, as anyone paying attention does, that Curry has committed to the very type of solutions Denton advances, the question is ultimately existential: what is the point of this column.
It is a posture.
It is intended to posit Denton as the voice fighting for those who cannot fight for themselves, which is part of a recent TU rebranding initiative that has to be done, honestly, because the community doesn't believe that it is done by this or any local paper (if the caustic comment threads are a reliable indicator). Thus, we get recent forays into representing the young people via their "NEXT" series, and the more recent "Learning to talk about the role of women," which was well-intentioned paternalism of the highest order.
It's pretty easy to find out what the priorities of the Curry administration are going to be. You can sit in on their budget reviews and find out what Sam Mousa thinks about every single department in the city, if you have the patience to sit through it. Heck, you can read my live blogs of these meetings also, if you can't find parking. It ain't hard to tell. Given that the T-U has access advantages that other outlets don't, why would their editor, of all people, have to advance the mythic narrative that the TU is driving the narrative of what the Curry administration is going to do? Especially when the evidence of what really drives the narrative is pretty much all out there.