Jacksonville is known for its discussion of art in public places. From former Council President Clay Yarborough's exquisite pearl clutching over an exhibit in MOCA that dared to show bare breasts to Chip Southworth and the furor he created as Keith Haring's Ghost, Jacksonville has spirited discussions with strong opinions on both sides.
(Let's leave aside, for a moment, the Baker County Mural issue, which has led to a strong local backlash in favor of the mural that most people outside the "heritage not hate" crowd find to be objectionable).
Rarely does controversial art show up in city hall in Jacksonville, however.
That changed Friday when an exhibit from Florida Falun Dafa Association at Jacksonville, slated to run through early August, greeted people as they entered the St. James Building.
The Art of Zhen, Shan, Ren (Truth, Compassion, Tolerance) International Exhibition debuted in 2004 in Washington, D.C., at the Rayburn House, a congressional office building. Since then, the exhibit has toured more than 50 countries with about 800 showings worldwide.
It details "both an inner spiritual life and an outer human rights tragedy." Comprised of oil paintings and watercolors from predominately Chinese artists, the collection gives insight into the spiritual practice of Falun Gong, a.k.a. Falun Dafa.
This spiritual discipline, described as "meditative exercise," has been banned in China since 1999. Since then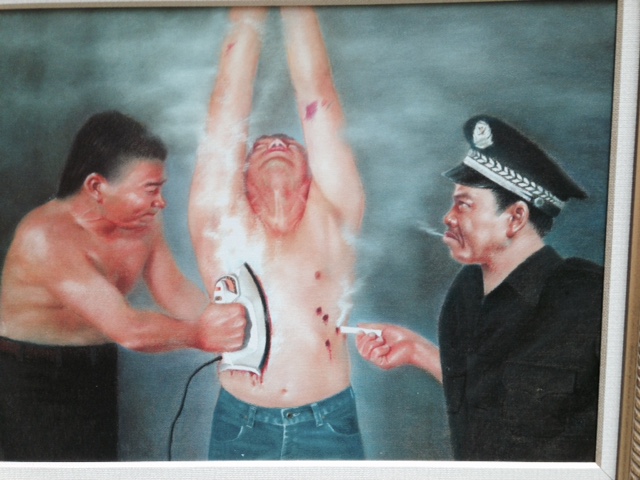 thousands of practitioners have been tortured for their exercise of the religious freedom taken for granted in the United States.
The exhibit has seven themes, including Arrival of the Lord Buddha, the Joy of Cultivation, Persecution in China, Nonviolent Resistance, Karmic Retribution, Buddha's Infinite Grace, and the Point of No Return.
The paintings run the gamut. Many of their images are, as a security guard in the building said, "beautiful." Others are provocative, disturbing, rendered with a realism that goes beyond rules of composition to spotlight the visceral reality of being punished by a government for spiritual beliefs.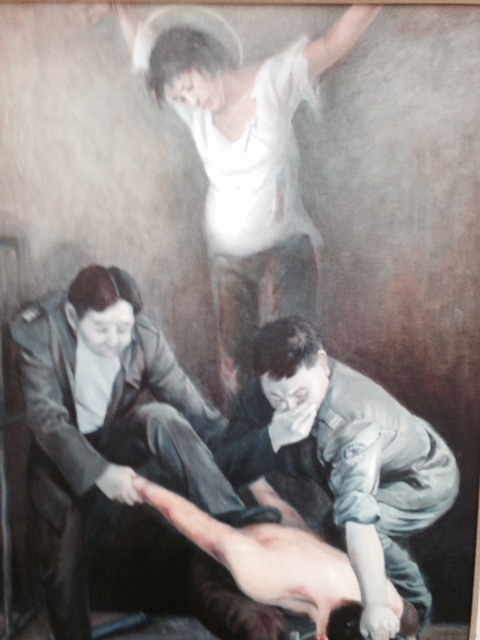 Falun Dafa has brought performances to Jacksonville before, in its ongoing quest to promote "the traditional Chinese culture and artistic programs that present classical arts and traditional values."
This exhibit, however, might strike some as different. It is in a public space that is entirely unavoidable. And there will be some who will question the depictions of Buddhism, even in the context of forbearance of the tortures of a totalitarian regime, as a violation of the separation of church and state.
Images of the exhibit were provided to the Brown administration in June. It was, according to public record emails, handed off to the Curry team for handling once they took office on July 1.
There was no available documentation of any expectation of  controversy.
Most observers of the art installation demurred public comment. The exhibition has been controversial in other cities, such as Atlanta last year, where a decision was made, then reversed, to remove the exhibit early.
One potential complicating factor in these exhibits is that, in certain cases such as in Los Angeles, the Chinese government reportedly pressured the removal of this exhibition. Thus, this creates an interesting philosophical conundrum for the Lenny Curry administration. If pressured, either by religious fundamentalists, strong advocates of separation of church and state, or (somehow) the Chinese government, will they remove the exhibit early? If so, what message would that send?