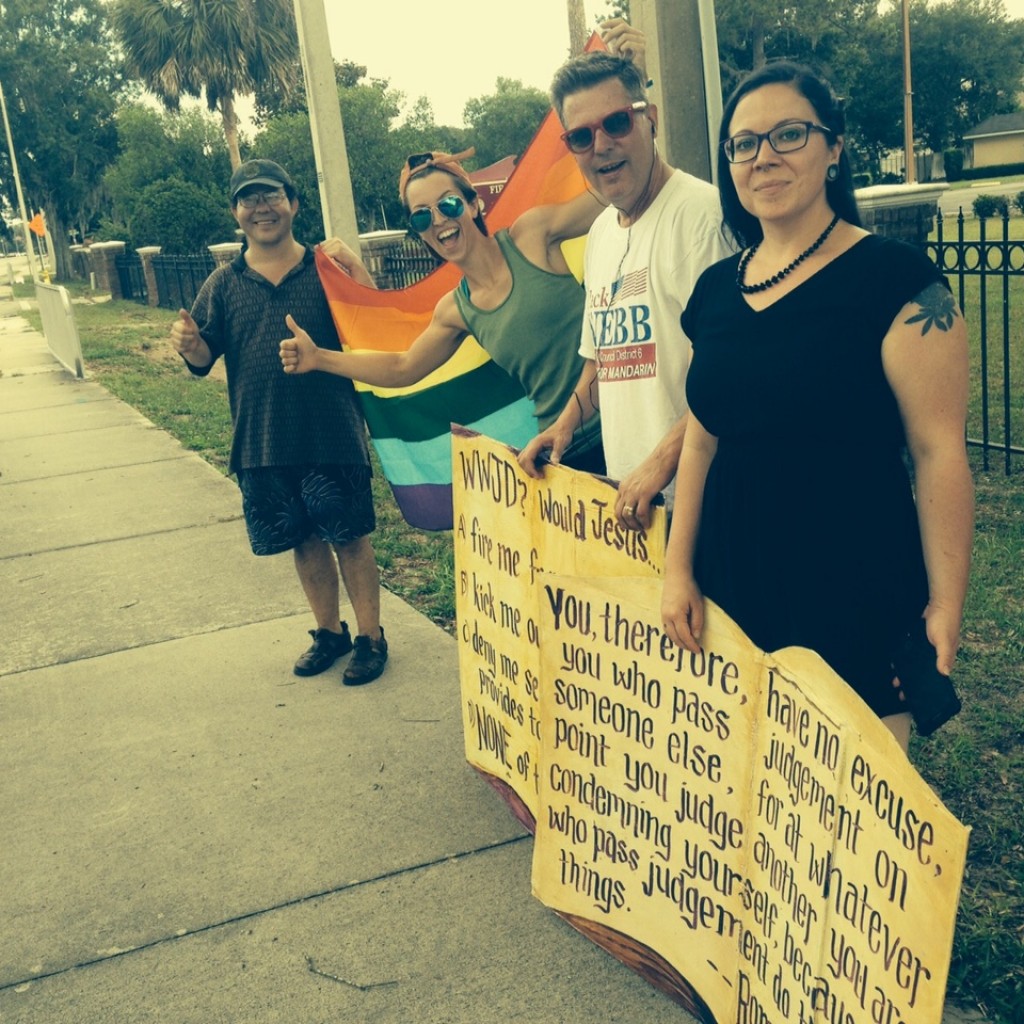 The always interesting race for the Duval County Republican Party Chair took a couple of turns in recent days.
The campaign against Jack Webb started in earnest this past weekend, with a prominent member of the Jacksonville Christian right going in hard on the former Councilman.
Breaking news, meanwhile: in the Duval GOP, not everybody loves Raymond….
Local Christian Right political consultant Raymond Johnson made some interesting moves during the just concluded campaigns. The Republican counted Councilmen Matt Schellenberg and Doyle Carter as clients during the just concluded campaign, yet was the local pointman for a group that did not endorse Lenny Curry for mayor.
Despite that decision, he nonetheless has chosen to weigh in regarding the Duval County Republican Executive Committee race, as an email just before last call on Friday night indicated. His position: Stop Jack Webb and his "corrupt Chicago mafia style politics."
"As a Duval REC member, I will make every possible effort to OPPOSE Jack Webb in any election and will work toward rallying others to oppose his possible campaign for Duval REC Chair. We do not need his corrupt Chicago mafia style politics In Jacksonville, specially leading our local party. His DUI arrest and his actions in his last failed campaign taking part in and condoning stealing my client's campaign signs is unacceptable and not welcome by many in our local party. Our party needs a principled leader, one with character and values."
Florida Politics spoke to Webb on Sunday. For those curious, the former councilman says that he's "only been to Chicago once in [his] life."
Webb addressed Johnson's other claims as well. Regarding the DUI arrest, Webb says the charge was pled down to reckless driving and adjudication was withheld. Regarding the campaign signs allegation, meanwhile, Johnson had "better call his lawyer" if he persists in such slander.
Webb contends that these issues are a smokescreen for a long-standing animus that Johnson and his allies have for his brand of Bill Buckley conservatism.
"I'm not a bigot. Not a closed minded person. I'm open to dialogue," Webb said regarding his approach to social issues, supported by a photograph of himself with LGBT protesters outside Dr. Gene Youngblood's church during a recent protest of the church's propensity for controversial religio-political messages on its street-facing signs.
To build the party brand, he adds, and to foster dialogue, the party is "not going to change hearts with condemnation and hatred."
"Raymond Johnson," Webb added, "is the poster child for far-right nonsense" of the sort that has hampered the GOP in recent years.
Johnson's efforts and tone, Webb continued, are "reflective of what the Republican Party became," a party that exists to be against things, not for things.
In 2007, when Webb ran originally, a Johnson-affiliated group "endorsed my opponent without ever speaking to me" because Webb's Catholicism was anathema to their fundamentalist bent.
He felt a similar anti-Catholic bigotry when he got a frosty reaction at a forum at Reverend Youngblood's church, a reaction he likened to that the "whore of Babylon" would have received.
Johnson's comments led to at least one other member of Team Schellenberg to distance themselves from him.
Schellenberg's campaign manager from 2011, Robbie Foster, contacted Florida Politics to offer comment on "both Raymond Johnson's self-inflated role in the Schellenberg campaign and about how I, as the former campaign manager who shepherded Matt to victory over Jack am endorsing Jack for REC Chair."
Calling Johnson "the self-appointed moral authority of Duval County,"  and describing him as little more than a "paid door walker" for the Schelleneberg campaign, Foster marvelled at Johnson's ability to constantly inflate his resume, "trying to position himself as a paid consultant," and saying that Johnson "is the only person in Duval County who doesn't see that he isn't taken seriously."
Foster echoed Webb's claim that Johnson has an "anti-Catholic" agenda, though he found it interesting that Johnson didn't realize that Schellenberg himself is a Catholic.
"I'm not sure why there's such a dislike there," Foster said, musing that it might be part of a "strange loyalty" Johnson has for Schellenberg. The DUI arrest canard and sign theft allegations, meanwhile, he dismissed out of hand.
Then Foster cut to the chase, saying that Webb would be the best of the three declared candidates (our conversation did not include the Lake Ray possibility) at getting Republicans elected, handling GOTV efforts, and reaching out to the donor class.
Webb, Foster contends, would be uniquely able to secure donations for a donor class fatigued from the push to get Lenny Curry elected mayor, as well as the deluge of asks from 2016 candidates and PACs on all levels.
With three candidates in the race now, and Rep. Ray looking at it, the schisms in the local GOP are coming to the fore. It will be interesting to see if and when a consensus candidate emerges.
The REC meeting on Monday night will be a barnburner. Expect heavy politicking for the chair, an election for Committeeman, and election for secretary, as well as a visit from Lt. Governor Carlos Lopez-Cantera, who is running for Senate.