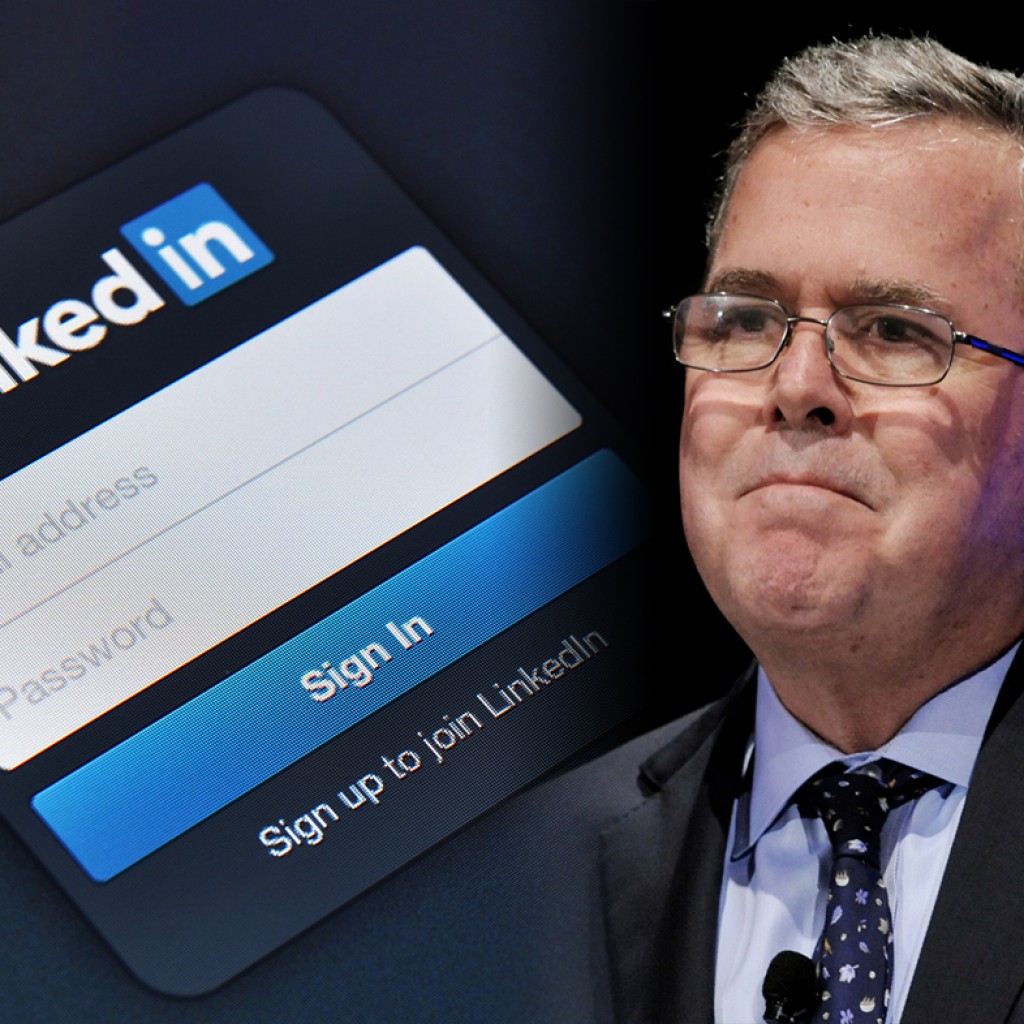 Sometimes the jokes write themselves.
Last week, Jeb Bush joined LinkedIn, the global professional networking site and a place that attracts employers and job seekers worldwide.
The jokes came easy, since the former Florida governor is indeed looking for a new job – President of the United States.
Beyond simply creating a new profile, however, Bush used LinkedIn to publish a lengthy epistle on the culture of "disruption" coming from Silicon Valley, writes Elise Viebeck of the Washington Post PowerPost blog.
Bush's post corresponded with his tech-specific trip to San Francisco, where – among other things – he used Uber to arrive at an event.
"Big government liberals fundamentally can't embrace digital innovation because it threatens the way they govern," Bush said. "Regulation is all they know and they've been using the same playbook for decades."
The letter elicited over 800 user comments, Viebeck noted.
Selling the narrative that Bush is a tech supporter and a natural choice against Hillary Clinton will be a challenge, particularly as Clinton starts to court Silicon Valley backers. And Viebeck says it will take more a LinkedIn post for a Republican to change their minds.
But the situation is more than just a glimpse of Bush's strategy, it also reveals a major attempt to expand the scope of LinkedIn, which is striving to be the go-to for economic policy makers, a marketplace of ideas with an engaged and knowledgeable audience.
Pablo Chavez, a former Google lobbyist, is now LinkedIn's public policy professional; it's his job to reach out to the 2016 presidential field.
"LinkedIn members want to know about policy issues, and for candidates, it is a great way to share them in a more professional context," Chavez told the Post this week.
Bush was not the only political figure taking advantage of LinkedIn's publishing platform. In January, Senior White House adviser Valerie Jarrett unveiled the Obama administration's new paid-leave initiative on the site, garnering 2,401 comments. Clinton's campaign has already posted six times, with an average of 227 comments each. Other lawmakers are beginning to take note.
Although Chavez admits there are differences between its social media network and Facebook or Twitter – users spend less time LinkedIn – but that could be seen as more of an advantage.
LinkedIn readers are often thinking about work, Chavez points out, with business ambition, entrepreneurship and professional identities top of mind.
That makes substantive discussions about issues more likely, he argues.