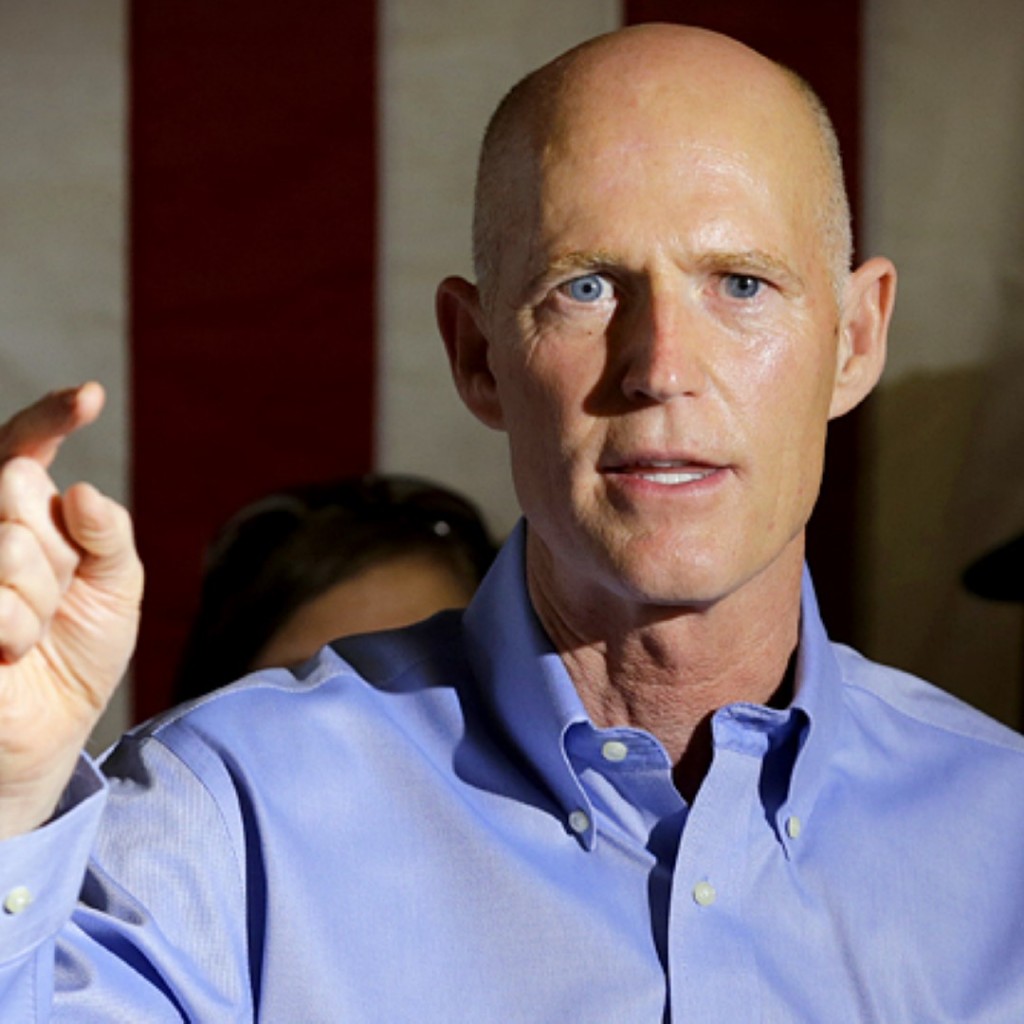 Maybe it's the excitement of the upcoming candidate debate, the influence of Pluto, or the infernal heat, but Florida Republicans are acting weirder than usual.
Jeb Bush casually proposed getting rid of Medicare in front of a gaggle of older people.  A couple of days later, he copped to a man-crush on James K. Polk, 11th president and unrepentant slaveholder. What makes Polk so sexy? He brought Texas into the Union.
Texas, which gave us George W., Ted Cruz, Rick Perry and  Louie "terror babies" Gohmert; Texas, which has a law school that actually admitted Gov. Rick "10 Watt" Scott.
Yeah, thanks a bunch, James K. Polk.
Panama City mortician and former congressman Steve Southerland informed Florida that he would not run again for his old seat. He seemed to feel Florida would be disappointed by his decision. Florida was not.
However, the prize for combining stupidity with brass-faced political opportunism goes to our governor. The absurd creature is demanding an investigation of Planned Parenthood in Florida, child-murdering harpies raking in millions from trading in hunks of tender baby flesh.
He's seen the videos.
Those very videos, now under a federal judge's restraining order, which have been riling Republicans for more than two weeks. Gov. 10-Watt's always a little slow on the uptake, but he wants you to know that 1: He's deeply shocked; and 2: In case you're thinking of opening a Victor Frankenstein franchise in the mall, it's "against the law for any organization to sell body parts."
The Agency for Health Care Administration is on the case. And FDLE.
Strange that it took Scott so long to leap on the Republican anti-choice party bus. Maybe Chief of Staff Melissa Sellers, who translates Scott's knotted brain waves into action, wasn't paying attention. Probably has her basilisk eye fixed on her next job – "enhanced interrogation" specialist at Gitmo, maybe, or running the Panzer division of Jeb's campaign.
Melissa Sellers is from Texas.
Here's the thing about the videos from the mendaciously named "Center for Medical Progress": They do not reveal any improprieties or crimes. CMP edited them heavily, removing the part of the conversation with Dr. Deborah Nucatola, senior director of Medical Services, where she explains that Planned Parenthood does not profit from tissue samples.
A small fraction of PP clinics donate tissue to science – none of Florida's 16 clinics are among them. PP gets from $30 to $100, just enough to cover costs.
Go on and get all hysterical about a doctor who talks procedure over a glass of red wine and remarks that livers are popular for research. Perhaps you've never been in a hospital when the patients and their families aren't listening. Medical pros are not precious about body parts. Some might sound downright disrespectful. Doctors can't collapse in a puddle of tears and sentiment over the procedures they perform.
Call it  "distasteful" if you like. Then get a grip: Abortion is legal. Women who have an abortion can choose to donate fetal tissue to help find cures for Alzheimer's, ALS, Parkinson's, miscarriages and cystic fibrosis. Nobody is "trafficking" in baby parts. Nobody's getting rich.
Planned Parenthood provides contraceptive services, often in extremely under-served areas. It's not true (no matter what that ass Rush Limbaugh says) that birth control pills are as cheap and easy to get at the drugstore as M&Ms or Chapstick. PP also performs cancer screenings, sexually transmitted disease tests, and well mother and well-baby services for women who actually want to have a child.
Why has Scott attached himself to this issue? His 2018 senate campaign. He needs to remind the thoroughly demented Republican base that he's against abortion. Now he's got some nice tape for his ads.
He's an opportunist, just like the Center for Medical Progress, an outfit of a few anti-choice activists, including the current head of Operation Rescue. CMP's not a "center" and has little to do with "medicine" or "progress."
Pro Tip for Anti-Choicers: If Congress votes to defund Planned Parenthood, as it threatened to do this week, abortions will increase, not decrease. And you will make women very, very mad.
Remember women? The people you seem to regard as nothing more than baby incubators, the ones you so thoroughly pissed off in the last presidential election? Keep slamming Planned Parenthood. Shut down the government over it.
See what happens.
Diane Roberts teaches at Florida State University.